Podcast: Play in new window | Download | Embed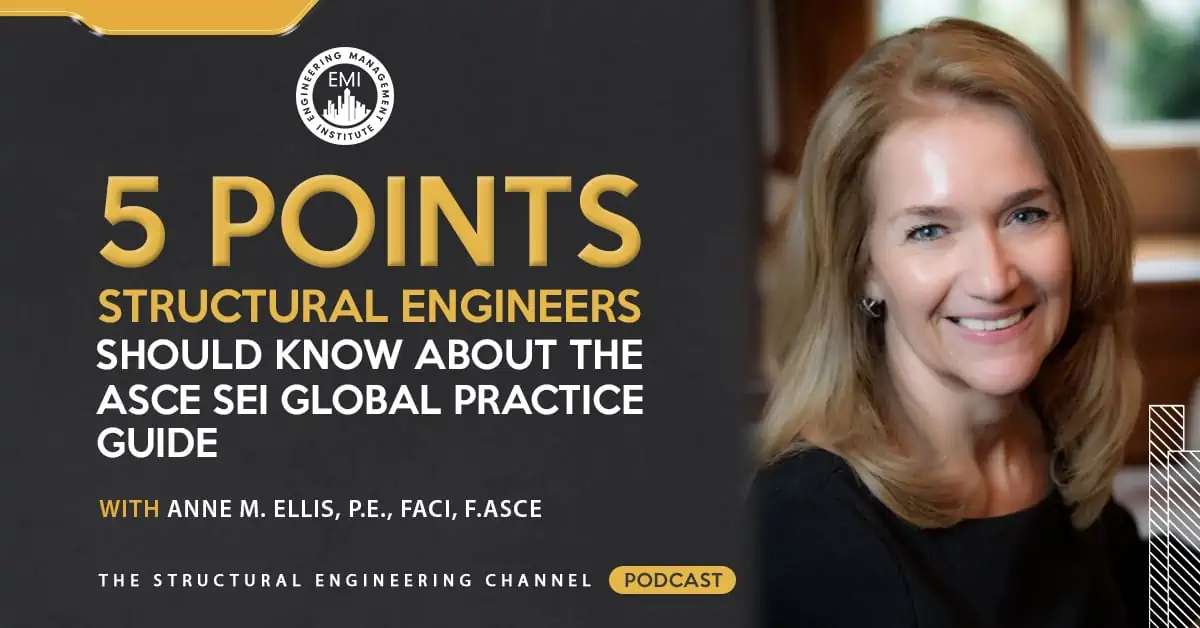 In this episode of The Structural Engineering Channel podcast, we talk to Anne Ellis, a leader in the AEC industry, about the ASCE SEI Global Practice Guide. Anne provides five very important points that structural engineers should know about this guide.
The Global Practice Guide, developed by and for the structural engineering community, highlights those areas requisite for global practice that are beyond the structural engineer's domestic field of training, including culture, design, and construction as well as legal and financial issues. This Guide intends to raise awareness of — and seed inquiry into — specific topics that can provide appropriate assistance whether you are contemplating global practice, considering go-no-go decisions on specific opportunities, and/or formulating project planning.
Engineering Quotes:



Here Are Some of the Questions We Ask Anne in This Episode:
Can you share with us some details about the career you have had so far and what you do at Ellis Global?
Why do feel that the United States is a leader in structural engineering education in practice, and can you give some examples of this?
What are some of the events and milestones that have led to this guide being published now?
Do you have any examples of who this guide is for and what it can prevent on a global scale?
Can you tell us what the ASCE SEI Global Practice Guide is and what the five most important points are that structural engineers should know about the guide?
Where can structural engineers find the ASCE SEI Global Practice Guide?
What is your vision for how United States-based structural engineers can have an impact on a global level beyond our borders?
Do you have any tips for career guidance or paths for newer engineers who want to travel in their profession?
Here Are Some of the Key Points Discussed About the ASCE SEI Global Practice Guide:
Some of the big firms in the United States have experience working internationally and have shared their good and bad experiences, which contributed to this guide.
This guide helps structural engineers who are working internationally to understand the technical, business, and cultural aspects of working in foreign countries. If we are not sensitive and aware of these aspects, it can inadvertently create a construct on a project that is unhealthy, unproductive, and can destroy the ability to be successful.
You can find the ASCE SEI Global Practice Guide on the ASCE Structural Engineering Institute website. If you are an SCI member, you can access it for free by entering your credentials into the collaborate site.
Structural engineers can have a global impact by developing their capabilities. This is accomplished by organizations like the Structural Engineering Institute and their partnership with like-minded institutes.
There are many paths that can be taken by new engineers who want to work internationally. Emerging countries that are thinking of developing their infrastructure are good opportunities to follow. Volunteering for organizations like Engineers Without Borders can enable service work internationally. There are also opportunities working for the United States government on buildings or structures that they might own and operate abroad as well as working with companies that have a global footprint and are receptive to putting employees on internationally based projects.
The Five Most Important Points That Structural Engineers Should Know About the Guide Are:
The guide is a primer to help the structural engineer socialization in a global context.
It provides you with a framework of topics that need to be considered if you are a structural engineer planning on working outside of the United States.
It is also insightful for engineers working in the United States with foreign clients or with team members who are working internationally.
The topics covered in the guide are way beyond a structural engineer's domestic field of training.
The guide has been written by the structural engineering community for the structural engineering community, but it is also relevant to other engineering disciplines working internationally
More Details in This Episode…
About Anne M. Ellis, P.E., FACI, F.ASCE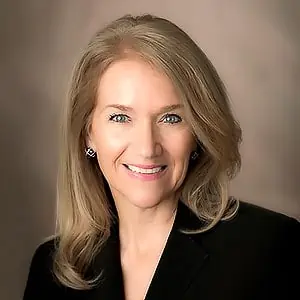 Anne Ellis is a professional engineer with more than three decades of experience. As a senior business executive with a global Fortune 500 company, she led the development and implementation of enterprise-wide programs, including Innovation, Knowledge Share, Sustainability, Advisory Boards, Government Relations, and Ethics. Additionally, she led strategic initiatives driving merger and acquisition due diligence and integration, business system alignment, and operational excellence in bid and proposal work.
Ellis is recognized worldwide in the field of concrete for her work with the American Concrete Institute, National Ready Mixed Concrete, and the Portland Cement Association. This builds upon her many years as a consulting engineer on casinos, hospitals, academic, corporate and transit facilities, bridges, and tunnels. Ms. Ellis is co-author of the "Concrete Design and Construction" section of the Standard Handbook for Civil Engineers, Fifth Edition, and is a frequent speaker at universities, professional and technical societies, and industry fora.
Books Mentioned in This Episode
Standard Handbook for Civil Engineers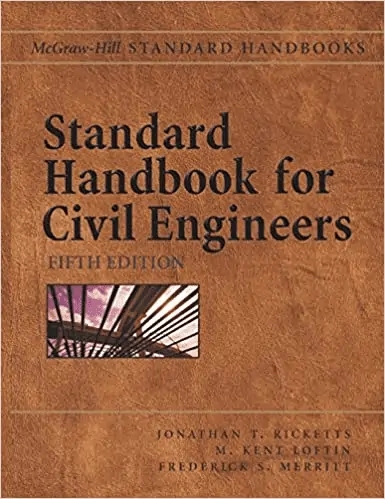 Sources/References:
ASCE SEI Global Practice Guide
Anne Ellis' LinkedIn Account
Ellis Global
ASCE Structural Engineering Institute
Engineers Without Borders
EMI YouTube Channel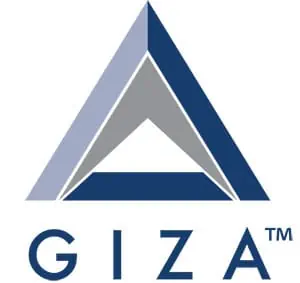 Our sponsor for today's program is GIZA Steel, a design software specifically created for structural steel connection design. GIZA supports over 400 connection configurations in the Shear, Moment, Vertical & Horizontal Bracing groups. Selected as an AISC/Modern Steel Construction Hot Product for the past two years, GIZA continues to expand its connection library and add new tools that help users spend less time on connection design and produce concise and thorough design reports. You can try GIZA today for free by going to www.gizasteel.com and downloading the 15-day trial. GIZA — created by Steel Design Professionals for Steel Design Professionals.
Please leave your comments or questions in the section below on the ASCE SEI Global Practice Guide.
To your success,
Mathew Picardal P.E. & Alexis Clark, P.E., M.ASCE
Hosts of The Structural Engineering Channel