Podcast: Play in new window | Download | Embed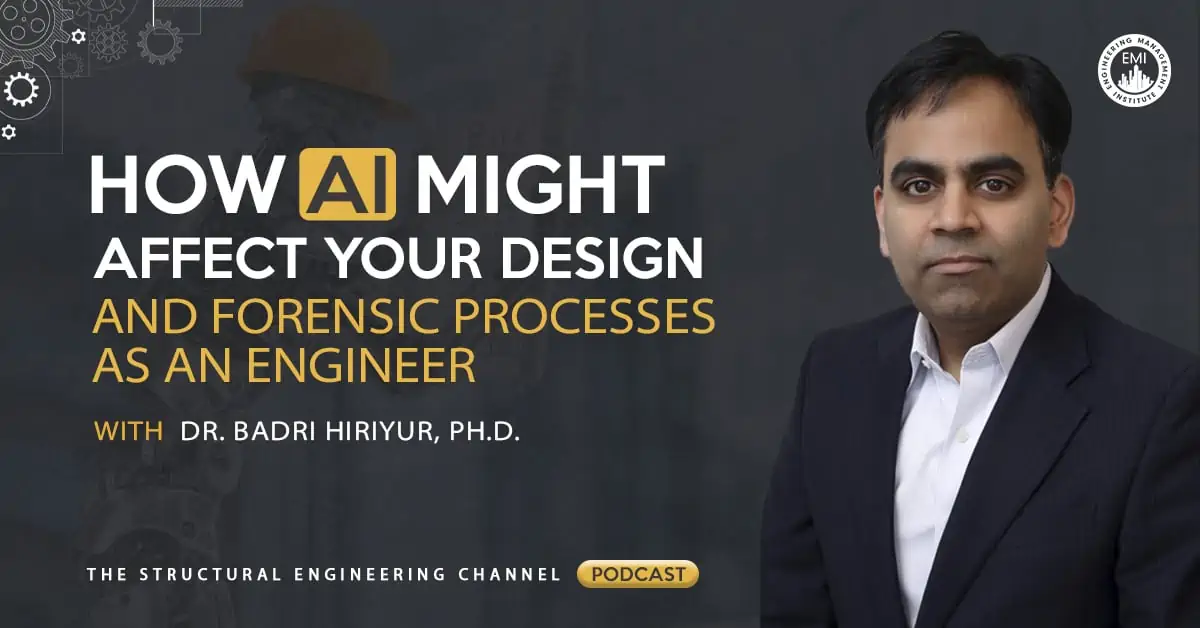 In this episode, we talk to Dr. Badri Hiriyur, Ph.D., Vice President and Director of Artificial Intelligence at Thornton Tomasetti (TT) about the applications of artificial intelligence (AI) and machine learning in the AEC industry and how it may affect your design and forensic processes as an engineer.
Engineering Quotes:


Here Are Some of the Questions We Ask Dr. Badri Hiriyur, Ph.D.:
Please tell us more about the application called Asterisk.
What are the differences between AI and machine learning?
What are some of the most important applications of AI in engineering?
How can AI positively affect construction?
What is the Thornton Tomasetti Damage Detector (T2D2)?
Can you tell us more about the AI Operating System?
In your opinion, what jobs will be replaced by AI, and are structural engineers at risk?
Here Are Some of the Key Points Discussed About the Applications of AI and Machine Learning:
Asterisk is designed to encapsulate the years of experience and knowledge of a seasoned engineer in a software program. To do this, a system is shown thousands of different designs, and it captures the features and parameters that lead to certain design decisions. For Asterisk to work, you need to input simple geometry and math. The design is then taken through a geometry analysis, which breaks it down into different bases and columns that are needed to construct the design. This information is fed through the core "brain," and then recommended profiles for the different members of the design are then given back to the designer. This happens very quickly and saves a lot of time in the first-order design process. Information such as the total amount of structure tonnage and embodied carbon can be calculated almost instantly.
Machine learning is when you show a system all the rules that need to be followed for a certain kind of problem, and then it can come up with a solution by using the rules that have been shown to it. If you show the same problem to an AI system, then it can make the rules to solve the problem on its own.
People tend to have misconceptions between general AI and narrow AI. General AI is where a system has its own "consciousness" and agenda. This kind of AI is still a few years or even decades away from being developed. Narrow AI is when a system has been developed to automate certain functions, like face or speech recognition.
There are many different functions that narrow AI can perform. For structural engineering, there are possibilities of AI applications on the construction side and the engineers' desktop. On the engineer's desktop, there can be visual recognition apps that can recognize design drawings and identify any anomalies. For speech recognition, you can have a chatbot that you can ask different questions and get answers almost immediately. On the construction side, you have applications for robotics, a visual understanding that can identify different aspects of the project development. There are also applications for the maintenance and the lifetime of the structures that can be done by using a tool such as T2D2.
T2D2 uses computer vision to automatically detect deterioration and damage conditions in façade buildings and structures. This is done by training the computer vision model on a large data set of images that display deterioration and damage. A digital print is then made that displays where all the conditions can be found, which can then be shown to the client. Drones can be used to capture the images of the structures, thereby vastly reducing the time and cost of having maintenance inspections done. This will also increase the safety aspects of the inspectors and engineers who are on the site.
Incorporating AI into the structural engineering industry does not mean that people will be losing their jobs, but the way they work will change. AI should be seen as a tool that can help answer any questions and help engineers do their work more efficiently.
More Details in This Episode…
About Dr. Badri Hiriyur, Ph.D.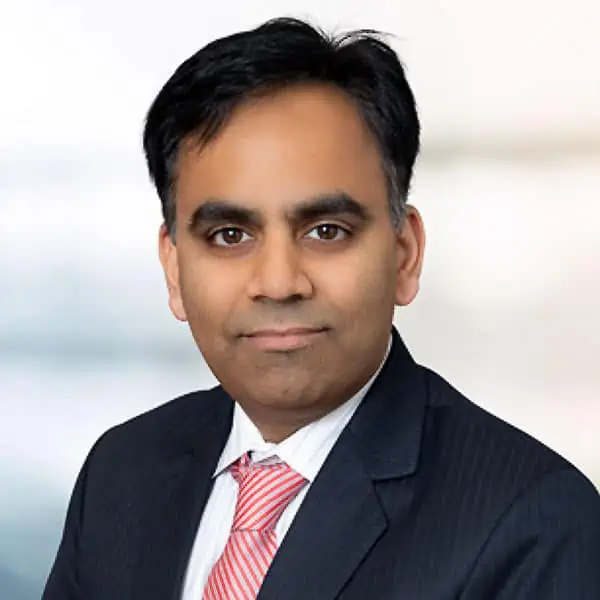 Dr. Badri Hiriyur, Ph.D., is a Vice President and Director of Artificial Intelligence at Thornton Tomasetti (TT). In his current position, Dr. Hiriyur leads the CORE.AI research and development group focused on developing applications that leverage machine learning and AI to transform various workflows and processes within the AEC sector. He is also the Founder and CEO of T2D2.ai, a technology startup providing cloud-based asset management that uses computer vision to detect and map deterioration and damage in structures using a drone or mobile camera feeds. Prior to establishing CORE.AI at TT, Dr. Hiriyur spent several years as a computational scientist in the company's Applied Sciences practice, where he developed high-performance computing software — used by the U.S. Navy — for computational fluid dynamics simulations. Dr. Hiriyur has a master's degree (2003) from Johns Hopkins University and a Ph.D. (2012) from Columbia University.
Sources/References:
Connect with Badri Hiriyur on LinkedIn
T2D2
Thornton Tomasetti
AISC Magazine Article (Page 47)
This Episode Is Brought to You by the Following Sponsors:
SkyCiv

SkyCiv is the first and only fully cloud-based structural analysis and design software suite. With a streamlined and efficient user interface, SkyCiv users can complete their analysis and design projects in just a fraction of the time. Using easy graphical inputs and tools, generate 3D structures for analysis and automate design using the integrated modules. Eliminate the "black box" effect with extensive hand calculation reports for steel, concrete, wood, and cold-formed elements. And if you are stuck, ping the SkyCiv Live Chat for quick help or share your file directly with the SkyCiv support team. With monthly updates released directly to the platform, SkyCiv users get to dive right into new and exciting features without any manual updates, downloads, or maintenance fees. Everything offered by SkyCiv is included in a single monthly subscription that is cost-effective for nearly every type of structural engineer. Check out SkyCiv at skyciv.com/emi for your extended free trial today.
Menard Group USA

Do you have projects where you are faced with building on soft or lose ground? Does it seem like all of the good sites are taken and you are always building on poor soils that are a challenge for conventional foundation approaches? Menard may be able to help! As a specialty ground improvement contractor Menard works nationally and international providing design-build ground improvement solutions at sites with problematic soils. In many cases, ground improvement is less costly than traditional approaches such as removal and replacement or piling systems. Menard works closely with civil, structural, and geotechnical engineers to minimize foundation costs for wide ranges of soil conditions, structure types, and loading conditions. To learn more about Menard Group USA, or for help on your next project, please visit www.menardgroupusa.com
Aero Aggregates of North America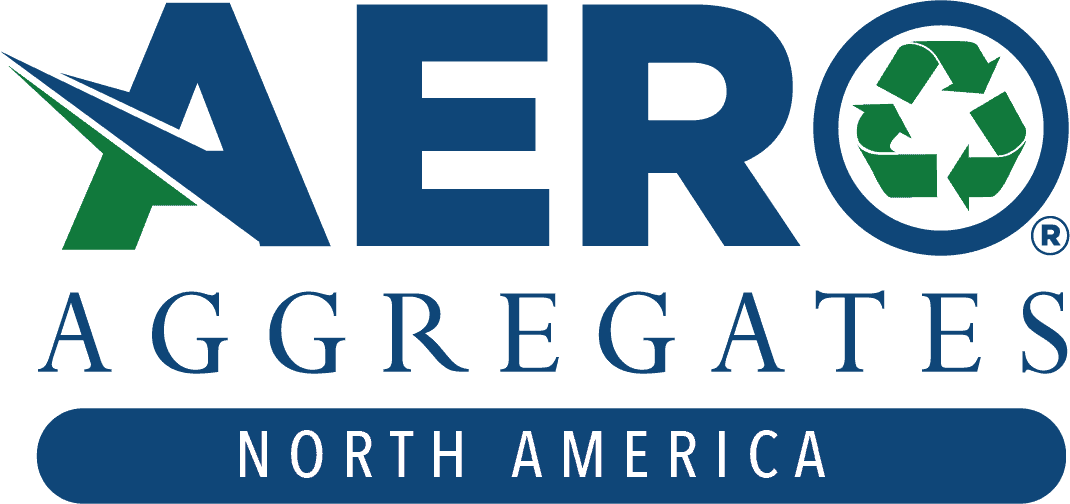 Aero Aggregates is the first vertically-integrated manufacturer of ultra-lightweight foamed glass aggregate in North America. This sustainable aggregate has bulk densities that are 80-90% lower than traditional fill, is free-draining and non-reactive, can be used to reduce lateral loads on walls or weight on roof structures, and it can also be used around building envelopes as an insulation material. Foamed glass aggregate can often accelerate construction, reduce project costs, and offer green credits for LEED and ENVISION programs. Visit www.AeroAggregates.com to learn about this unique construction material.
Please leave your comments or questions in the section below on how AI has affected your design and forensic processes as an engineer.
To your success,
Mathew Picardal, P.E. & Alexis Clark, P.E., M.ASCE
Hosts of The Structural Engineering Podcast