Podcast: Play in new window | Download | Embed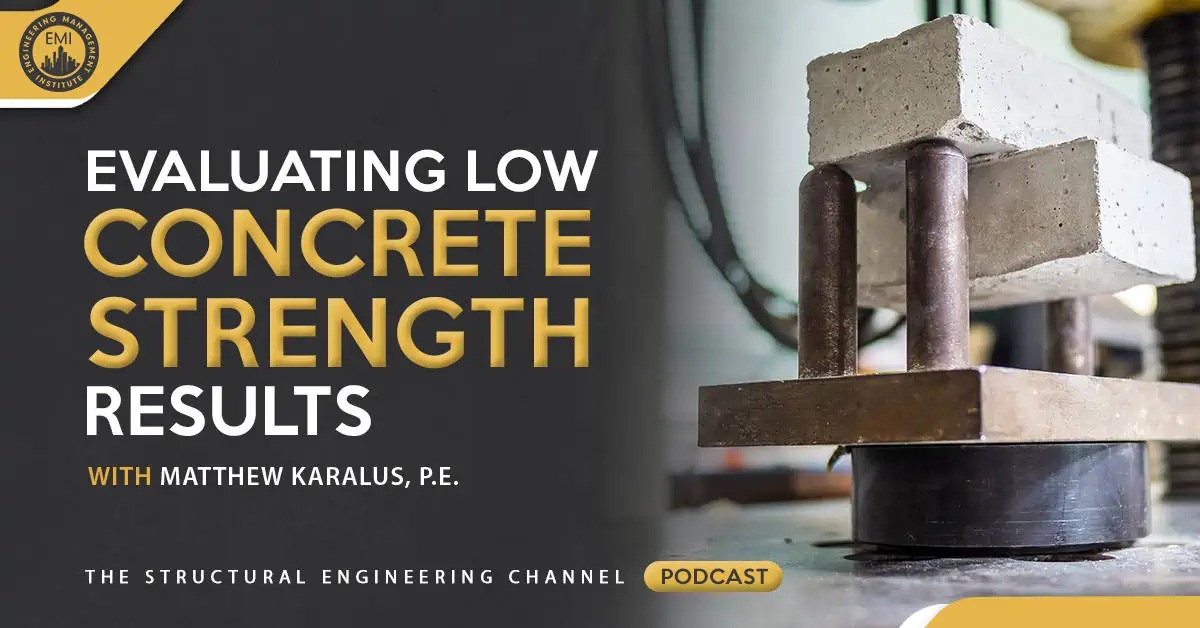 In this episode, we talk to Matthew Karalus, P.E., a field technician from the ECS Group of Companies, about low concrete strength and some of the methods used to test for concrete strength.
Engineering Quotes:

Here Are Some of the Questions We Ask Matthew:
Why is it so important to conduct a concrete strength test?
Are the concrete strength tests conducted while the concrete has been poured, or after it has already cured, or both?
What are some of the methods you use for on-site testing of concrete strength?
Are there any additional curing steps to ensure the same is happening to the poured concrete?
What are some of the causes of low concrete strength results?
When low concrete strength test results are obtained from test cylinders, what are the steps you take?
What is non-destructive testing, and when would you use it?
What are some of the additional testing methods that are less common but are still usable?
Would you like to share some career insights or wisdom?
Here Are Some of the Key Points Discussed About Conducting Concrete Tests:
Some of the concrete strength tests are:

Batch replacement time concrete test: There is a 90-minute window between when the concrete is mixed with water until it needs to be out of the truck. The longer the concrete is turning in the truck, the more it loses its strength.
Concrete temperature test: If concrete gets too hot, it will dry out and not hydrate properly. If the concrete freezes, it can become brittle. Field samples are placed under a concrete blanket by the poured concrete. If the field samples have frozen, then it is highly likely the poured concrete also froze.
The viscosity of the concrete: If you have a plasticizer in the concrete, it raises the viscosity, or slump. You will not need concrete with high viscosity in places where you need the concrete to remain in a specific shape.
Entrained air content: Interior concrete usually has no entrained air content, while most exterior concrete does. Exterior concrete needs entrained air to help with the long-term durability of the concrete by giving it room to flex.

Concrete strength tests are mainly performed before or during the pouring of the concrete. In some cases, the structural engineer might request tests to be done sometime after the concrete has hardened because the slab needs to be lifted from horizontal to vertical for concrete walls.
Casting cylinders is the main way to perform a concrete strength test. There are two ways to cure these cylinders: field-cured cylinders and laboratory-cured cylinders. Field-cured cylinders are used for testing concrete strength in places with low temperatures. Laboratory-cured cylinders are used to find the optimal strength of the concrete after 28 days.
One of the main causes of a low concrete test result is an incorrect concrete/water mix. The structural engineer is then notified about this and it is up to him to decide if he wants to use the concrete or not, as it could fail later.
If concrete strength test results are low, there are a few things that need to be considered:

There are statistical acceptances in place for concrete when the test results are slightly low, which is within 500psi of the required strength.
The structural engineer can also run tests to see if the concrete strength is acceptable for the location.
If the curing cylinders are still not meeting the standards at the 28-day stage, spear cylinders are then left for an additional 28 days to see if the concrete still does not match the requirements. This additional time can show a 20% increase in strength and could then be close enough to the requirements.

The traditional destructive testing method means to take a core out of the already poured and hardened concrete and find its strength by breaking it. This method is costly, can cause delays, and will leave a hole in the concrete that needs to be patched up. Nondestructive methods are low to moderately destructive. Here are a few examples of nondestructive methods:

Windsor probe is a method where a charge shoots a nail into the concrete. You then measure the penetration of the nail and relate it to the concrete strength of the mix that was used.
Rebound hammers are the least destructive method. They help to measure the elasticity of the concrete and compare that to areas of known strength.
The ultrasonic pulse velocity test method is where you use a pulse and measure the time the wave takes to transverse a certain length of concrete.
A post-installed pullout method is not commonly used. You install an anchor at a certain depth in the concrete. You then install ballasts that will let the concrete fail between them and the anchor. You then pull out the anchor, and the pullout force needed can be correlated to concrete strength.
More Details in This Episode…
About Matthew Karalus, P.E.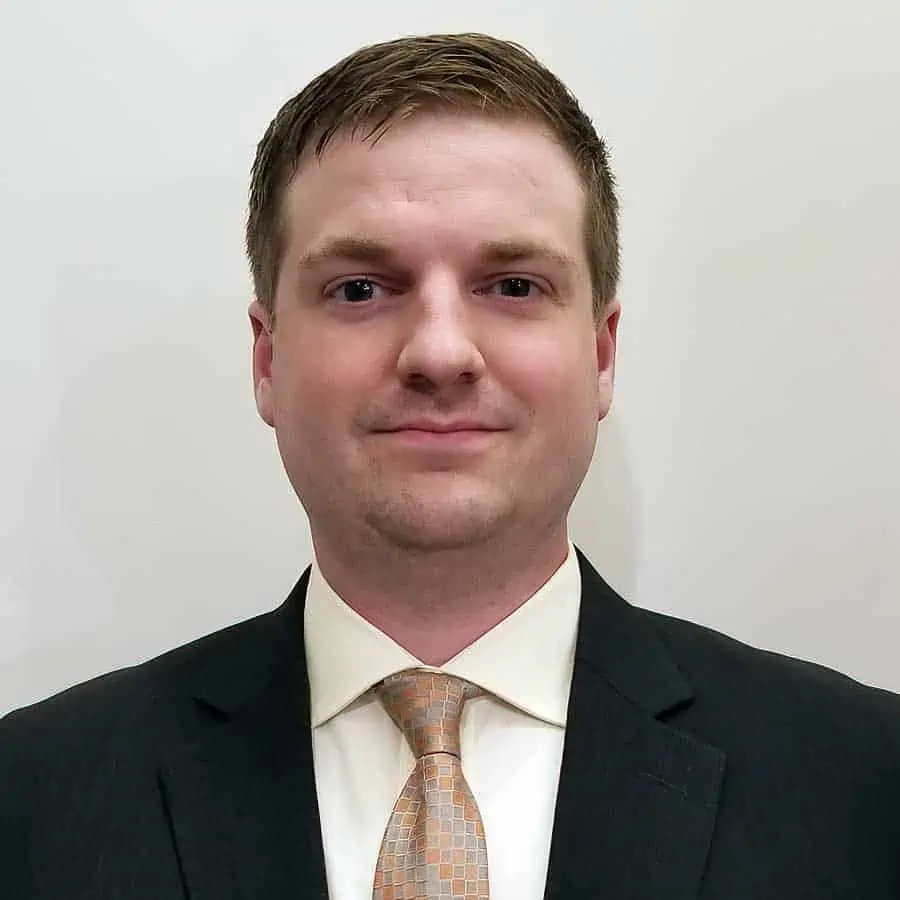 Matthew Karalus attended Northern Virginia Community College, where he received his Associates of Science in Engineering Degree. In 2014, he earned his Bachelor of Science in Civil Engineering from Virginia Polytechnic Institute and State University. Mr. Karalus is currently attending George Mason University, working on his master's degree in Geotechnical Engineering. Matthew began his career with the Mid-Atlantic subsidiary of Engineering Consulting Services, known as ECS, in 2012 as an intern. Over the next eight years, he has moved through the roles of intern to field engineer, staff project manager, project manager, field services department manager, field services manager, and project engineer. He obtained his engineering license in December 2020.
Mr. Karalus currently serves as Field Services Manager of the Manassas office of ECS Mid-Atlantic, LLC. Responsibilities include managing the operations of the field services department, including field technicians, laboratory operations, and safety programs. Project management tasks include construction materials, testing projects, and some geotechnical projects. Mr. Karalus has experience coordinating field observations and reports for building code-required third-party and special inspections. Observations include deep and shallow foundation installations, reinforced concrete and masonry construction, and structural steel erection. Projects also include field observations for VDOT compliance.
He has experience managing and executing a wide variety of subsurface investigation programs. His experience includes coordinating field personnel, adapting fieldwork to adverse conditions, evaluating subsurface conditions, and developing detailed recommendations for building design and site development. Mr. Karalus' project experience ranges from residential projects, large industrial/manufacturing facilities, assisted living facilities, roadway improvement projects, and data center construction. His expertise also includes a variety of shallow and deep foundation types, retaining structures, and soil improvement techniques. In his spare time, Matthew enjoys hiking with his wife and 1-year-old child.
Sources/References:
ECS Limited
Connect with Matthew Karalus, P.E., on LinkedIn
This Episode Is Brought to You by Dlubal Software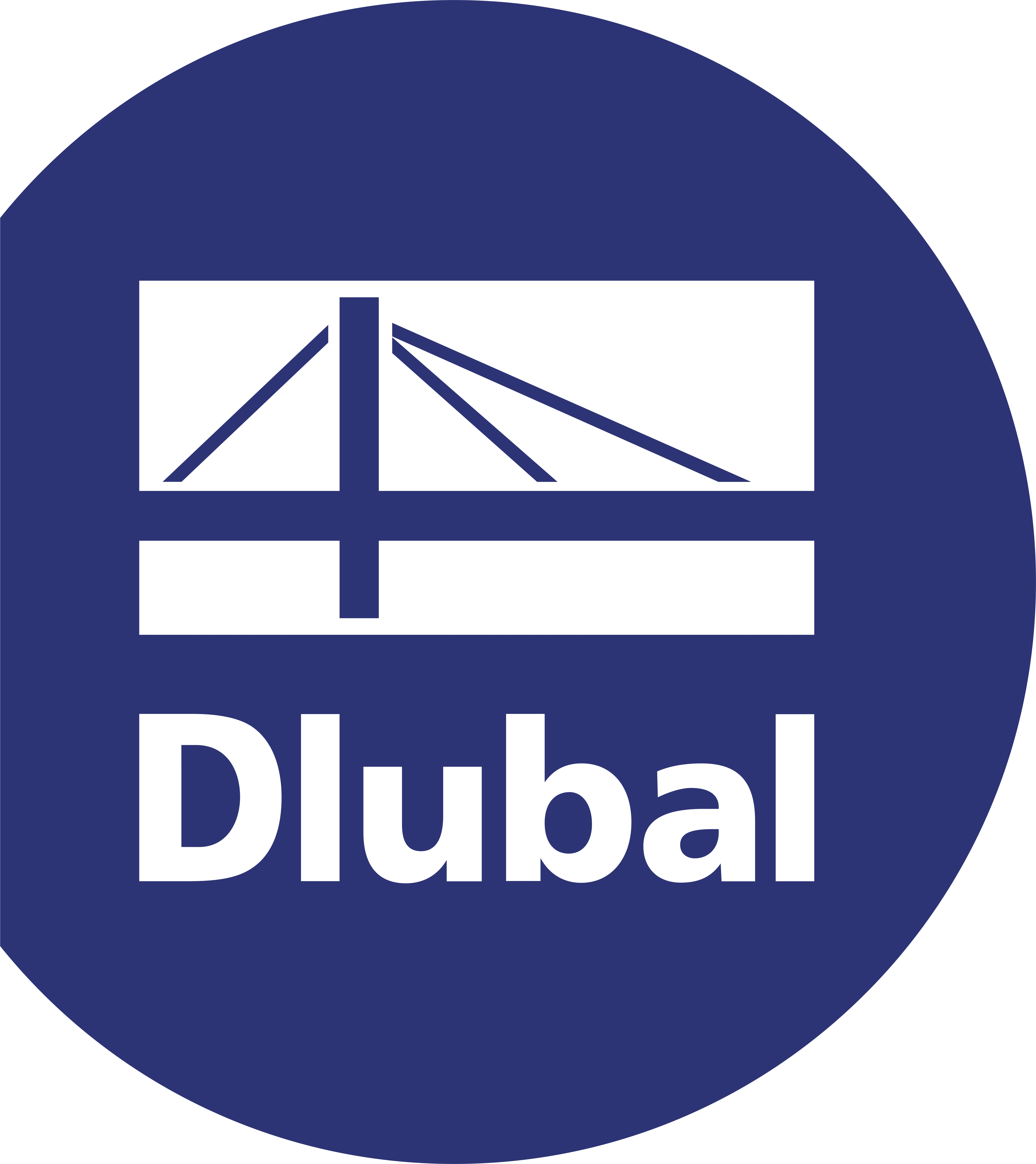 Dlubal Software offers the most powerful, yet user-friendly structural analysis and design software for today's structural engineer.
With the general FEA program RFEM, venture beyond basic box-type buildings and into unique multimaterial structures instead. The nonlinear FEA program is based on a modular concept so you can create a tailored and affordable package specific to your design projects.
The add-on modules include the American, Canadian, and other international design standards for not only steel and concrete but also aluminum, wood, cross-laminated timber, glass, tensile fabric, and cable form-finding, dynamics, stability, and much more. The direct interfaces with BIM programs, including Revit, Tekla Structures, and AutoCAD, allow for the time-saving bidirectional exchange of information with RFEM.
Also, experience Dlubal's recently released standalone program RWIND Simulation, which simulates wind flow on all structure types and geometries within a numerical wind tunnel. Integrate wind pressures back to the RFEM structure for a complete structural design.
For more information, visit www.dlubal.com
Please leave your comments or questions in the section below on evaluating low concrete strength results.
To your success,
Mathew Picardal, P.E., & Alexis Clark, P.E., M.ASCE
Hosts of The Structural Engineering Podcast