Podcast: Play in new window | Download | Embed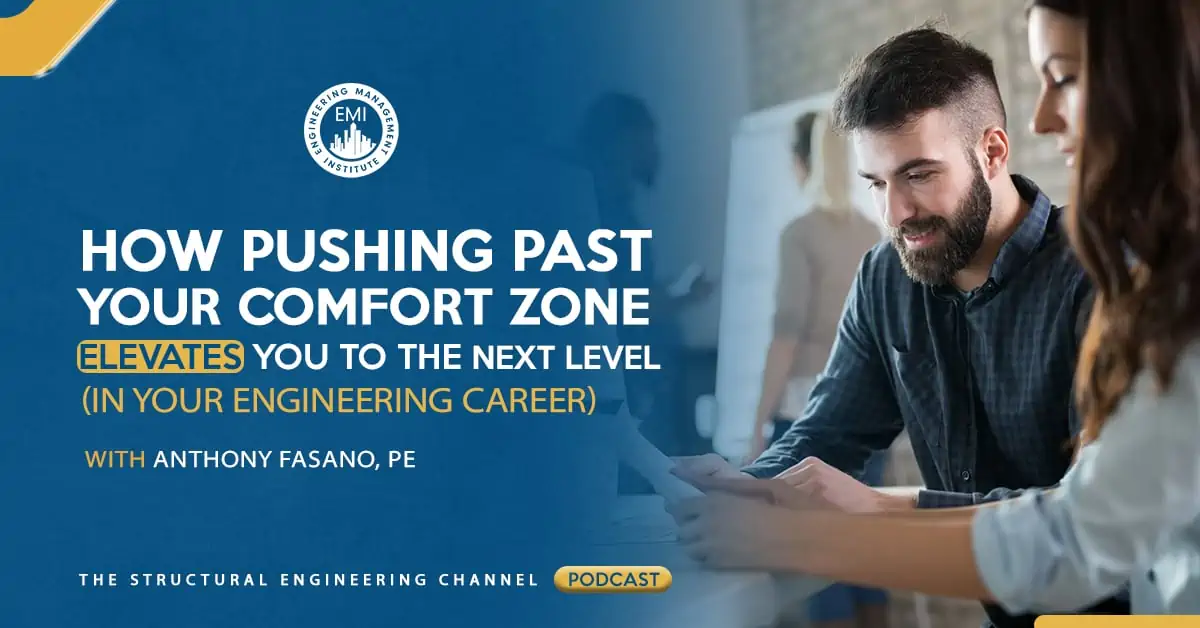 In this episode, we talk about the importance of getting outside of your comfort zone and how those experiences — where you try something outside of your wheelhouse — often lead to seeing the greatest increase in personal and professional growth. Joining us today are Anthony Fasano, CEO of The Engineering Management Institute, and Cara Green, a Structural Engineering trade manager at Hilti North America.  We also have a big announcement that we make during the episode, so keep listening to the end.
Engineering Quotes:



Here Are Some of the Key Points Discussed About How Pushing Past Your Comfort Zone Elevates You to the Next Level in Your Engineering Career:
There are times in your engineering career when you need to do something out of your comfort zone. Sometimes you need to do these things to get to the next step in your career or achieve your goals. It will give you a confidence boost and help you to perform better in other areas of your career.
Pushing through circumstances that are outside of your comfort zone helps to boost your confidence and keep it at that level. Once you are on this higher level, you can look for something else out of your comfort zone to push through to take your confidence even higher. It is the best way to build your confidence.
When you find yourself in a situation where you are out of your comfort zone, you will experience many unsettling emotions. When you push through this situation, you will realize that you are still alive and can focus on parts of the situation that you can better yourself on. It will build your confidence, not only in public speaking but also in other areas where you need to communicate with people.
Doing things that are outside of your comfort zone can be a very humbling experience. Always remember to ask questions that will help you to be successful in these opportunities. Even if you do not become the top contributor, you will have gained experience and enlightenment in the areas where you felt uncomfortable.
Being assured and not thinking much about what other people think of you is a sign of increased confidence. When you have the mentality that you are focused on what you want to do, what other people think of you does not matter, and the ceiling of your career will be much higher.
There is always an iteration in most things that you do in your career. The first draft is never the last. You will always get feedback from others on your first draft. Be confident in what you are presenting in your first draft and be receptive to the feedback that you are given. Acknowledge when changes are needed and learn from the changes you need to make. It can help you to see a different perspective of what you are working on.
The effort and the energy required to do something out of your comfort zone are tremendous, but once you have done it, everything else will be a lot easier to do.
More Details in This Episode…
About Cara Green, EIT
Cara Green, EIT, works in Hilti's North American headquarters as the Structural Engineering Trade Manager for the U.S. and Canada. She is currently an EIT in Texas and received her bachelor's in civil engineering from the University of Alabama in Huntsville.
Sources/References:
Here's How to Push Yourself Outside of Your Comfort Zone and Why It Matters
Civil Engineering Entrepreneurs
Please leave your comments or questions in the section below on how pushing past your comfort zone elevates you to the next level.
To your success,
Mathew Picardal, P.E. & Alexis Clark, P.E., M.ASCE
Hosts of The Structural Engineering Podcast