Podcast: Play in new window | Download | Embed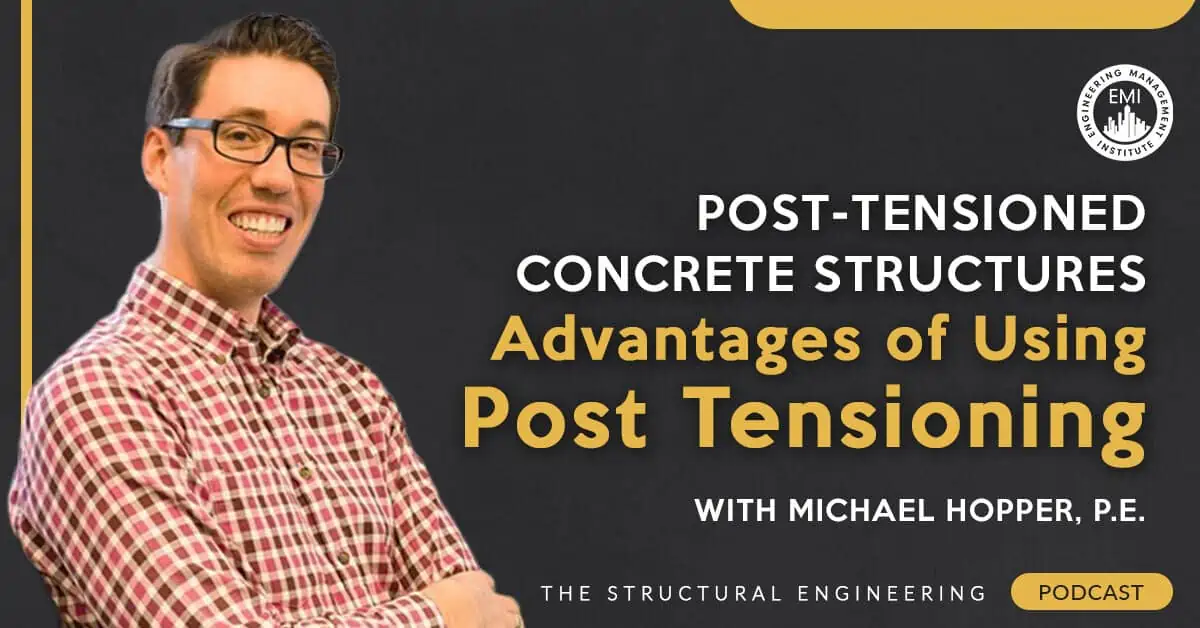 In this episode, we talk to Michael Hopper, P.E., an Associate Partner at LERA Consulting Structural Engineers, about post-tensioned concrete (PT) structures, what they are, some of the advantages of using post-tensioning, and what he thinks the future holds for PT.
Engineering Quotes:
Here Are Some of the Questions We Ask Michael:
What is post-tensioning, and why is it important?
What are some of the advantages of using post-tensioning in structures?
How has PT structure design evolved over the last 10+ years?
How does a post-tensioned concrete perform in seismic events?
What are void-formers and when should they be used?
How has concrete technologies made the construction industry more efficient?
What trends are driving innovation in construction?
Is PT concrete environmentally sustainable, and what does the future holds for the PT concrete industry?
Do you have any advice for engineers considering a career like yours?
Here Are Some of the Key Points Discussed About Post-Tensioned Concrete Structures:
Concrete is fantastic in compression but its terrible in tension. Post-tensioning is re-compressing the concrete so that when the structure is loaded later, the concrete remains in compressions or has a minimal amount of tension. Post-tensioned concrete is a practical way that lets us use concrete in its most efficient way, which is in compression.
Post-tensioned concrete is a volume-reducing technology that can span longer distances with a thinner beam or slab than reinforced concrete. It results in less material used in your slabs, beams, columns, walls, and foundations and less rebar used in a post-tensioned concrete projects. Post-tensioned concrete is versatile, robust, redundant, and reliable.
The Post-Tensioning Institute gives many awards each year for the unique ways engineers have used post-tensioned concrete. The recent advancements in post-tensioned concrete make it easier for developers to implement post-tensioned concrete in their buildings. One of the research initiatives that PTI is doing is with Virginia Tech, and they are testing different tendon layouts, including a banded-banded tendon layout.
In seismic-active areas, you get rocking walls or post-tensioned concrete walls that self-center after a seismic event, rendering the building still habitable after a large earthquake. Post-tensioned concrete is used in its elastic range and not for energy dissipation. There is still a lot of research needed on post-tensioned concrete behavior in seismic-active areas, but engineers are cautious to use it where it is yielding.
Concrete technologies have made the construction industry more efficient because they simplify the construction process. You can combine technologies and reap the benefits of the combined technologies to solve a particular problem.
Void-formers are large, recycled plastic balls that get inserted into concrete that you will not be relying on to do much structurally. They reduce the volume of the concrete used and the weight of the concrete structure. They simplify your formwork because it can be done as flat as possible. Void-formers can be combined with other technologies like post-tensioned systems, which complement each other well. Inserting a void into a post-tensioned element causes the axial stress to increase more than the flexural stresses increase.
Post-tensioned concrete is environmentally sustainable. It is a volume-reducing technology which means that less concrete is needed than other concrete structures. The structural depth is significantly less in post-tensioned concrete structures, which makes it less of a contributor to CO2 emissions. Post-tension concrete systems are very durable, resilient, and adaptable and helps us to reuse structures again instead of building new structures.
Post-tensioned concrete is likely to be used in a hybrid system in the future that includes wood and steel in the structures. It will also be a component in mixed concrete technology systems.
Engineers need to follow their passions. Everything you do well in your career is usually tied in with your passions. Your passions will help you to get past the hurdles and keep you going. Successful structural engineers are not only focused on solving engineering problems, but also solving problems outside of engineering.
More Details in This Episode…

About the Guest: Michael Hopper, P.E.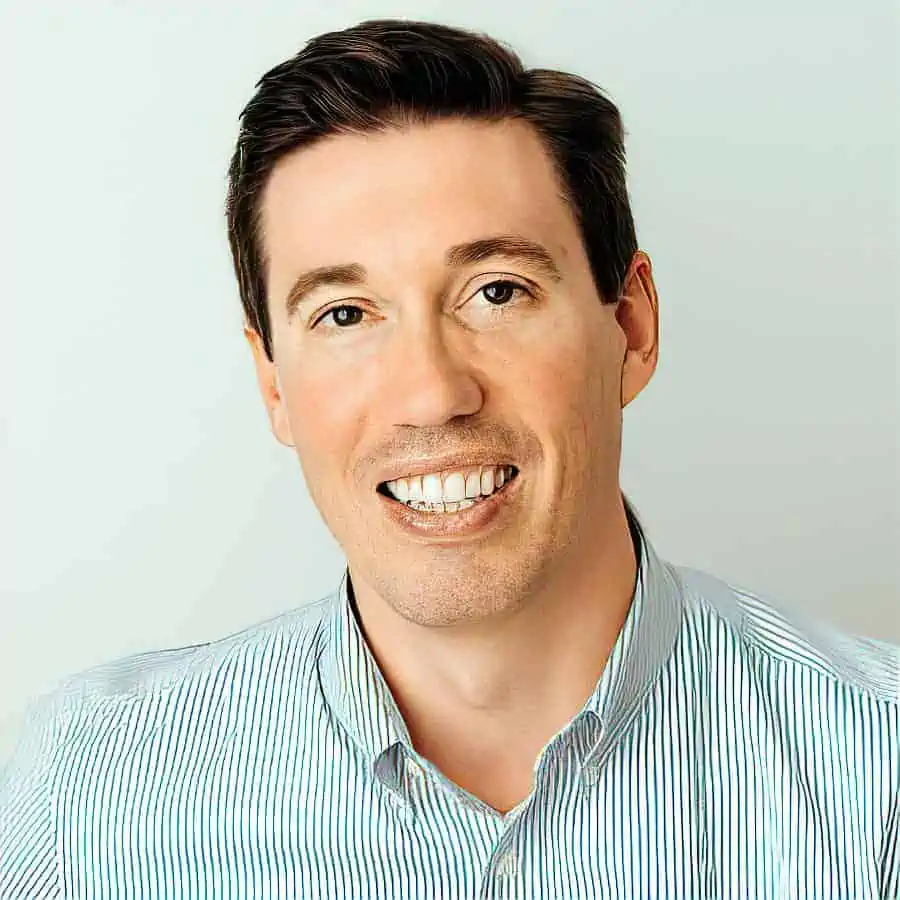 Michael Hopper, P.E. is an Associate Partner at LERA Consulting Structural Engineers. With the firm since 2010, he has contributed to numerous innovative structural designs for a wide range of structures, from cultural facilities to academic buildings and supertall towers. Mike is currently managing the School of Engineering & Applied Science (SEAS) + Environmental Sciences (ES) academic complex at Princeton University, a series of hybrid timber-steel and concrete structures that are organized to meet the performance requirements of these unique laboratory buildings while reducing embodied carbon. His other current work includes a high-end residential project in Washington D.C.; the adaptive reuse of 51 Bridge Street in Pittsburgh, PA; and the Lucas Museum of Narrative Art in Los Angeles, CA.
Some of his award-winning projects include the Roy & Diana Vagelos Education Center at Columbia University Medical Center in New York, NY; The Broad in Los Angeles, CA; the Novartis Radiation Oncology Research Office Building in East Hanover, NJ; and the recently completed Rubenstein Forum at the University of Chicago in Chicago, IL. Hopper is a founding member of LERA's internal leadership team for the SE2050 Carbon Reduction Commitment, a program issued by the Carbon Leadership Forum. Hopper is a Visiting Lecturer at Princeton University's Department of Civil and Environmental Engineering, where he teaches a course on the design of concrete structures and serves as a Senior Thesis Advisor, and lectures at Penn State University's Architectural Engineering Department. He holds both a Master of Science and Bachelor of Architectural Engineering from Penn State, earning Honors and Distinction.
About the Hosts
Mathew Picardal, P.E.
Mathew is a licensed engineer, practicing on structural projects in California, with an undergraduate degree from Cal Poly Pomona and an M.S. in Structural Engineering from UC San Diego. He has designed and managed various types of building structures, including residential wood apartment buildings, commercial steel buildings, and concrete parking structures and towers. He also hosts the new YouTube channel "Structural Engineering Life," through which he promotes the structural engineering profession to engineering students who are not familiar with the industry perspective.
Cara Green, EIT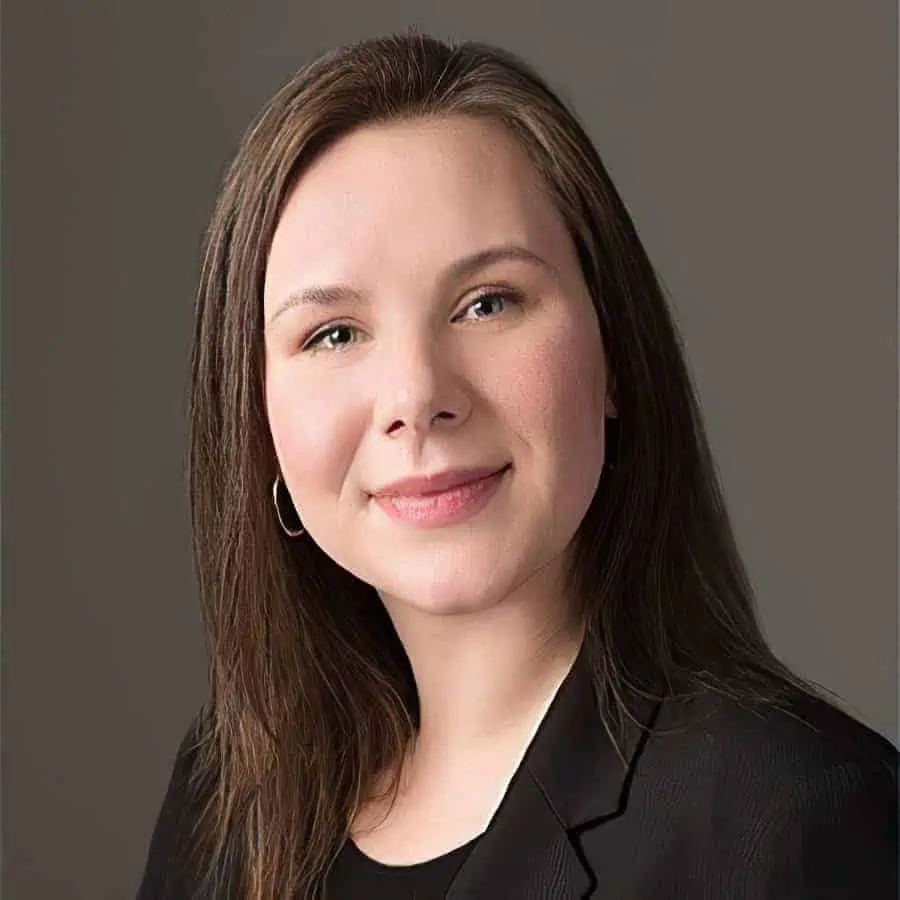 Cara Green, EIT, works in Hilti's North American headquarters as the Structural Engineering Trade Manager for the U.S. and Canada. She is currently an EIT in Texas and received her bachelor's in civil engineering from the University of Alabama in Huntsville.
Sources/References:
Banding Together to Reach Out
Concrete International Article: High-Performance Concrete Flat-Plate Floor System
LERA Consulting Structural Engineers
Post-Tensioning Institute
PTI Convention
Roy and Diana Vagelos Education Center, Columbia University Medical Center
Novartis Radiation Oncology, Research Office Building
Broad Art Museum
David Rubenstein Forum, University of Chicago
Connect with Michael Hopper, P.E., on LinkedIn
This Episode Is Brought to You by Colliers Engineering & Design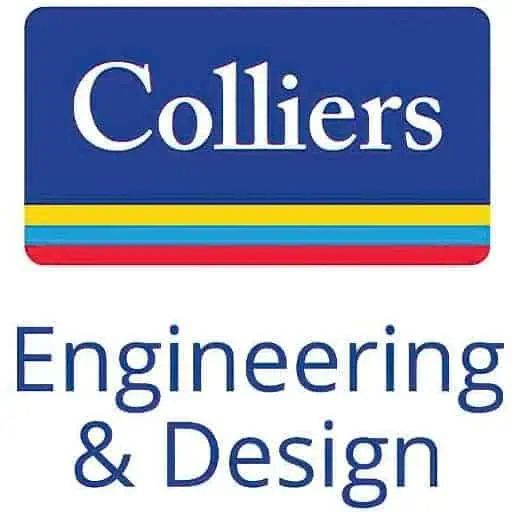 Colliers Engineering & Design is a multidiscipline engineering firm with over 1,800 employees in 63 offices nationwide — and growing fast! Colliers Engineering & Design maintains an internal culture that is nurtured through the promotion of integrity, collaboration, and socialization. Their employees enjoy hybrid work environments, continuous career advancement, health and wellness offerings, and programs and projects that have a positive impact on society. Colliers Engineering & Design stays on the cutting-edge of technology, and their entrepreneurial approach to expansion provides personal and professional development opportunities across the firm. Leadership's dedication to the well-being of their employees and their families is demonstrated throughout the wide range of benefits and programs available to them. For more information, visit the career page on their website at colliersengineering.com.
Please leave your comments or questions in the section below on post-tensioned concrete structures and the advantages of using post-tensioning.
To your success,
Mathew Picardal, P.E. & Cara Green, EIT
Hosts of The Structural Engineering Podcast