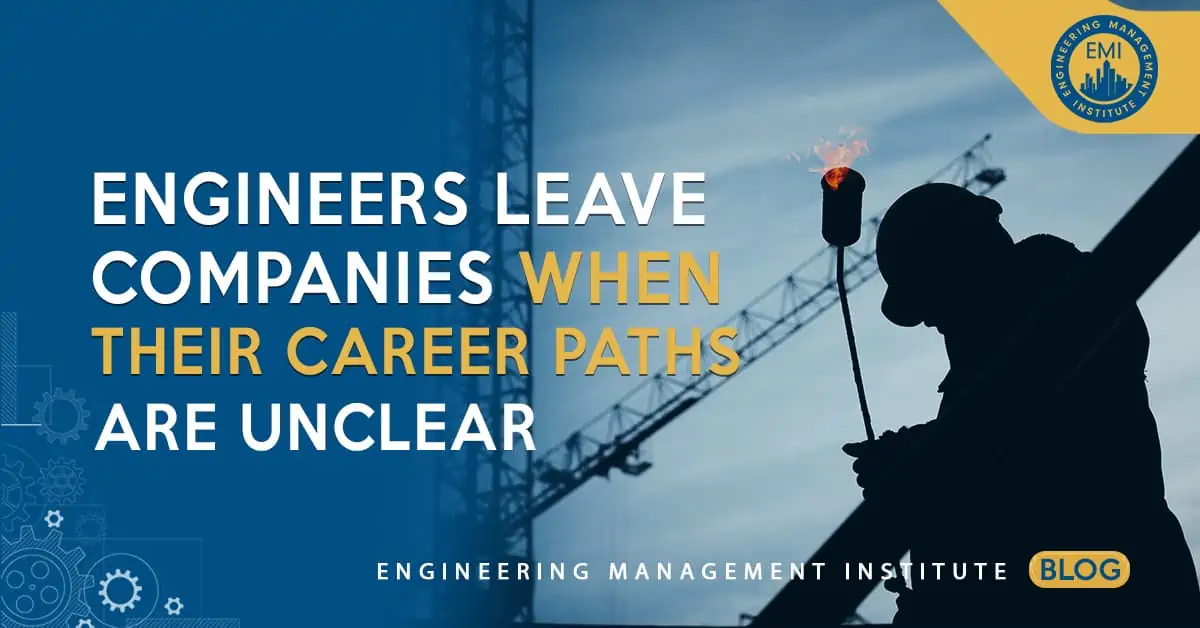 Hiring and training new employees is one of your biggest expenses, and it is costing you a lot more than money. In this post, I would like to provide strategies for improving your firm's retention rate, regardless of how good (or bad) it may be.
The Cost to Replace a Highly Trained Employee Can Exceed 200% of Their Annual Salary. 
Many engineering companies are aware of this expense, yet they hold back on investing in initiatives that can reduce this expense by greatly improving retention and also making it easier to recruit when the time comes.
At EMI, we have surveyed and provided career coaching to thousands of engineers, and they continue to tell us that the most important thing to them in their careers is the opportunity to grow. Therefore, before anything else, including salary increases and promotions to new positions, you should consider how you can provide your employees with growth opportunities. That should be your number one focus.
One great way to do this is to chart out clear career paths for your staff. People really like to see the full length of the career paths they are traveling on as opposed to just the next one-hundred feet.

According to Willis Towers Watson, 76% of employees who fall into the "high-retention-risk" category are itching to leave because they have nowhere else to go on their current organization's career ladder.
So, give then somewhere to go and offer professional training and development to help them get there.
Two Engineering Firms That Are Getting This Right
At the Engineering Management Institute, we are currently working with two firms that are really focused on improving their retention rates.
One of the firms created detailed career paths for the different types of employees in their firm, and then utilizing our Training Needs Assessment (TNA), we built a custom, multi-level professional development training program for them that was tied to each of the career paths. So, when someone completes one leg of the program, plus accomplishes a few other goals, they would graduate to the next career milestone.
The other firm purchased one of our new seat licenses for our Engineering Management Accelerator online workshop. They then communicated to their staff that they have partnered with the Engineering Management Institute and that all project managers would be going through the EMA workshop over the next two years to improve their people skills as part of their career progression and professional development.
Again, giving their staff something to look forward to in relation to their career growth.
Gallup research has shown that employees who are "engaged and thriving" are 59% less likely to look for a job with a different organization in the next 12 months.
When you know where you are headed in your career, it is easier to stay focused and engaged, and then thrive. However, the alternative — not knowing where you are headed in your career — often results in someone looking for a new job.
Our next session of the Engineering Management Accelerator online workshop, which provides people skills training in a very accountable way for engineering professionals, is starting on November 22nd. If you're interested in enrolling some of your managers or aspiring managers, please contact our office at 201-857-2384. We also offer our Engineering Management Training Needs Assessment as an inexpensive first step in deciding on how to maximize your training spend and your people.
Build an amazing company!
Note: This is a column I send to executives, training, and HR professionals with whom I speak regularly, on or about the first day of each month, to help them best develop their most important resource — their people.
This article was originally published on LinkedIn here.
Please leave your comments, feedback or questions in the section below.
Anthony Fasano, PE, LEED AP
Engineering Management Institute
Author of Engineer Your Own Success