No Moment Is Too Small for a Sincere Thank You is a
guest blog by Mike Burns, PE, PgMP, DBIA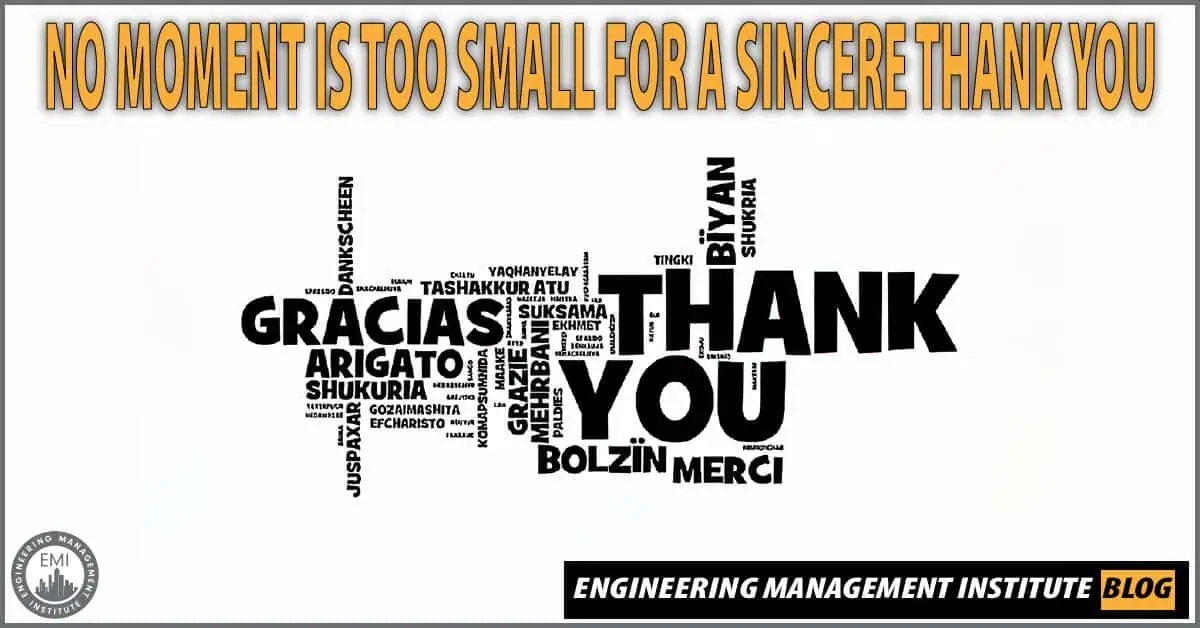 Over the past 12 months, during another painful period of global socio-economic strife, I have thoroughly enjoyed EMI's support as we've discussed AEC industry trends and leadership themes. Last month's effort, A Sustainable Sales Platform Starts With an Organization's Values, presented an opportunity to summarize these discussions. This month, as we move into what will certainly be a very trying holiday season for people around the world. I'm taking my cue from the recent Thanksgiving holiday in the U.S.
History reminds us that progress is a messy business, fraught with mistakes and unintended human consequences. The work we do, delivering infrastructure improvements for our communities, reminds us that our complex world doesn't always lend itself to simple solutions. Respecting that current events affect us differently and that our support systems vary widely, I encourage you to celebrate incremental success. Never forget that no moment is too small for a sincere thank you, establishing cultural norms that allow collaboration to thrive.

Accepting the risk that this note will miss some important people, your patience is greatly appreciated as I thank those who bring meaning to my life. I encourage you to take a moment to reflect on your companions, enhancing our self-care and wellness by sending a sincere thank you to the ones you love most. .
Dear [insert from below],

[Ancestors]
I can't fathom the risks you took migrating to a new country — the challenges faced and overcome as your tenacity established roots. Irish ancestors tilled the soil, so that late in life my Great Great Grandpa Michael had the time and desire for his daughter-in-law to teach him to read. A choice that set the stage for generations of continuous learners.
[Parents]
Mom and Dad taught professionally, bringing the same approach to parenting: encouraging me to make mistakes, supporting me through many bad choices; and most importantly, never dictating outcomes. Always available, even during the hardest times of life, you continue to inspire me, my children, and our purposeful paths.
[Family]
My sister Jehnie and I had incredible access to Grandma Ilene, whose Scandinavian strength allowed her to pursue a teaching career later in life. I recently learned that she visited all the schools in Boulder to evaluate their reading programs before I started kindergarten. She had a passion for family that inspires me to meaningfully connect with relatives, the Burns clan, et al.
[Community]
I was incredibly lucky to grow up in the Boulder bubble, during a time when local values created a safe space for youthful exploration. While I haven't been able to replicate this embracing community experience for my family, our roots and cultural expectations stem from this idyllic start in life.
[Teachers]
As the son of educators, school was always a comfortable place. Vivid memories flash through my mind, reflecting on the safety and security of SHJ, adventures at Casey, a lifetime of BHS purple and gold pride, and MSU and CU's engineering excellence. Too many inspiring, dedicated, and challenging teachers to list. The gift that keeps on giving.
[Coaches]
Coach Meadows is a hard act to follow; he is a natural leader who allowed an awkward teen to get his footing before being pushed to perform. Later, Coach Ramsey successfully enticed me to change sports, supporting my learning curve and path to college. As a youth coach I attempted, often failing, to achieve these positive outcomes for every kid on my teams
[Teammates]
Loved you one day, hated you the next. Our time together at SHJ, Casey, BHS, and MSU pushed my boundaries, exposed my biases, opened my eyes to structural human divides, and most importantly, toughened me up for the journey ahead. This old guy will always miss our comradery, game day jitters, and the stories that followed.
[Friends]
The rewards of our paths crossing are innumerous. Classmates, teammates, community members in Erie Colorado, AECOM Libya peers, etc., have all left an indelible imprint on my life, flowing through to my family, colleagues, and communities. Our connections, sustained through the awkwardness of social media, are a positive reminder of a life well-lived.
[Spouse]
Barbie always leads with her heart, noting that "you are as happy as your unhappiest child." Maddie, Taylor, Whitney, and I may never fully appreciate the value of her generosity. Through our challenging adventures, I'm left with regrets for her compassionate suffering. Yet, I wouldn't trade our journey for anything, as her ridiculously fun nature secures my confidence.
[Children]
Loving, laughing, arguing, and exploring with Whitney and Taylor is my life's greatest reward! Watching them work through challenges, emerging as intelligent, motivated, empathetic young adults inspires me every day. We continue to learn together as education empowers their purposeful paths: Whitney, Psychology and Economics, and Taylor, Environmental Engineering.
[Colleagues]
Having a blast at #WeAreVanir, whose leaders and teams make collaborating to grow our infrastructure services fun, I often reflect on critical lessons from previous bosses. Barbara's high bar for open office collaboration coupled with Regis' brilliant and enthusiastic drive for sustainable solutions collectively motivate my professional approach and aspirations.
With love, Mike
About the Author Mike Burns PE, PgMP, DBIA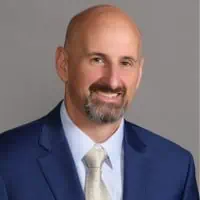 Mike's 27-year career has included planning, design, construction, and finance roles across a broad set of public and private development projects. His empathetic leadership style and program management experiences honed his understanding of complex governance and economic models, deepening his enthusiasm for leading teams delivering sustainable infrastructure in our communities. You can learn more about Mike here. 
We would love to hear any questions you might have or stories you might share about sending a sincere thank you to the ones you care about. 
Please leave your comments, feedback or questions in the section below.
To your success,
Anthony Fasano, PE, LEED AP
Engineering Management Institute
Author of Engineer Your Own Success