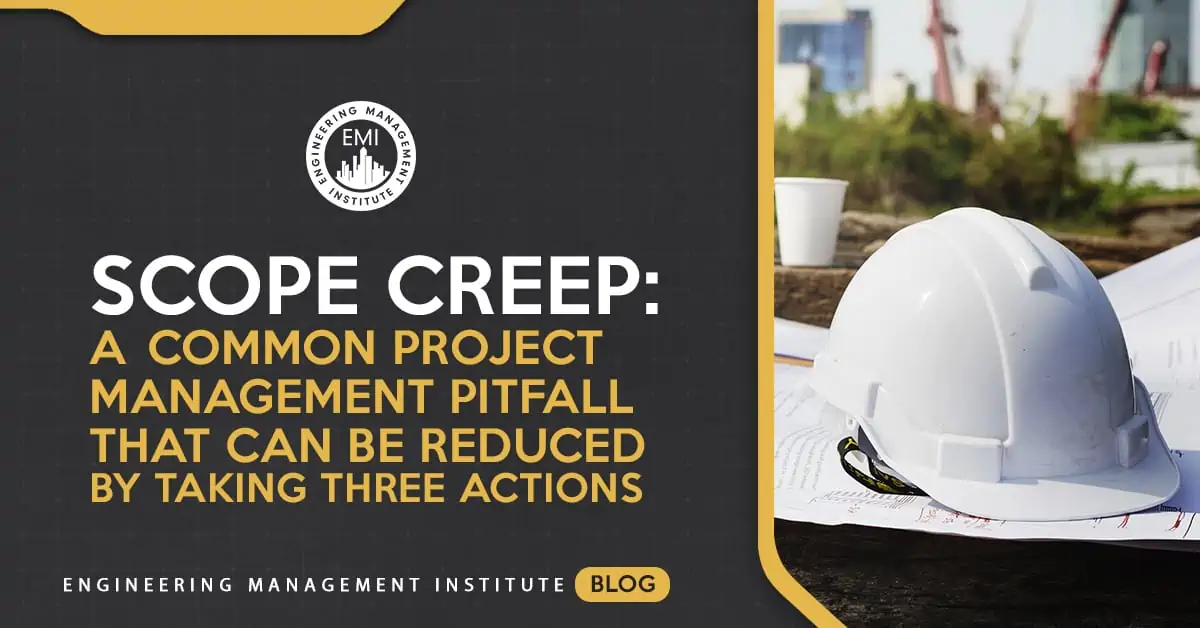 Project scope creep is defined as an unwanted event when the original project scope expands with additional features and functionality without the corresponding adjustments to time, budget, or other project resources.
In providing coaching and training services to many engineering companies, I have found that project scope creep is not only one of the biggest project management pitfalls, but it is the leading cause of projects going over budget, and subsequently a key driver of reducing company profitability.  Now for some good news: you can take some simple actions to greatly reduce scope creep on your engineering projects.
Here Are Three Steps That You Can Take To Reduce Project Scope Creep:
Step #1 – Cleary Identify the Scope of Work
If you are not clear on the scope of work for a project, then you are essentially inviting scope creep to happen, because it will be unclear as to what tasks are included or aren't included in the project.  You should create a process that you can use early on in your projects to clearly identify the scope of work.
In our Project Management Accelerator – PM Skills Course, we provide a framework of questions that a PM can answer to help solidify the project scope.  Whatever process you utilize, it should include conversations with the client, end-user, or other stakeholders to ensure you are inclusive of all items that will need to be accomplished.  You should take whatever time is necessary to ensure that the scope of work is extremely clear, because any ambiguity could end up costing your firm thousands of dollars.
Step #2 – Communicate the Scope of Work to the Project Team
Congratulations, you followed step #1 outlined above and you now have a clear Scope of Work (SOW).  The next step is to ensure that you communicate the SOW to the project team.  Failure to do so is just as bad as not clearly defining the scope.
Think of the SOW as a fence around your project that clearly defines what is included within the project.  By failing to share the SOW with your team, you are not showing them where the fence is located, therefore they will be left to figure it out on their own, and it will be very easy for them to work outside of the fence or on items outside of the SOW, resulting in project scope creep.
I recommend communicating the SOW to your team at a kick-off meeting and providing them with written documentation detailing the SOW.  I also recommend doing the same with your client and other parties involved in the project.  While the project proposal can serve as a good SOW, that is not always the case.  You may need to add more details to the general scope of services in the proposal to eliminate any ambiguities.
Step #3 – Create a Regular Scope of Work Review Action Item
Once you've taken the two steps outlined above, the project will likely begin.  From day one on the project, you should ensure that you have some type of process in place to review the work being done against the previously approved SOW.  How can you ensure that work is only being done 'inside the fence?'  One of the easiest ways to do this is to hold weekly project meetings where you run through the SOW and ensure all work being done is within scope.
You could also conduct this review utilizing the project schedule, assuming it clearly lists all items in the SOW.  This will allow you to not only ensure you are executing on the items within the SOW, but also that you are doing so in a way that meets the project schedule.  This is an important step, because you could very easily create a scope, and share it with your team, but then fail to monitor that work is remaining within the SOW, which in essence defeats the purpose of steps one and two.
An analogy here would be like a child who tells her parents that she will exercise if her parents buy her equipment.  The parents buy the equipment but then never check in on her to see if she is using it or helping her to build accountability into her workout routine.
By following these three steps, you can greatly reduce project scope creep on your projects, ensuring your firm is more profitable and you teams more productive.
If you're interested in your firm possibly joining the Civil Engineering Collective, please contact us here or call us at 800-920-4007.
I hope you'll join us.
Anthony Fasano, P.E.
Engineering Management Institute
Author of Engineer Your Own Success