Podcast: Play in new window | Download | Embed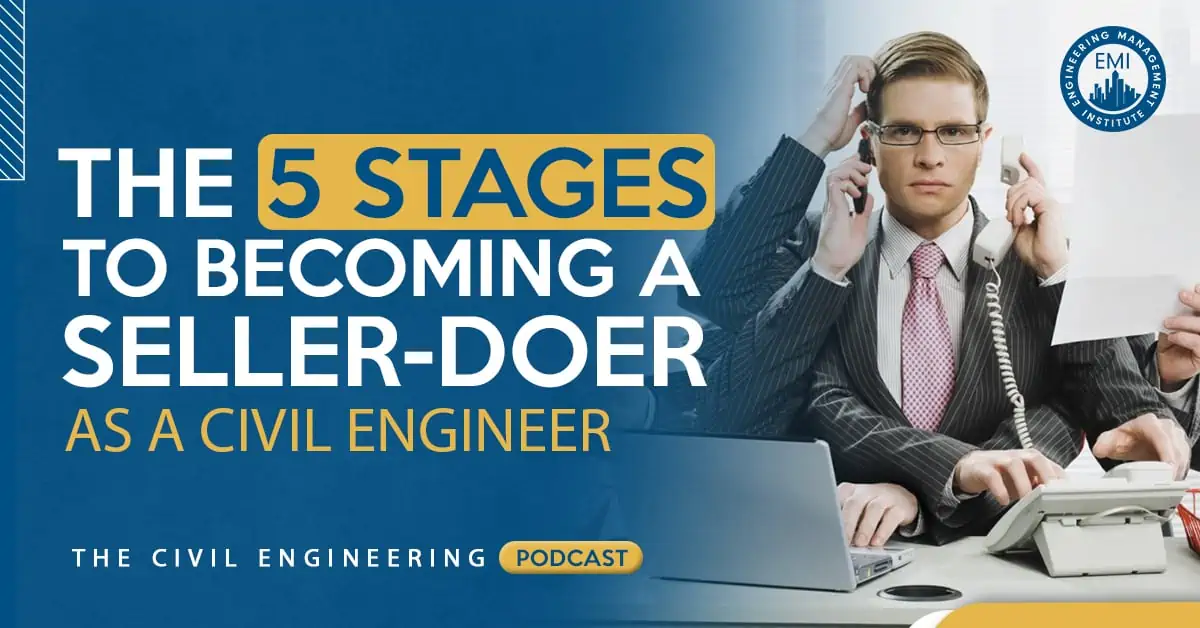 In episode 027 of The Civil Engineering Podcast, I interview Jim Rogers, author of Win More Work: How to Write Winning AEC Proposals. We define what a seller-doer is and also talk about the five stages on how to become a seller-doer as a civil engineer.


Here are the key points from this episode:
We define Seller-Doers as professionals who are highly capable of delivering client work and are now ready to take on a more active role in growing a business.
The 5 Stages of Seller-Doer Activities (R-LOCK):
Stage 1: RECOGNITION – Build authority and recognition (authority + familiarity)
Write articles for publication/blogs
Write white papers
Speak at conferences
Stage 2: LEADS – Identify and nurture leads
Create a personal marketing plan
Build network at events
Stay in touch with leads and prospects
Think about how to bring value to people
Use a lead management system (e.g. Deltek Vision, Excel)
Make cold calls, set appointments
Stage 3: OPPORTUNITIES – Develop Opportunities
Uncover opportunities with existing clients and teaming partners
Discover new opportunities with new clients and teaming partners
Ask questions about the people that are going to be involved and not just technical solutions (e.g. "What would keep you from hiring us?")
Test your strengths and liabilities
Make  go/no-go decisions
Deepen business relationships with people
Position yourself for the win in advance of the RFP
Stage 4: CLOSE – Close the Sale
Close on opportunities with no formal competetion (i.e., no RFP)
Contribute to and write winning proposals: Essential components –
1) Tell a good story 2) Emphasis is on the client and not about yourself
Prepare for and deliver winning interview presentations
Debrief proposals after the award (won or lost)
Stage 5: KEEP – Serve and Keep Clients
Ask for feedback
Ask for testimonials and referrals
Be responsive
Provide a superior client experience (i.e., deliver more than great deliverables)
Become a trusted advisor rather than an order taker
More details in this episode…
About Jim Rogers
Jim is a nationally recognized proposal guru and author who helps professional services clients win more work. He is a consultant, speaker, author, and sales presentation coach. Architects and engineers hire him to help build their authority and to help them prepare proposals and presentations that seal the deal. He equally enjoys working with multi-national Goliaths and the Davids who, with his help, routinely outwit them.
Today, he is a master distiller of ideas, that is, he helps his clients distill their ideas to the time and space allotted by their prospective clients. He is founder of Unbridled Revenue, Inc., which helps A/E/C firms win more work and also a co-founder of The Seller-Doer Academy for Civil Engineers.
Sources/References:
Seller-Doer Academy for Civil Engineers
Unbridled Revenue
TCEP 014: Write Winning A/E/C Proposals with Jim Rogers
This episode is brought to you by PPI, the leader of civil engineering FE or PE exam preparations. Use promo code CIVIL for 20% discount at PPI2Pass.com/coach.
Books mentioned in this episode:
Engineer Your Own Success: 7 Key Elements to Creating an Extraordinary Engineering Career

Win More Work: How to Write Winning AEC Proposals

Please leave your comments, feedback or questions in the section below on how you have developed your skills as a seller-doer.
To your success,
Anthony Fasano, PE, LEED AP
Engineering Management Institute
Author of Engineer Your Own Success