Podcast: Play in new window | Download | Embed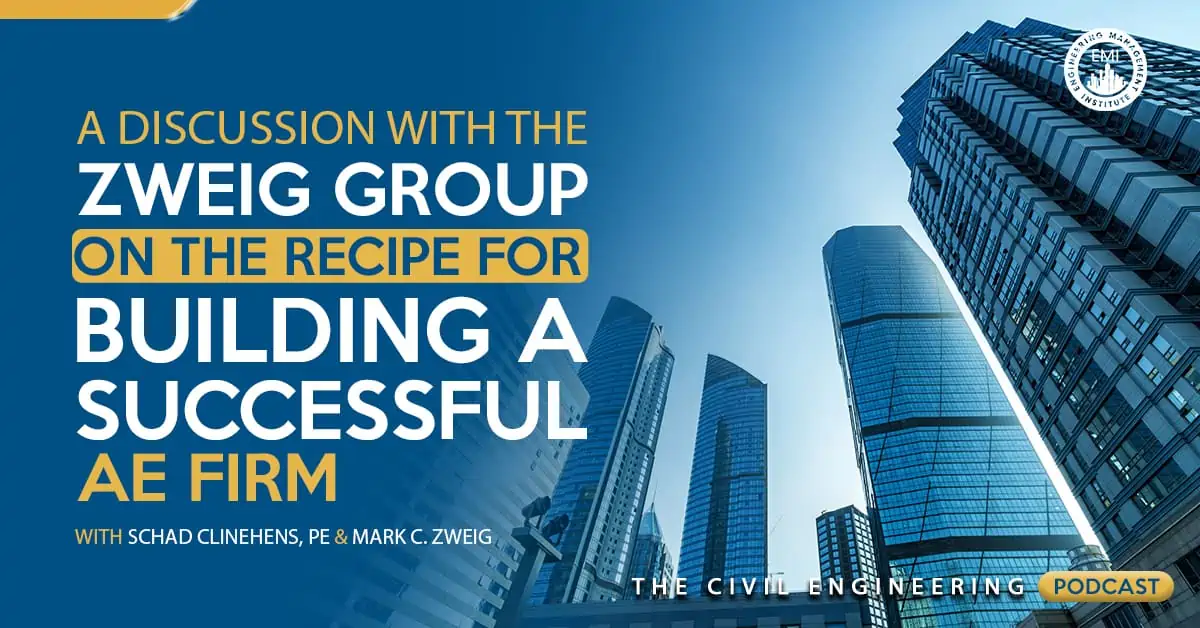 In episode 057 of The Civil Engineering Podcast, I talk with Mark Zweig, Founder, and Chairman of the Zweig Group and Chad Clinehens, PE, President and Chief Executive Officer of the Zweig Group about what it takes for building a successful AE Firm. If you want to grow as a Civil Engineer, or you want your company to grow, this episode will help you tremendously in achieving that goal.
Here are some of the questions I ask the Zweig Group leaders in regards to building a successful AE Firm.
What are the characteristics of fast growing, successful AE firms?
What made you decide to run a conference to recognize these firms?
How should an AE firm approach branding?
AE Growth Quotes





Here are some key points discussed in this episode:
Success is growth, which starts with providing a great place to work. It also comes from great marketing and courageous leadership which is all intertwined.
The firms that are growing the fastest are long-term focused. They have a strategic plan, and talk a lot about their business. Instead of just staying buried in project work, they think about the big picture and invest in marketing, IT and Human Resources. They also work hard to reduce the amount of bureaucracy, that every firm seems like they want to institute to respond to every single problem and issue they have.
The sessions at a conference are only half of what you can learn, the networking and connections that you make are everything.
Make sure you keep your best people happy and inspired and get rid of people who are underperformers when building a successful AE firm
Stop looking at how everybody else is doing and stop trying to model yourself after mediocrity.
Paying people a good salary will cover up a lot of inefficiency in your company and will give you an edge over the companies that are stuck in the traditional pricing models.
One of the key factors in building a successful AE firm is to give people responsibilities and let them solve problems.  This is how you create the next executive that can grow your firm. You've got to give people the chance to do something. They might not be as good at first, but after a while, they might even become better than you.
When it comes to marketing, try to create a brand for yourself, as your marketing and selling will flow so much easier. This will not happen overnight, it takes many different things that have to be done on a daily basis when building a successful AE firm.
A successful AE firm views their business as a sports team, and they make sure they keep their best people on the team.
More details in this episode…
About Chad Clinehens, PE 
Chad Clinehens, PE is the president and CEO of the Zweig Group, the leading research, publishing, and consulting firm for the architecture and engineering industry. Passionate about the business side of design and technical service firms, Chad has built a career on leading them through growth and change. Chad has worked with AEC firms throughout the U.S. on a variety of needs – strategic business planning, turnarounds, partner separations, organizational restructuring, mergers and acquisitions, marketing and sales, growth campaigns, and more. He holds a Master's Degree in Business Administration as well as a Bachelor of Science in Civil Engineering from the University of Arkansas. He is a registered professional engineer in Arkansas.
About Mark C. Zweig
Mark C. Zweig is best known as the leading expert in management for the architecture, engineering, planning, and environmental industry. With more than 30 years as a student of the industry, Mark knows architecture, engineering, and environmental consulting firms inside and out. He started his career in a management consulting firm that specialized in the construction and development industries, and then worked as a principal and manager in two A/E and environmental firms. He founded Mark Zweig & Associates in 1988, which later became ZweigWhite in 1991, and is now known as Zweig Group. Mark has worked with AEC consulting firms of virtually all sizes and types throughout the U.S. and abroad, and helped them solve just about every problem—from strategic business planning, to turnarounds, to partner separations, to organizational restructuring, to mergers and acquisitions, to jump starting marketing, to dealing with cash flow crises, solving tricky ownership transition scenarios, and more. Mark received both his MBA and BS in Organizational Behavior from Southern Illinois University at Carbondale, Illinois. He was named to the SIU-C College of Business Hall of Fame in 1992, elected to the College of Business Board of Advisors in 1999, and named Chairman of the Advisory Board in 2002.
Sources/References:
Zweig Group
The Zweig Letter
2017 Zweig Group Hot Firm + A/E Industry Awards Conference
TCEP 013: Advice on Business Development and Building a Business and Career from a Civil Engineering CEO – The Civil Engineering Podcast
Special Discount to the Hot Firm Conference
Discount Code: engineeringcoach
This episode is brought to you by PPI, the leader of civil engineering FE or PE exam preparations. Use promo code CIVIL for 20% discount at PPI2Pass.com/coach.
Books mentioned in this episode:
Please leave your comments or questions in the section below on how to build a successful AE Firm.
To your success,
Anthony Fasano, PE, LEED AP
Engineering Management Institute
Author of Engineer Your Own Success