Podcast: Play in new window | Download | Embed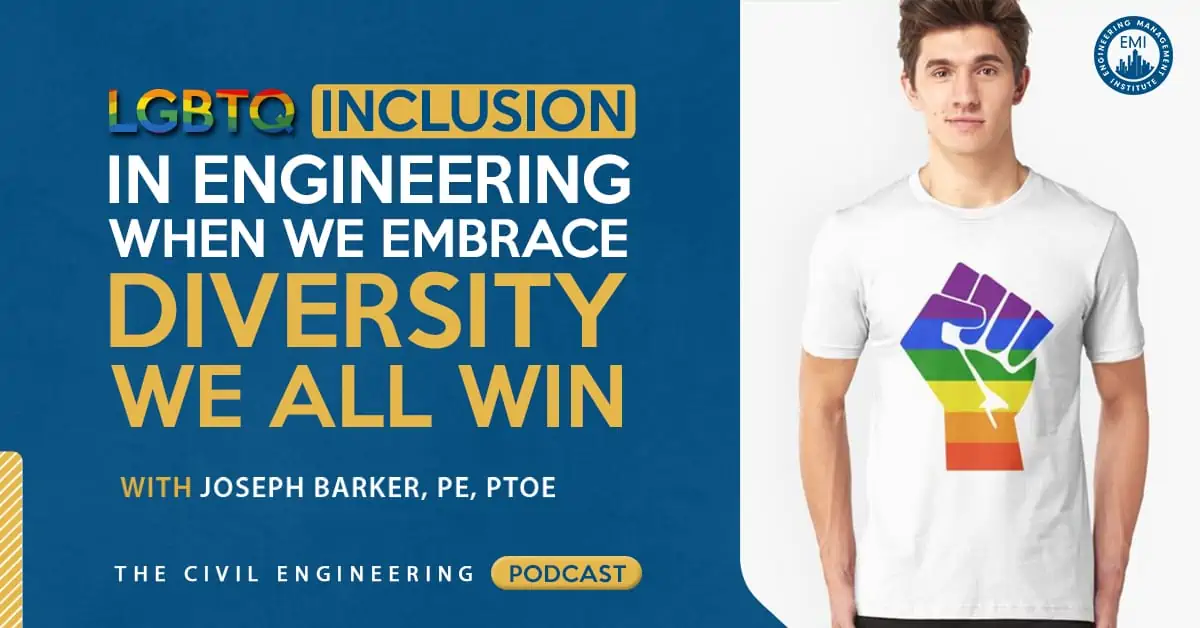 In episode 90 of The Civil Engineering Podcast, I talk with Joseph Barker, PE, PTOE, a licensed Professional Engineer and Traffic Operations Engineer from Stantec. We discuss the topic of diversity and why firms should embrace diversity for engineers which provides inspiration and typically leads to them being happier and more productive in their careers.
Here are some of the questions I asked Joseph Barker, PE, PTOE:
What was it like entering the Civil Engineering workforce as a gay man?
How did hiding your being gay affect your daily mindset?
Would you say that this experience you went through, hiding who you really are, made you stronger today?
Tell us about the move you made to Stantec, and how that impacted your mindset and career overall?
Have you ever thought of relocating to a geographical location that is more accepting of gay people?
Engineering Quotes:


Here are some key points discussed in this episode:
We spend so many hours each week with our co-workers. If we can't be ourselves around them, it will make us miserable and unproductive in the workplace.
When I picked my major, I never thought about how being gay could influence my career. I decided to separate the two parts of myself, as I thought this would be the best way to advance in my civil engineering career.
Hiding who you really are, is definitely not a fun place to be in. It causes many distractions in your job.
You can't give one hundred percent at your job if you are not being yourself.
As a gay person, you have to be strong to make it in this world.
When you are gay and you live in a conservative area, it can very easily become a don't ask, don't tell situation. They never ask and you don't tell, which is not a very comfortable place to be in.
It's a company's responsibility to embrace diversity and to make it clear to their employees that they can be themselves in their work environment.
I reached a point where I felt that my career was getting stagnant and that I wasn't progressing in my career path. I felt I had to make a change and work at a company where I could just be who I wanted to be all the time.
Engineers work in a field that is so creative and innovative. We have to think outside of the box every day.
A lot of gay people struggle with unsupportive blood-related family members who don't appreciate who they are, so we have to be each others' families.
Having companies that embrace diversity is so important for the mental wellbeing of those that they are embracing.
More details in this episode…
About Joseph Barker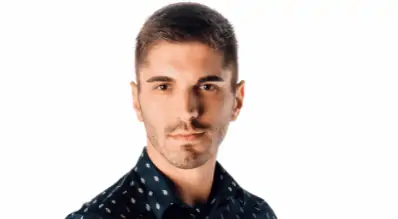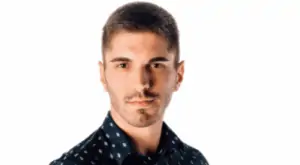 Joseph Barker, PE, PTOE is a Traffic Engineer at Stantec in New Orleans, La. Joseph attended Louisiana State University in Baton Rouge, LA to obtain his Bachelors of Science in Civil Engineering. As a New Orleans native, it did not take long for Joseph to return to his roots and settle back down in New Orleans. As an engineer with over 6 years of experience in transportation planning and traffic engineering, Joseph's passion lies in sustainable transportation planning, urban mobility, and the promotion of active modes of transportation. Additionally, much of Joseph's work focuses on the planning, design, and implementation of Intelligent Transportation Systems (ITS). Joseph is also the chair of the New Orleans Chapter of Pride@Stantec, an Employee Resource Group (ERG) that strives to create a safe and supportive space for LGBTQ+ colleagues and allies working to build a culture of acceptance and inclusiveness in the workplace.
 Sources/References:
Engineering Management Accelerator Workshop (Online) | 5 PDHs
TCEP 085: From Taxi Driver to Globally Recognized Transportation Engineer Featuring Gridlock Sam Schwartz
Why I no longer think that being gay will hamper my career as a transportation engineer
Joseph Barker LinkedIn Account
This episode is brought to you by PPI, the leader of civil engineering FE or PE exam preparations. Use promo code TCE8 for a 20 % discount at ppi2pass.com
Books Mentioned in this Episode:
The Alchemist: A Fable About Following Your Dream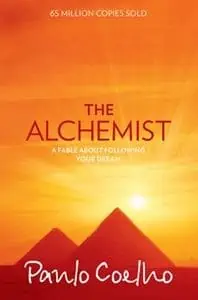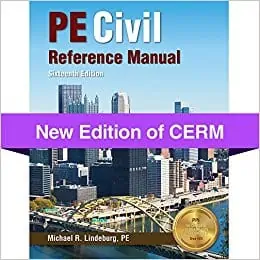 Please leave your comments or questions in the section below on how you or your company embrace diversity in the workplace.
To your success,
Anthony Fasano, PE, LEED AP
Engineering Management Institute
Author of Engineer Your Own Success