Podcast: Play in new window | Download | Embed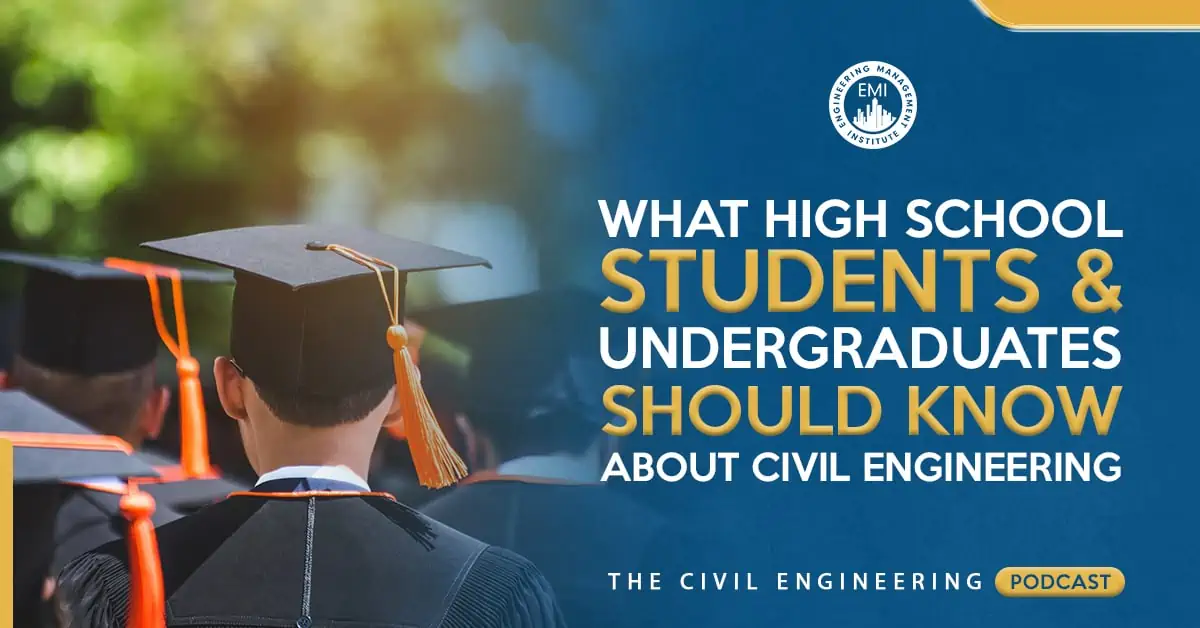 In this episode I talk about what high school students and young adults should know about a career in civil engineering. This episode is intended to be a resource that you can share with high school students and their parents to inform them about the profession of civil engineering. You can also view this episode on our YouTube channel.
Engineering Quotes:


Here Are Some Key Points Discussed in This Episode: 
The cost of a civil engineering degree is high. Students and parents need to plan for ways to pay for it.
Civil engineering is a vast and varied field of work. The undergraduate level curriculum does not fully describe what kinds of companies do what types of work. It is rarely known to students prior to graduation, what type of civil engineering they will have a passion for.
Civil engineering is the second-oldest profession and is the grandparent of all engineering.
Civil engineering is about creative problem-solving. No solution will work in every scenario. Every problem is different and needs a different solution. Civil engineering, more than any other profession, gives you the chance to see your designs come to life.
To excel in civil engineering, the development of strong technical, relational, and communication soft skills is required.
In the world we live in today, which has a lot of variabilities, it is important to create stability in your career. As a civil engineer, you can fairly easily transfer into another discipline in civil engineering, or another field of engineering altogether.
There are just as many opportunities with smaller companies in civil engineering as there are in bigger civil engineering companies.
Civil engineering is the ultimate team activity. You will always be working with other engineering specialities as a team. You need to interact with people regularly to achieve success with your projects.
High school students need to understand that the interesting specialties aren't only those involving highly technological things like electronics, computers, and robotics. It is still fascinating and challenging to work with natural resources like water, air, soil, rocks, and so on, scaling in ranges from microscopic to miles.
Being a civil engineering consultant is a skill all of its own, and is one that many civil engineers take years to master.
The water and wastewater sector of civil engineering is a highly diverse, secure, and rapidly growing sector that works with a range of disciplines to provide a valuable service to society.
It is unbelievably valuable to get work experience before getting a master's degree. It helps you to better understand topics that are covered in your master's program and what you are expected to do with the information that is given to you.
Having a strong foundation in subjects such as calculus and physics makes being an engineering major much easier. Also, being aware of the software in the civil engineering world can be a huge advantage to you as a recent graduate.
As important as your technical skills are as a civil engineer, you must communicate with people. As a student, you need to practice your speaking skills. Join a public speaking club and speak in front of audiences as often as possible.
More Details in This Episode…
Sources/References:
The following engineering professionals shared comments or thoughts for this episode:
Ben Tustison's Linkedin
Bill Levy's Linkedin
Dave Ureña's Linkedin
Irfan Alvi's Linkedin
Jake Alley's Linkedin
James Smith's Linkedin
John Liberzon's Linkedin
Michael Fabbiano's Linkedin
Rachael (Wright) Kunkel's Linkedin
William Merunka's Linkedin
Other references mentioned:
Engineering Management Institute YouTube Channel
COVID-19 Coronavirus News and Information Related to Engineering
Engineering Management Institute Professional Membership
Engineering Management Accelerator – People Skills Course (Online) | 5 PDHs
Project Management Accelerator PM Skills Course
Engineering Management Institute – Training
ASCE News: 3 Keys to Leading Teams and Fostering Relationships in a Virtual Environment
Columbia University
Vets2PM
Connect with Eric Wright, PHD
The Engineering Management Institute to Launch This Week in Civil Engineering
Please leave your comments or questions in the section below on the things you think high school students and undergraduates should know about civil engineering.
To your success,
Anthony Fasano, PE, LEED AP
Engineering Management Institute
Author of Engineer Your Own Success