Podcast: Play in new window | Download | Embed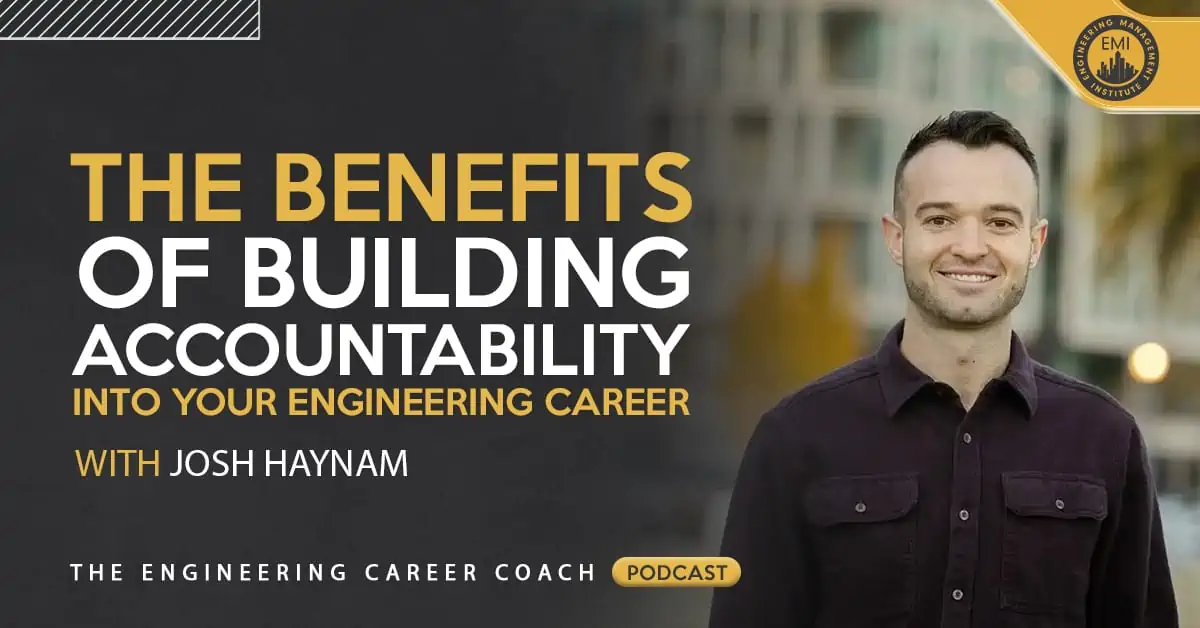 In this episode, I talk with Josh Haynam, co-founder of Interact, which is a quiz marketing tool used by more than 40,000 companies around the world. We talk about the benefits of building accountability into your engineering career. Josh gives an excellent analogy that he uses in terms of how a coach can help you to advance in your career and life.
Engineering Quotes:





Here are some of the key points discussed on building accountability into your Engineering Career:
Many people think that they should only utilize an executive coach when they have a problem. I don't agree with that. In many cases, people hire coaches to help them accelerate or maximize their potential.
Having a coach to meet with that not only checks up on how things are going, but also gives you advice, will help you to keep you accountable in your career.
Without having a level of accountability, you may not push yourself beyond your comfort zone.
A coach might be expensive, however, the results stemming from having a coach may be worth much more than the money you are paying them.
Just as a company grows and scales, your career also evolves, and different kinds of problems may arise. Having a coach will give you peace of mind knowing that there is someone who will be able to help you when these problems arise.
By having a coach or someone to guide or mentor you in your career, you can help to scale your career quicker than other engineering professionals.
A coach can help you to remove roadblocks in your way that are causing you problems.
More in this episode…
In the Take Action Today segment of the show, I will give an actionable step that you can take to build accountability into your career.
About Josh Haynam
Josh Haynam is a serial entrepreneur and the co-founder of Interact. Interact is a quiz marketing tool used by more than 40,000 companies around the world.
Josh was born and raised in Turlock, California – a small farming community in a rural area. After attending UCLA he moved to San Francisco. He started his career in technology, quickly making a name for himself by building one of the fastest-growing software companies in the world. Outside of work, Josh is a health and fitness enthusiast and adventurer who enjoys exploring the world and learning from people in all walks of life.
Accountability breeds response-ability. – Stephen Covey
Resources and links mentioned in this session include:
Engineering Management Accelerator
Toastmasters International
Interact
Josh's LinkedIn Account
Next EMI Webinar
This episode is brought to you by PPI, the leader of FE, PE, or SE exam preparations. Use promo code T-E-C-C-8 for a 20% discount at PPI2Pass.com/coach.
How do you improve on building accountability into your career and life?
We would love to hear any questions you might have or stories you might share on the benefits of building accountability.
Please leave your comments, feedback or questions in the section below.
To your success,
Anthony Fasano, PE, LEED AP
Engineering Managment Institute
Author of Engineer Your Own Success