Podcast: Play in new window | Download | Embed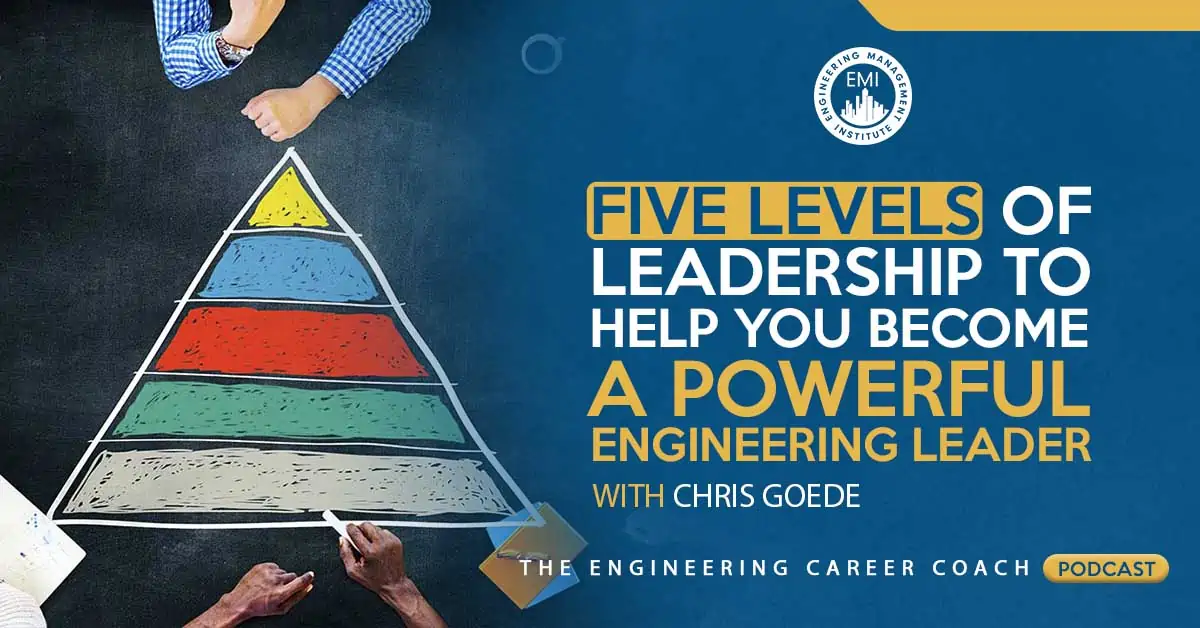 In this episode, I talk with Chris Goede from the John Maxwell Company about leadership. Chris explains the 5 Levels of Leadership model and gives some great strategies for becoming a very powerful engineering leader.
Engineering Quotes:




Here are some of the key points discussed on becoming a powerful engineering leader.
John Maxwell states that leadership is influence, nothing more, nothing less.
We all must have some level of skillset in our career in order to be successful.
There are specific tools that you can use at different levels of your leadership experience.
In order to create change or succeed in a certain area, there are 3 things that have to happen. They are:

You need to have a common language and speak the same language as your team.
As a leader, once you begin to speak that the common language, those that you influence begin to believe the principal behind the common language.
Once they begin to believe, their behavior changes.
The 5 Levels of Leadership is:

Level 1 – Position
At this level people follow you because they have to.
It's the only level that requires no ability or effort to achieve.
80% of people remain at level 1 and they never progress through the levels of leadership.
You have to move beyond this level to become a powerful leader.
Level 2 – Permission
At this level people follow you because they want to.
To grow at this level, leaders work on getting to know their people and connecting with them. There are ways to going about connecting with your team so that people want to follow you and not just because they have to.
As a leader you have to listen well, learn and then read your team.
Level 3 – Production
This is the level where people are following you because of what you have done for the organization.
This is the level that builds your credibility as a leader.
You need to be productive in your organization. You don't deserve to lead an organization unless you can lead yourself well. It's extremely important to lead by example.
Level 4 – People Development
At this level people begin to follow you because what you have done for them.
People follow you for one reason, but they won't stay with you for one reason. Every time you give a person another reason to follow you, you strengthen your leadership.
As a leader on this level, you need to be recruiting your team well, positioning them well, and equipping them well.
The more you raise up new leaders, the more you will change the lives of all members of the team.
Make sure not to spend your time developing and equipping someone that is not willing to equip someone else.
Level 5 – Pinnacle
People follow you because of what you have done for them as well as the organization for a long period of time.
You can't reach Level 5 unless you are willing to invest your life into the lives of others.
More in this episode…
In the Take Action Today segment of the show, I give you an actionable piece of advice that you can use to engage more with the people that you lead, so that you can become a more powerful engineering leader.
About Chris Goede
Chris Goede has been personally mentored by John C. Maxwell and has represented John's 'Leadership DNA' for more than 15 years. Prior to joining The John Maxwell Company, Chris launched and led-high growth startup companies in the real estate and manufacturing industries and has an extensive background in executive management.
Chris Goede is passionate about John's 5 Levels of Leadership, which provides a comprehensive growth process to maximizing an emerging leader's ability to lead beyond their titles, to develop strong relationships that lead to higher production.
He studied sports management and business at Liberty University, where he played college football before joining the Canadian Football League. He is an active member of various advisory boards influencing change in his local communities. Playing professional and college football, board advisory, raising teenage athletes, and Maxwell's 5 Levels of Leadership
"Leadership is not about titles, positions or flowcharts. It is about one life influencing another." ― John C. Maxwell
Resources and links mentioned in this session include:
Engineering Management Accelerator
Next EMI Webinar
5 Levels of Leadership
5 Levels of Leadership Training
Macs List – Top Career Podcast Guide 2018

This episode is brought to you by PPI, the leader of FE, PE, or SE exam preparations. Use promo code T-E-C-C-8 for a 20% discount at PPI2Pass.com
Some of John C. Maxwell's Books
How can you become a powerful engineering leader?
We would love to hear any questions you might have or stories you might share on becoming a powerful engineering leader.
Please leave your comments, feedback or questions in the section below.
To your success,
Anthony Fasano, PE, LEED AP
The Engineering Career Coach
Author of Engineer Your Own Success