Podcast: Play in new window | Download | Embed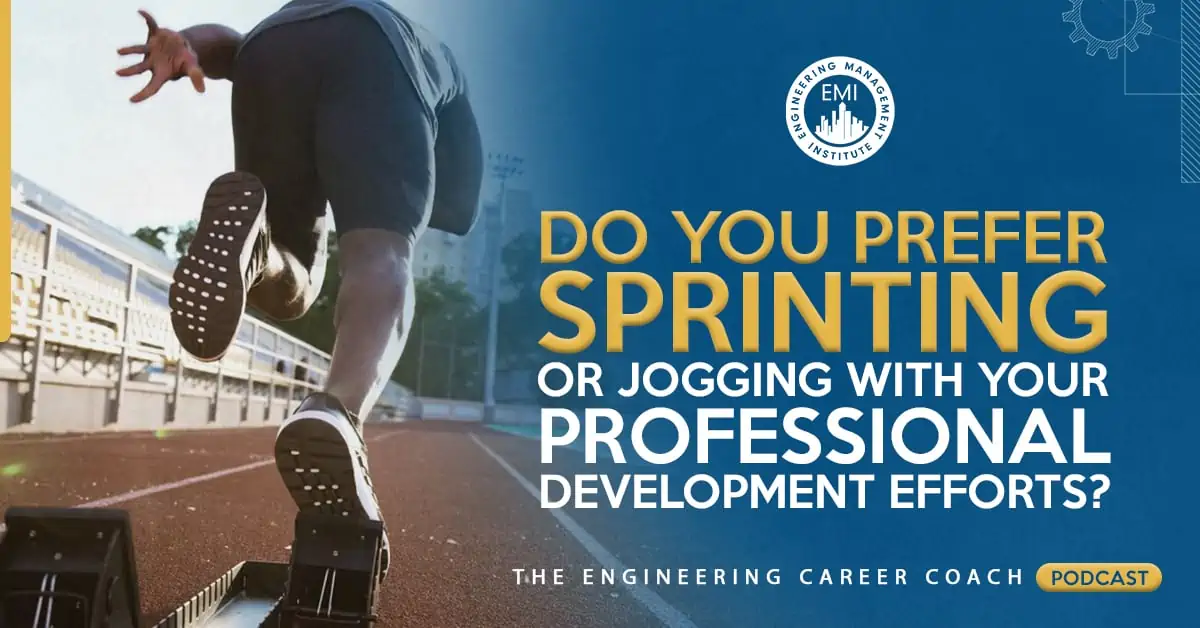 In this episode of The Engineering Career Coach Podcast, I outline two different approaches to professional development efforts. I explain the advantages and disadvantages of each of these approaches, and how you can use them to increase your overall success in your engineering career and life.
Engineering Quotes:

Here are the 2 different approaches to professional development:
1. Sprint/Intensive Approach
Advantages:
80/20 Rule (80% of your success comes from 20% of your efforts) – If you are going to do something in a sprint/intensive manner you are most likely going to focus on all of the important information in a short period of time.
It can provide you with massive growth in the selected area of improvement as it is forcing you to extract the key drivers.
It can be an absolute game changer for you if you approach it the right way.  For example, you read a book about a desired skill, implement what you have learned, and see immediate positive changes.

Disadvantages
This approach is intensive and fast. If you are someone that can't handle things that are fast and intensive, it could be problematic for you.
It takes a lot of energy and focus if you are going to do something in a short period of time.
It is very possible that you could do something very intensive and still not hit your goal therefore falling short.
2. The Jog/Slow and Steady Approach

Advantages:
It can give you the time to build critically important skills.
It can help you to develop habits that lead to success.
You get to practice the approach of: slow and steady always wins the race.
Disadvantages:
You may have a lack of time to focus as much as is needed with this approach.
It is difficult to focus over such a long period of time.
It is a complete waste of time if you are not consistently doing it.
More in this episode…
In the Take Action Today segment of the show, I will explain to you how you can use both of these approaches in your career.
All growth depends upon activity. There is no development physically or intellectually without effort, and effort means work. – Calvin Coolidge
Resources and links mentioned in this session include:
Research Findings: The Key Drivers of Great Engineering Managers (1 PDH)
Engineering Management Accelerator Workshop (Online) | 5 PDHs
Engineering Management Institute Professional Membership
Toastmasters International
This episode is brought to you by PPI, the leader of FE, PE, or SE exam preparations. Use promo code T-E-C-C-8 for a 20% discount at PPI2Pass.com
This episode is also brought to you by WPI, one of the oldest engineering & technology universities in the country.  Visit go2.wpi.edu/tecc to explore over 15 graduate degree programs in science, technology, and engineering.
What strategies do you use with your professional development efforts?
We would love to hear any questions you might have or stories you might share regarding professional development.
Please leave your comments, feedback or questions in the section below.
To your success,
Anthony Fasano, PE, LEED AP
The Engineering Career Coach
Author of Engineer Your Own Success