Podcast: Play in new window | Download | Embed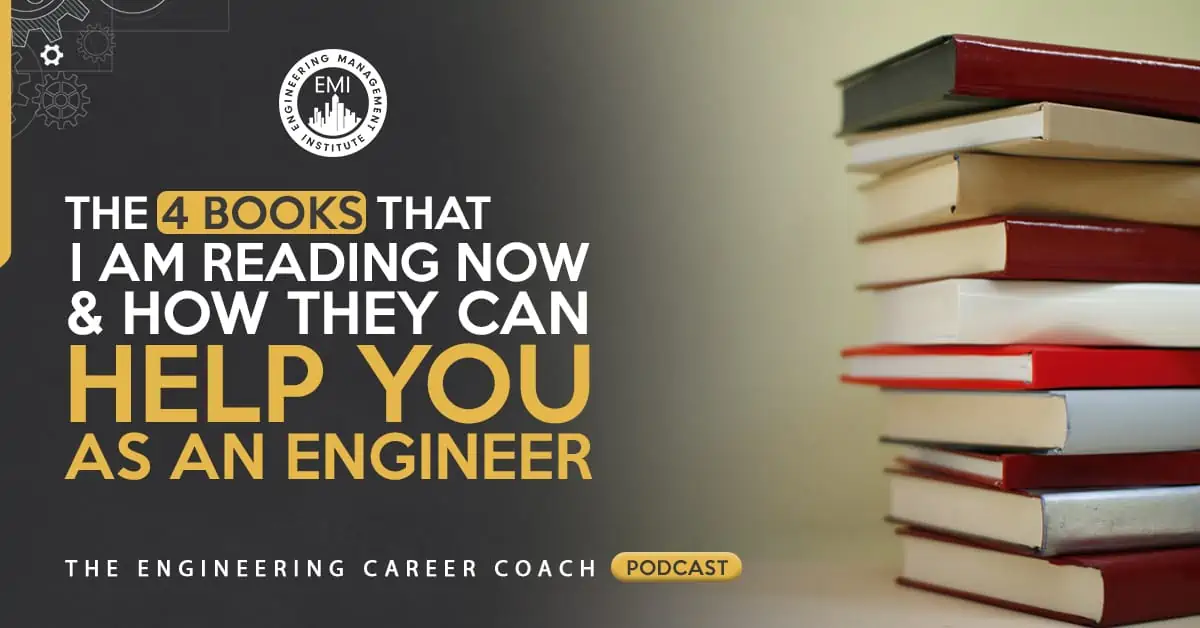 In this episode, I am going to discuss the four books that I am currently reading and how these books, or really how my reading process may help you as an engineer. I decided to create this episode because engineers are constantly asking me what I am reading or what books they should be reading to advance their careers. I truly believe that reading the right books and applying the information you learn can make all of the difference in your engineering career and life.
Engineering Quotes:


Here Are the Four Books That I Am Reading Now:
In this book, the author looks at the different aspects of our lives and careers in an effort to help you to apply the Pareto Principle (also known as the 80/20 Rule) in practical ways that produce remarkable results.
The 80/20 Rule state that 80 % of the success that you generate in your career and/or life stems from 20 % of your efforts.
You probably wear 20% of your wardrobe 80 % of the time.
Your company probably earns 80% of its revenue from 20% of its clients.
Determine what actions are generating the maximum results and focus on them.
You should check out this book if you are interested in decision-making processes or if you just generally would like to make better decisions in your career and life.
The I Ching uses a type of divination called cleromancy, which produces apparently random numbers. Six numbers are turned into a hexagram, which can then be looked up in the I Ching book, arranged in an order known as the King Wen sequence.
The interpretation of the readings found in the I Ching is a matter of centuries of debate, and many commentators have used the book symbolically, often to provide guidance for moral decision making as informed by Taoism and Confucianism.
This book tells the story of why many Southern Italians immigrated to the United States. I think it is important for everybody to understand where they come from.
Understanding your culture and your heritage connects you with who you are, and this can have a massive impact on your career and life overall.
If you find ways to implement learning about your heritage into some of your reading and hobbies, it can provide a very fulfilling experience.
This is a fiction, full-throttle thriller that tells the story about four strangers, a blizzard, a kidnapped child, and a determined young woman desperate to unmask and outwit a vicious psychopath.
The thing I loved about this book is that I could not put it down and I finished reading this book within one week.
The key message with this book is that reading fiction books at night can be very helpful with your sleeping patterns.
More in this episode…
In the Take Action Today segment of the show, I will give you one actionable piece of advice that you can take to maximize your reading time, and help you transfer the knowledge back to your career and life.
Reading is to the mind what exercise is to the body. – Joseph Addison
Books mentioned in this episode:
Resources and links mentioned in this session include:
Engineering Management Accelerator Workshop (Online) | 5 PDHs
Engineering Management Institute Professional Membership
It's About THEM, Not You: How To Achieve Higher Engagement Webinar
This episode is brought to you by PPI, the leader of FE, PE, or SE exam preparations. Use promo code T-E-C-C-8 for a 20% discount at PPI2Pass.com
This episode is also brought to you by WPI, one of the oldest engineering & technology universities in the country.  Visit go2.wpi.edu/tecc to explore over 15 graduate degree programs in science, technology, and engineering.
How can reading books help to advance your engineering career?
We would love to hear any questions you might have or stories you might share on how reading books have helped you in your engineering career.
Please leave your comments, feedback or questions in the section below.
To your success,
Anthony Fasano, PE, LEED AP
Engineering Management Institute
Author of Engineer Your Own Success