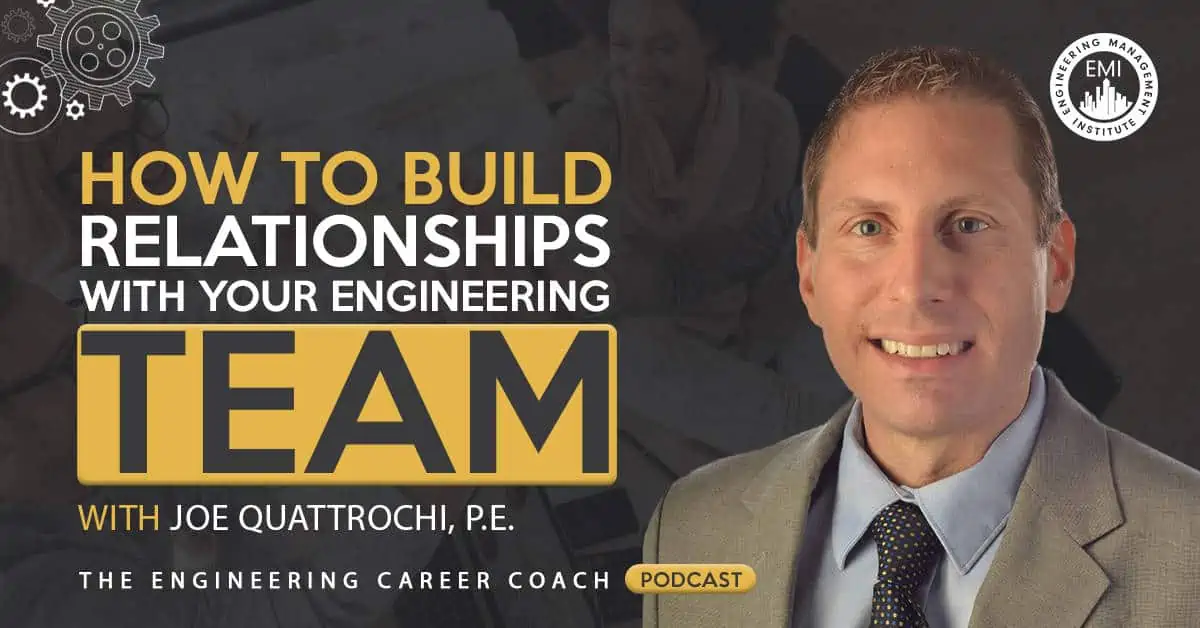 In this episode of The Engineering Career Coach Podcast, our third episode in a new series on the key drivers of successful engineering managers, we talk to Joe Quattrochi, P.E., Director of Quality at The Walsh Group's Heavy Civil Quality Program. Joe talks about the importance of supporting your engineering team members in their career growth and development. You can also view this episode on our YouTube channel. 
Engineering Quotes:


Here Are Some of the Key Points Discussed About Building Relationships With Your Engineering Team:
To grow in your career, you need to understand that people and the relationships you build with them are of utmost importance.
Building relationships is not so much about what you are doing, because you can't build everything by yourself. It's more about getting everyone else on board and growing others to see the mark that they leave versus what you can do yourself.
No matter how good your top performer is, if the top performer is not bringing enough to the rest of the group, you're still only going to be as good as that bottom performer.
The more you can spread knowledge and wealth and help others grow in their development, the more they will do for you. That's ultimately what is going to make any engineering team, business or job a success.
Engineering managers do have the ability to influence and inspire people beyond their day-to-day tasks. Set aside time to talk to your people. Be there for them, listen to them, and don't wait for them to come to you.
Part of being a good leader and supporting others is to provide your engineering team with opportunities that they might not even know existed.
No matter what you are trying to get across to people, or what you are trying to do, the more you understand who the person is who you are talking to, the better any conversation you need to have with them will go. The more you know about your people, the better you will understand them so that you can best help them achieve success in their career.
As a leader, you should always be willing to let people go; understand that their needs and wants in their careers are more important than the company's needs.
More in this episode…
In the Take Action Today segment of the show, Joe provides an actionable piece of advice that you can use to support your engineering team better. 
About Joe Quattrochi, P.E.

After graduating from the University of Illinois in Civil Engineering, Joe got hired on with the Walsh Group. He held multiple positions starting as a Project Engineer and worked his way up to a Superintendent and Project Manager. During his time there, he transitioned into a quality management role and now continues his journey as Quality Director for the entire civil operations, spreading the message of Quality & Innovation and the value of taking pride in your work.
Along with his wife Megan, they have two children, Addison and Lucy. For them, it's all about music, dancing, sports, health, and getting every ounce of fun out of the day.
"Individual commitment to a group effort—that is what makes a team work, a company work, a society work, a civilization work." ~ Vince Lombardi
Resources and Links Mentioned in This Session Include:
EMI's YouTube Channel
Engineering Management Accelerator – People Skills Course (Online) | 5 PDHs
Project Management Accelerator – PM Skills Course
Connect with Joe Quattrochi
The Walsh Group
How can you build better relationships with your engineering team members?
We would love to hear any questions you might have or stories you might share on how you build relationships with your engineering team.
Please leave your comments, feedback or questions in the section below.
To your success,
Anthony Fasano, PE, LEED AP
Engineering Management Institute
Author of Engineer Your Own Success