Podcast: Play in new window | Download | Embed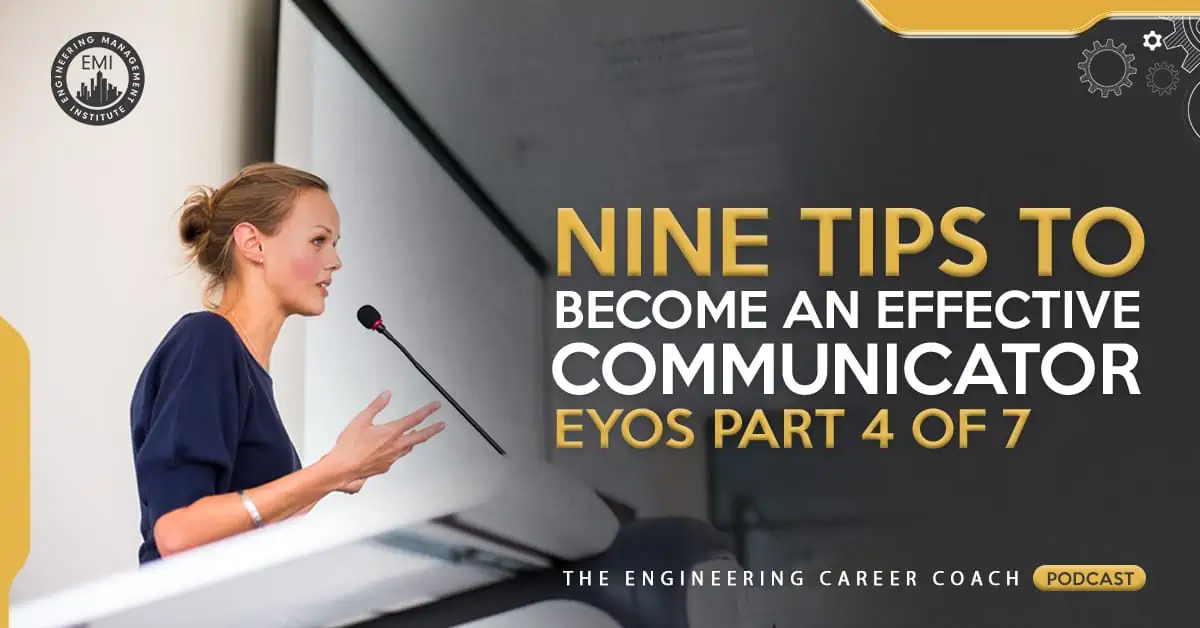 In this session of The Engineering Career Coach Podcast, I will discuss nine strategies to help you become an effective communicator.
Clear and effective communication is critical in our engineering careers, especially when we work in teams, with clients and other people who are not technically savvy.
This episode is the fourth part in the seven part series highlighting portions of my recently released updated and expanded edition of Engineer Your Own Success, the book.
"Communication – the human connection – is the key to personal and career success." – Paul J. Meyer
In the Take Action Today segment of the show, I will give you an exercise to improve the quality of your conversation.
Listen to this session and learn how to Become an Effective Communicator:
Nine strategies for becoming an effective communicator which include:
Understand what form of communication to use today. Get real clear from the beginning of a project on how to best communicate with that client or that team.
Utilize a system and/or guidelines to communicate with your engineering project team and client on every project. Establish some kind of system or communication workflow as early on in the project process as possible.
Communicate early and often with your clients or the end users of  every engineering project.
Be able to explain technical terms to lay people by using analogies and examples.
Always be honest and upfront with other people.  Failure to do so can really affect your reputation negatively.
Pay attention to how you say things, not just what you say. Be courteous to people when you ask for things.
Listen intently. Do not cut people off.
Acknowledge people by repeating the words they say to you, back to them.
Be responsive whether you have the answer or not.
Examples of these strategies and how to implement them on your engineering projects are further explained in the podcast.
Books mentioned in this session include:
How to Win Friends and Influence People
Make the Connection: Improve Your Communication at Home and Work
Stop Talking Start Communicating: Play Dumb, Be Boring, Blow things Off, Lose Your Friends and Other Counterintuitive Secrets to Success in Business and in Life
Resources and links mentioned in this session include:
Engineering Career Success Summit
Engineer Your Own Success – updated and expanded edition
Have you listened completely to someone before you start talking?
I would love to hear any questions you might have or stories you might share on how these strategies have helped you or if you have a strategy that you've used successfully in becoming an effective communicator.
Please leave your comments or questions in the section below.
To your success,
Anthony Fasano, PE, LEED AP
Engineering Management Institute
Author of Engineer Your Own Success