Podcast: Play in new window | Download | Embed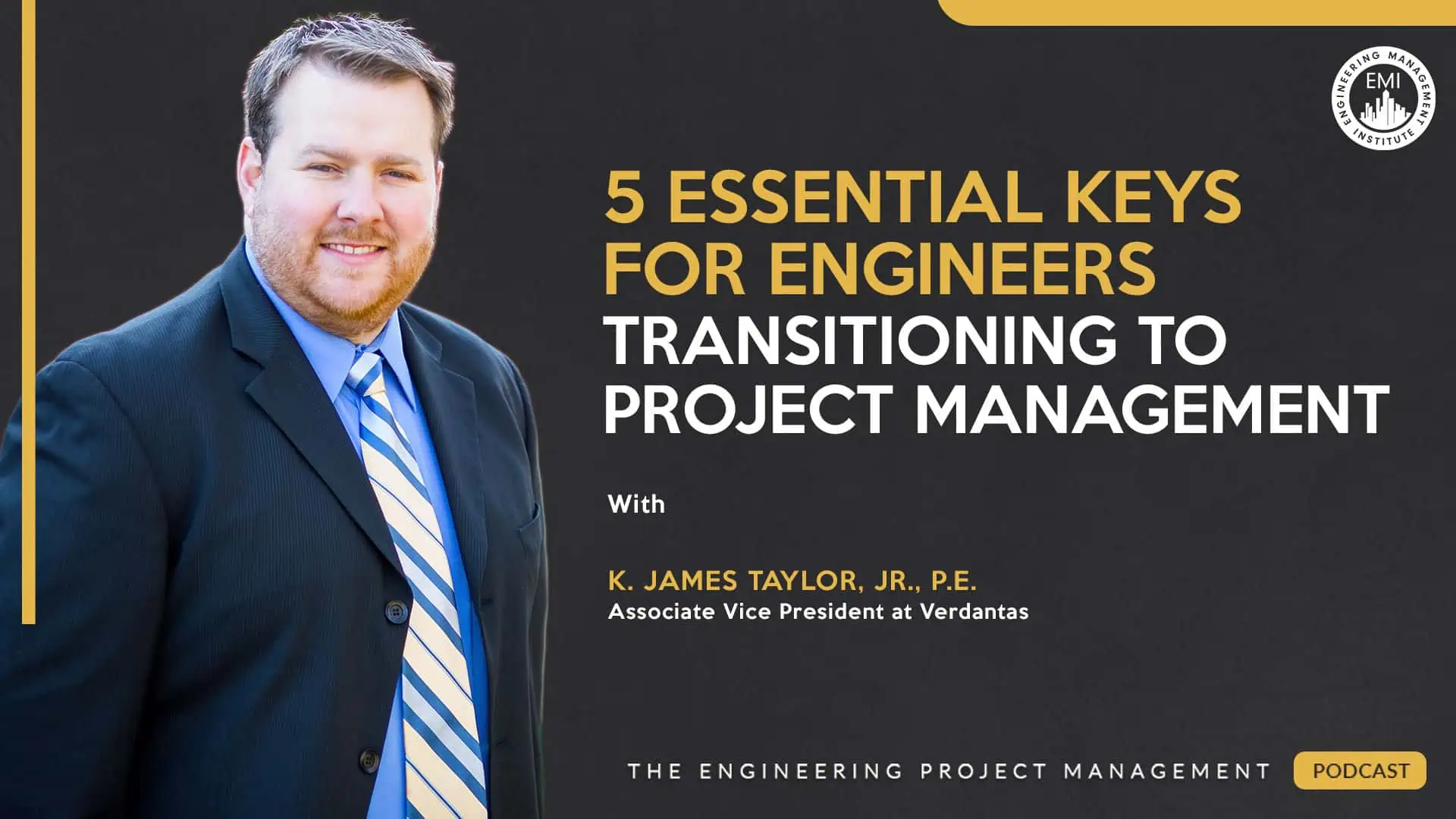 In this episode, we talk with James Taylor, Jr., P.E., a licensed professional engineer and an Associate Vice President at Verdantas, about five essential keys for engineers transitioning from a technical role to the dynamic world of project management.
***The video version of this episode can be viewed here.***
Engineering Quotes:



Here Are Some of the Questions We Ask James:
What specific accomplishments led you to be named Young Civil Engineer of the Year in 2021?
What are your insights into transitioning from a technical role into project management and leadership, including challenges and how to overcome them?
How does clearly defining project objectives benefit young engineers, and what strategies can they use to do so effectively?
Why is it important to clearly define both the scope and objectives of a project?
What are the specific areas of project management where communication is most important?
How can project managers ensure effective communication with all stakeholders, given that each stakeholder may have different communication preferences?
How can young engineers effectively create project plans and schedules to ensure smoother project execution?
How do you manage risk in your projects?
How can engineers stay up to date on project management skills and continuously learn and improve?
How can engineers start developing project management skills now, given the wide availability of resources?
Here Are Some Key Points Discussed in This Episode About the 5 Essential Keys for Engineers Transitioning to Project Management:
James was named Young Civil Engineer of the Year in 2021 for his contributions to several large projects in Delaware, including the expansion of Insight Pharmaceutical's corporate headquarters. Taylor credits his team and mentors for his success and is passionate about using engineering to make the world a better place.
Transitioning from a technical role to project management and leadership can be challenging, but it is possible with continuous learning, a willingness to ask for help, and a strong foundation in technical skills. To overcome the challenges of this transition, it is important to continue learning about the latest trends and best practices in project management, find a mentor who can provide you with guidance and support, don't be afraid to ask for help from your team, mentor, or other experienced project managers, and maintain your technical skills so that you remain credible to your team and stakeholders and can contribute to the technical aspects of the project when needed.
Clearly defining project objectives is essential for young engineers to be successful. It helps them understand the project's goals, scope, and requirements, and it allows them to communicate effectively with their team and stakeholders. Without clearly defined objectives, projects are more likely to experience delays, cost overruns, and scope creep.
Clearly defining the why behind a project is essential for motivating and engaging team members. By understanding and communicating the project's objectives, young engineers can develop a deeper sense of purpose and contribute more effectively to the team's success.
Effective communication is essential for project success, both internally and externally. Project managers should focus on communicating clearly and regularly with their team, clients, and other stakeholders. This helps to ensure that everyone is aligned on the project's goals, objectives, and progress and that any risks or issues are identified and addressed early on.
Effective communication is essential for success in any role, but it is especially important for project managers. Project managers must be able to communicate effectively with a variety of stakeholders, both internal and external. To do this, it is important to understand the communication preferences of each stakeholder and tailor your communication approach accordingly.
Young engineers can effectively create project plans and schedules to ensure smoother project execution by breaking down the project's goals into manageable tasks, creating a realistic schedule that accounts for potential challenges, and allocating resources appropriately. It is also important to communicate the project plan to all stakeholders to ensure alignment and avoid unrealistic expectations.
Project managers can effectively manage risk by identifying, assessing, and mitigating potential risks throughout the project lifecycle. This involves brainstorming a list of all potential risks, assessing their probability and impact, developing mitigation strategies, and monitoring the risks to ensure that the mitigation strategies are effective.
Engineers can stay up to date on project management skills and continuously learn and improve by embracing a learning mindset and finding resources that align with their learning style. This includes listening to podcasts, reading articles and books, attending conferences and workshops, and taking continuing education courses. It is also important to reflect on past projects to identify areas for improvement and to share lessons learned with others.
Young engineers who aspire to be project managers should start developing their skills and knowledge now, even if they are not in a formal project management role. This can be done by asking questions of their supervisors and more experienced colleagues, seeking out opportunities to learn about different aspects of project management, and taking advantage of available resources such as online courses, books, and articles.
More Details in This Episode…

About K. James Taylor, Jr., PE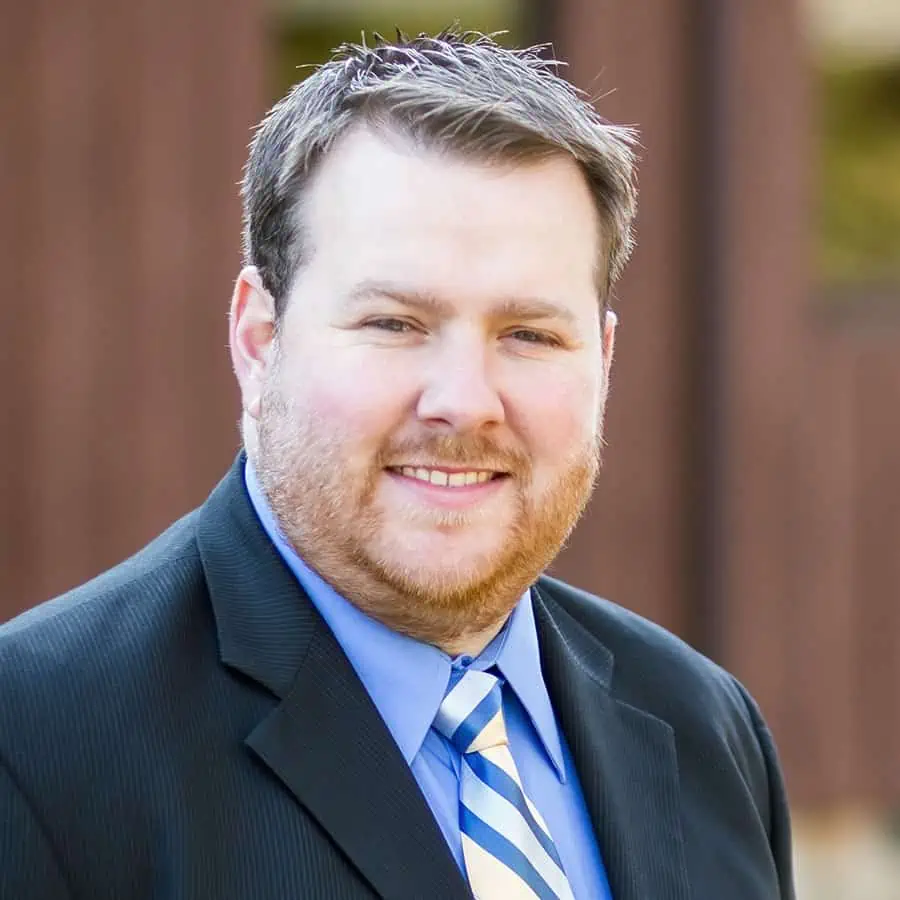 K. James Taylor, Jr., PE, is a licensed Professional Engineer and an Associate Vice President at Verdantas, an emerging environmental, engineering, and technical consulting company with a green, sustainable, and people-first approach in the foreground. James has over 17 years of experience in civil engineering in the land development and municipal fields. Land Development services include the design of subdivisions and site plans for compliance with local codes and ordinances, civil/site engineering, stormwater management, road design, and utility design. James has served as a Project Manager since 2018. In 2021, James was recognized with the Outstanding Project Manager Award at Duffield Associates, now Verdantas for outstanding performance as a Project Manager and his consistent display of leadership traits valued by the company, including scheduling, management, proactive communication, collaboration, responsiveness, and client-focused service.
James was selected as the 2021 Young Engineer of the Year by the American Society of Civil Engineers (ASCE) Delaware Section. James serves as the President of the Delaware Engineering Society and served as the New Professionals Director on the NSPE Board of Directors from 2021-2023.
About the Host: Matthew Douglas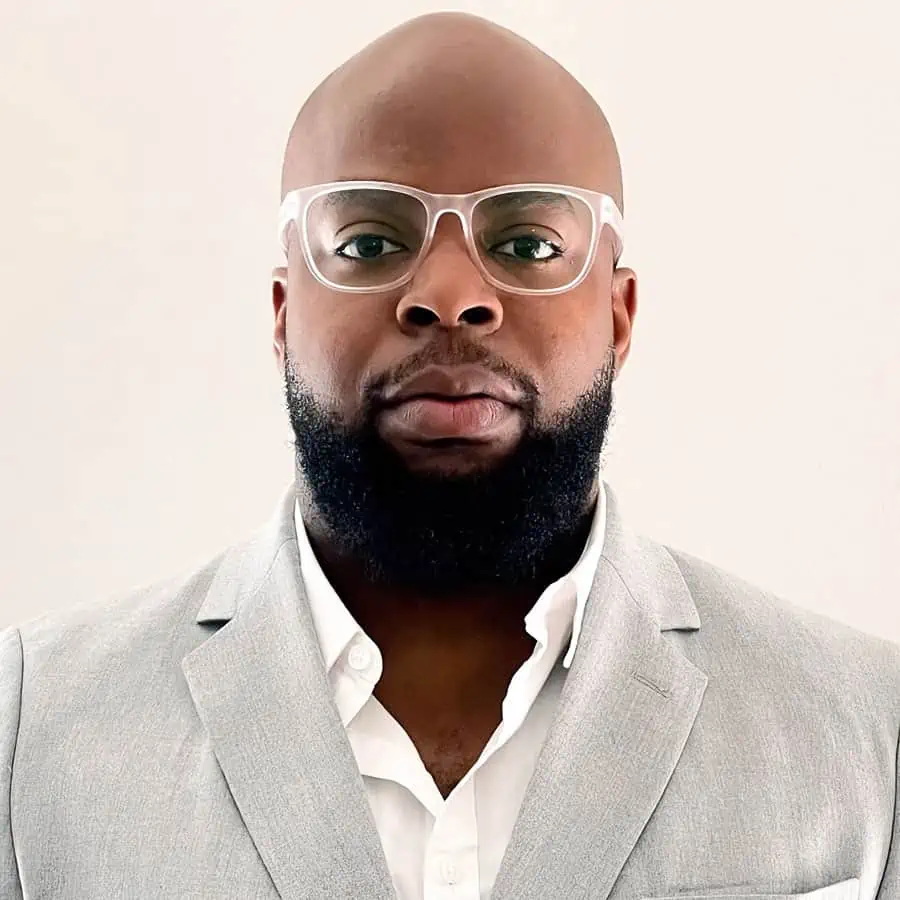 Matthew currently serves as the operations leader for the Engineering Management Institute. As a leader, Matthew's goal is to ensure the efficacy and efficiency of the Learning and Development group. As a civil engineer by trade, Matthew has developed a passion for construction and stormwater management by way of maintenance and rehabilitation services. Matthew has also had experience working for private consulting firms and public agencies and has even held the role of an educator. As such, he loves to lead, build, mentor, and help those in need.
Most recently, during his time working for the public sector, Matthew took on the role of a public works operations manager. There he led quite a few public infrastructure rehabilitation projects and implemented new asset management technologies at a very young age. It is here that the passion for "fixing what's broken" developed. He now uses his talents to lead EMI's Learning and Development – Operational procedures, train engineers, and co-host podcasts.
Sources/References:
Verdantas
University of Delaware
Microsoft Teams
Zoom
Slack
Project Management Accelerator
Connect with K. James Taylor, Jr., PE, on Linkedin
We would love to hear any questions you might have or stories you can share on the essential keys for engineers transitioning to project management.
Please leave your comments, feedback, or questions in the section below.
To your success,
Anthony Fasano, PE, LEED AP
Engineering Management Institute
Author of Engineer Your Own Success