Podcast: Play in new window | Download | Embed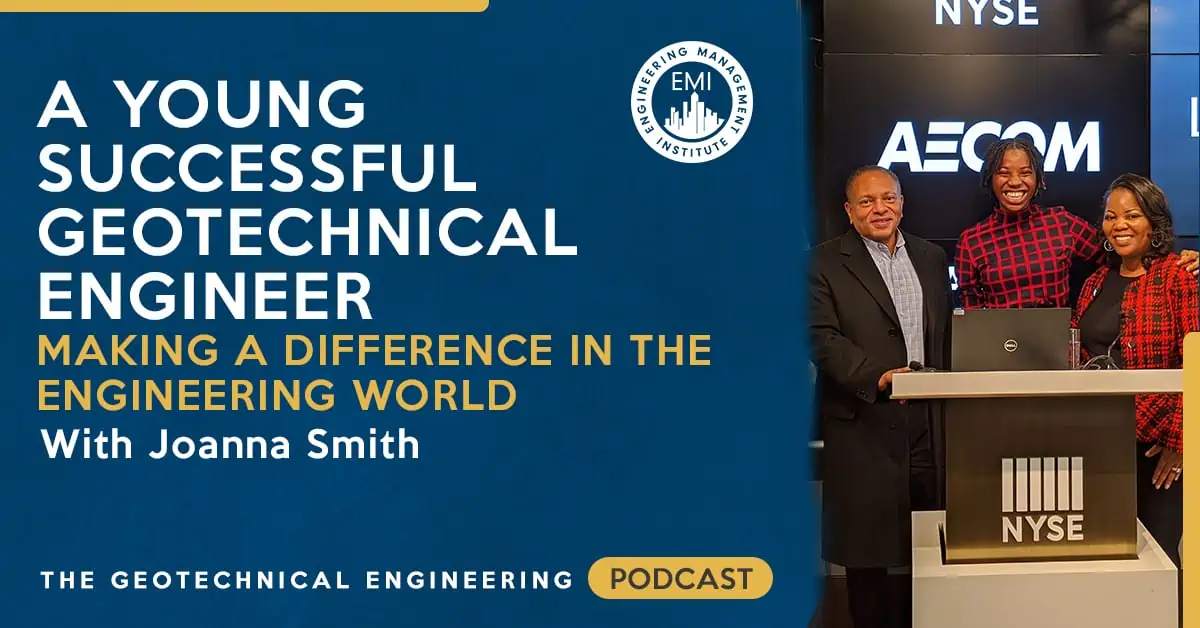 In this episode of The Geotechnical Engineering Podcast, we talk to Joanna Smith, MSCE, a young successful Geotechnical Engineer with five years of experience in the areas of pile design and inspection, technical writing, project management, and leadership. At such a young age, she has achieved an enormous amount of success in her career, and in this episode, we talk about her career success and the things she has done to help engineering students succeed and women to excel in their field.
Engineering Quotes:


Here Are Some of the Questions We Ask Joanna in This Episode:
What you do at AECOM on a daily basis?
There is a lot that you can do in the geotechnical engineering and civil engineering fields. Why is it that you decided to become a geotechnical engineer?
You are currently the geotechnical engineering lead of the $1.9 billion Hunts Point interstate access improvement project. Can you tell us more about this?
Can you talk about when you were an intern in Germany and were working on the rehabilitation of military structures?
How do you strive to improve diversity inclusion in the civil and geotechnical worlds?
What has mentorship been like for you and what has it meant to you as a mentor?
You started a company called DaleySmithInc, which incorporates STEM, engineering, and music. Can you tell us more about it?
Could you please talk about the quote that was mentioned in your bio?
Here Are Some of the Key Points Discussed with This Young Successful Geotechnical Engineer:
Joanna Smith is a geotechnical engineer at AECOM, where she contributes to the designs of various projects, field investigations, and operates as a geotechnical project manager. She has worked on many geotechnical engineering projects, not only in the United States, but all over the world.
Joanna was drawn to geotechnical engineering because it is a "hands-on" field of work type of profession. She likes to move from place to place and have her hand in different aspects of things to create a wholesome approach. Geotechnical is not only manual work, it has a lot of field work as well as office work and communication with clients.
She is excited to be working on the Hunts Point interstate project, as she was born in the Bronx and can now use her degree to impact the community. The Hunts Point interstate access project entails rehabilitation and tearing down of the old entrance and constructing a new entrance and exit into the interstate over an underground subway tunnel. It is also located beside a fault line, which causes drastic changes in the ground, e.g., rock depth and type.
As an intern in Ramstein, Germany, Joanna worked on rehabilitating many different military structures. She was the only person allowed to work in the installation support branch.
To improve diversity and inclusion, you need to start with the hiring of management levels and establish relationships with universities internationally. Universities are highly diverse, and partnerships should be made with the diversity programs that they have.
Mentorship is a "world view" that speaks to persistence, resilience, overcoming challenges, and the strength and power that individuals have.
Music and math go together. If you compare music scales and equations or fractions, they all speak to the derivative of something. Frequencies and pitch are all numbers that are measured in hertz or a sine graph. It is interesting to realize that when you put music chords together, they make a number system. All of this together begins to work on and build your critical mind.
As you look at how the mechanics of something works and comes together or breaks apart, you start to understand the fundamentals of that object.
More Details in This Episode…
About Joanna Smith, MSCE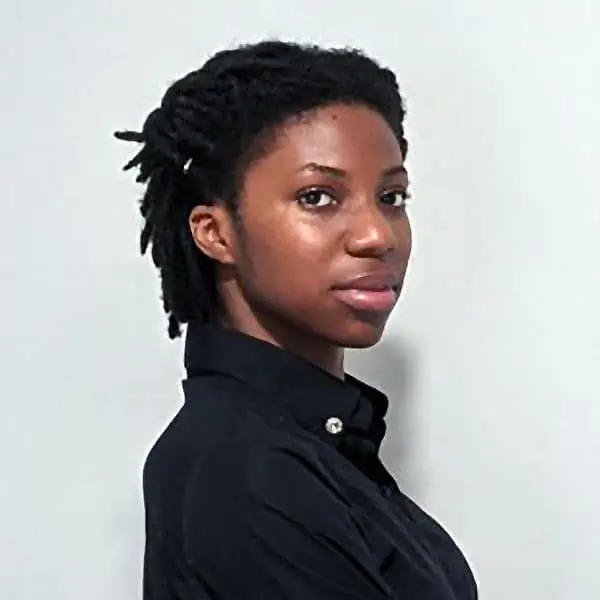 Joanna holds a B.S. in Civil Engineering from Morgan State University and a M.S. in Geotechnical Engineering from Johns Hopkins University in Baltimore, Maryland. She is a well-traveled geotechnical engineer and has worked in Wiesbaden, Germany; Cancun, Mexico; Jamaica, W.I.; Washington, D.C., and currently works in New York City with AECOM. She is currently the Geotechnical Lead for the $1.9 billion Hunts Point Interstate Access Improvement project.
Joanna has volunteered with Engineers Without Borders (EWB) on the water project at the Misuuni primary school in Kenya, in the design of water tank structures, and bringing clean water to the Misuuni community. She is a member of the ASCE and the Sub-Technical Committee, which planned the annual ASCE convention. She is also a member of the Women in Deep Foundations Committee, the Ground Improvement Committee of Deep Foundations Institute (DFI), and is the ASCE Metropolitan Section Chair of the Diversity and Inclusion Committee.
Joanna has founded DaleySmithInc., a STEM program as well as a musical experience. As a musician and engineer, she believes that music and math intersect and build confidence and technical skills. From her program, her students have excelled in math and science and have been successful in getting into the schools of choice upon excelling in auditions. "Engineering is truly something," she says, "it teaches us so many lessons, and gives us so many perspectives not only from the past and present, but also for the future."
Sources/References:
AECOM
AMIE (Advancing Minorities Interest in Engineering)
Connect with Joanna Smith, MSCE, on LinkedIn
Joanna's Personal Website
Civil Engineering Media & Entertainment (CEMENT)
Please leave your comments or questions in the section below for on how you can become a young successful geotechnical engineer.
To your success,
Jared M. Green, PE, D.GE
Host of The Geotechnical Engineering Podcast