Podcast: Play in new window | Download | Embed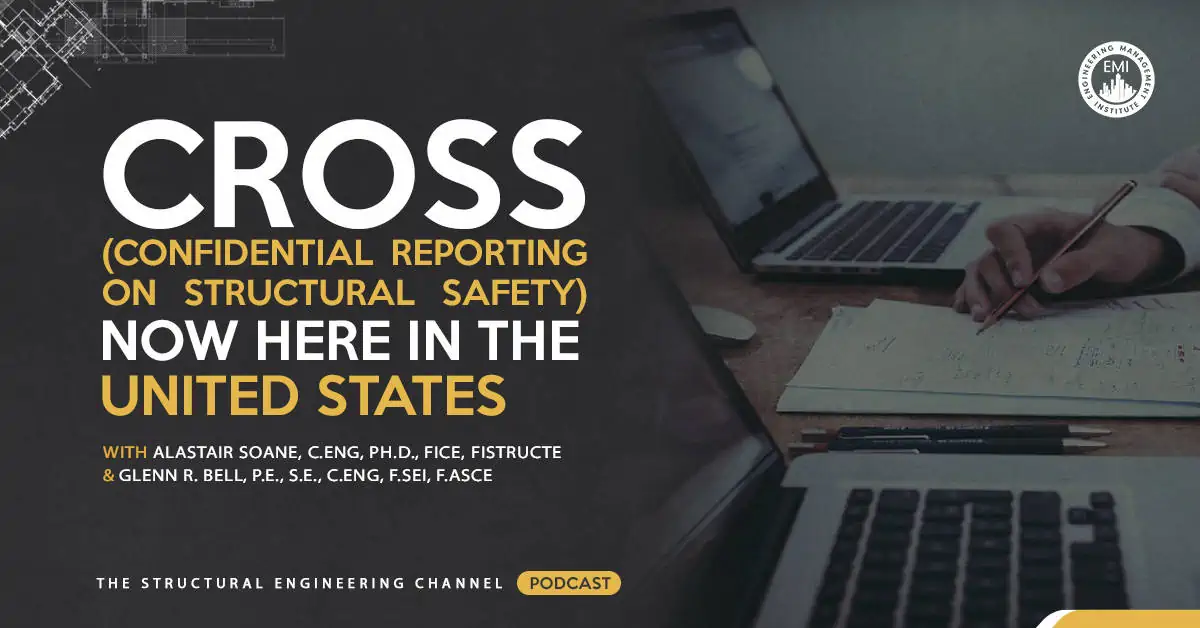 Image from rawpixel.com on Freepik
In episode 08 of The Structural Engineering Channel podcast, we talk to Alastair Soane, C.Eng, Ph.D., FICE, FIStructE who is the Director at Structural Safety. They are the group that oversees CROSS (Confidential Reporting on Structural Safety) and SCOSS (Standing Committee on Structural Safety).  We then speak to Glenn R. Bell, P.E., S.E., C.Eng, F.SEI, F.ASCE, Senior Principal at SGH and President-Elect for ASCE SEI.
First Sloane gives an overview of CROSS-UK and CROSS-International, and then Bell, discusses the expansion of CROSS in the US and how this amazing program is providing great value to structural engineers all over the world.
Engineering Quotes:




Here Are Some of the Questions We Ask our Guests in This Episode:
What is CROSS?
Can you tell us more about the processing and publication of reports?
What are some lessons that can be learned from the development of CROSS in the United Kingdom?
Are you planning on expanding your research to other countries and regions?
Were you involved in the Hyatt Regency project?
What motivated you to get involved with the CROSS program?
What is the plan for implementing CROSS in the United States?
Here Are Some of the Key Points Discussed About the CROSS:
The purpose of CROSS is to collect information which would not otherwise be published about the concerns of engineers, or events (i.e. failures) which have taken place about which engineers have information on and would not normally get to see the light of day.
CROSS uses a sophisticated process to collect and process these their reports. You can

click here

to obtain a confidential form which can be used to submit reports. CROSS will then de-identify the report and a panel of experts will provide advice on to how these same types of events might be prevented in future. That information is then condensed and edited into a response and published on the CROSS website. The more important reports are published in quarterly newsletters and in certain cases alerts are also published. 

The Structural Safety Group has become a repository of information which is not otherwise available and for that reason, they do get asked by the government for assistance when there is, for example, a need for lessons to be learned about major incidences.
There is a grand goal which is to have a truly international hub where all the data will be stored and freely available for anybody to use.
Engineers did great things even before computers or the modern mathematical theories of structural engineering were invented. As mathematical theories came into play, they somehow along the way, lost the ability as a profession to learn from what they have built (the good and the bad).
We seldom to do things in our profession to learn from each other. Learning from the performance of our built environment should be part of every structural engineers' education and be embedded into our industry practice.
CROSS has shown us a way through confidentiality and anonymity and having a sustained organization and effort to be able to do things more systematically and to encourage people to share lessons and failures in a way that they haven't been able to do before.
We've been working on the planning of bringing CROSS into the UK for about 2 years. We are currently operational and an ASCE's Structural Engineering Institute (SEI) is overseeing the implementation of CROSS in the US.
We want CROSS to be the vehicle where lessons learned from failures will directly go into the improvement of our codes, standards and other elements that define the professional practice.
We have as much to learn from the precursors, the near misses and the lessor incidences than we can from the big catastrophic failures.
More Details in This Episode…
About our Guests:
Alastair Soane, C.Eng, Ph.D., FICE, FIStructE

Alastair has extensive experience in UK and International construction projects. He is a former member of the Building Regulations Advisory Committee for England and chair of the advisory panel on Part A Structures. He is also a member of the Ethics Committee of the Royal Academy of Engineering and the Advisory Group on Temporary Structures, IStructE Committees, Alastair is also the visiting professor of civil engineering at Liverpool University.
Glenn R. Bell, P.E., S.E., C.Eng, F.SEI, F.ASCE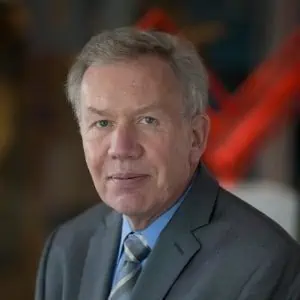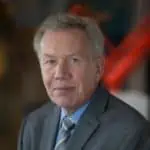 Glenn is currently Senior Principal of Simpson Gumpertz & Heger Inc. With seven offices in the United States, SGH is engaged in the design, investigation, and rehabilitation of buildings and structures of all types. A structural engineer by training, Glenn has been employed at SGH full time since 1975 and was its CEO from 1995 through 2016 and its Board Chairman from 2015 through 2017. Glenn has had primary responsibility for major projects involving structures and building envelopes. Glenn is very involved in industry leadership in areas such as the future of AEC practice and delivery methods, learning from failures, engineering education, and industry research.
Sources/References:
The Structural Engineering Institute (SEI) of ASCE
SEI Structures Congress 2020
Structural Engineering Life
Upcoming Live EMI Webinar
Structural-Safety
CROSS Report Form
CROSS July 2019 Newsletter
Structural-Safety Group Review 2017-18
Alastair Soane's LinkedIn
Glenn Bell's LinkedIn
CROSS-US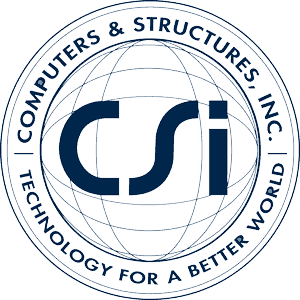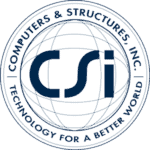 This episode is brought to you by CSI, Computers and Structures, Inc. which is recognized globally as the pioneering leader in software tools for structural and earthquake engineering. You can learn more about them at www.csiamerica.com
Please leave your comments or questions in the section below on CROSS.
To your success,
Anthony Fasano, PE, LEED AP & Mathew Picardal, P.E.
Hosts of The Structural Engineering Channel