Podcast: Play in new window | Download | Embed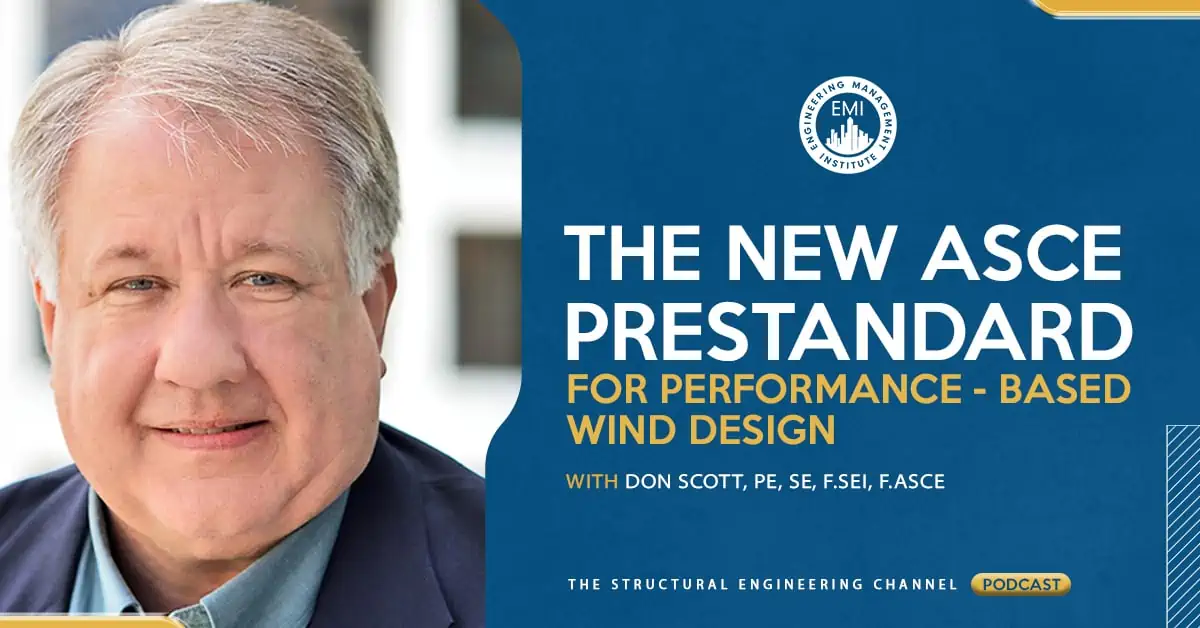 In this episode of The Structural Engineering Channel podcast, we talk to Don Scott, PE, SE, F.SEI, F.ASCE, who is the Senior Principal at PCS Structural Solutions. Don will be breaking down ASCE's new Prestandard for Performance-Based Wind Design. He also provides some great examples of when you should use this prestandard and explains the importance of why you should use it. 
Engineering Quotes:


Here Are Some of the Questions We Ask Don in This Episode:
SEI received a research grant from the Charles Pankow Foundation for $150,000 with co-funding from the ACI, AISC, ASCE Industry Leaders Council and the MKA Foundation. Can you tell us a little bit about the Charles Pankow Foundation?
What is the purpose of the ASCE/SEI Pre-standard for performance-based wind design?
What should structural engineers know about these prestandrad?
How does performance-based design differentiate from traditional prescriptive procedures?
Do you see this trend with performance-based design expanding across structural engineering and possibly into other industries of civil engineering?
Here Are Some of the Key Points Discussed About the New ASCE Prestandard for Performance-Based Wind Design:
Charles Pankow was a civil engineer that went into the construction industry. He operated as a contractor that performed a lot of concrete construction throughout California. Pankow decided that he wanted to start the Charles Pankow Foundation that lead to improved design and construction throughout the United States to make us more efficient in our construction and designs. Since then, they have funded several campaigns and work closely with the industry to try and improve the process that we use for design and construction in the United States.
The purpose of any document that deals with performance-based design is to allow us as engineers and designers to go beyond what's in our prescriptive codes. The reason for this is so that we can use our engineering education and ability to come up with systems and/or designs that meet the intent of the code but not the letter of the code.
Wind design has some different requirements to it than what seismic has. There are fatigue issues in wind that we don't look at in seismic. This is because the events in an earthquake are relatively short, whereas a wind event, like the hurricane that just hit the Bahamas, had sustained winds for more than 24 hours. Although there are some differences in the design, we rely heavily on what had been done in seismic performance-based design and modeled the prestandards after many of these models.
This prestandard is not only to be used in tall buildings. It can be very beneficial for lower-rise buildings as well. One of the big benefits we see in it is how it is improving the envelope design for structures throughout the country.
A major concern that we would like to improve with the prestandard is the exterior envelope and cladding protection, especially for buildings like e.g hospitals that can have life-threatening consequences.
When using performance-based design, you will need to have a team that can peer-review your design and make sure that it meets the intent of the code. They will then work with the building official to recommend that the design meets the intend of the code.
You can use performance-based design to change what is in the code because your system meets the code but doesn't meet the letter of the code. You can also use it to enhance the performance of the building to ensure that the building remains operational after a design event.
More Details in This Episode…
In today's elastic modulus segment, Don talks about a very stressful career situation that he faced that was really interesting and inspiring.
About Don Scott, PE, SE, F.SEI, F.ASCE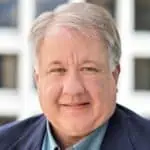 Don was mentored early in his career by company founders Ray Chalker and Lyman "Skip" Bush on the idea that working with all members of the construction team will provide the best outcome for the building owner.  He continues to preach this integrated project delivery approach within PCS.
Don sits on multiple national engineering boards including currently serving as Chairman of the ASCE 7 Wind Load Subcommittee, which sets the standards for wind loads on buildings, and as President of the Board for the Applied Technology Council (ATC).  He helps lead PCS Structural Solutions as Director of Engineering and ensures the company stays up to date on the latest design techniques and building code changes.  Don has also led teams designing numerous significant healthcare and educational projects. He is highly active in his local community, church, and Boy Scout troop, but most of all enjoys time with his wife, kids, and grand kids.
Sources/References:
The Structural Engineering Institute (SEI) of ASCE
SEI Structures Congress 2020
Structural Engineering Life
Upcoming Live EMI Webinar
Don Scott's LinkedIn Account
PCS-Structural Solutions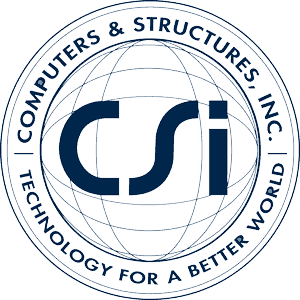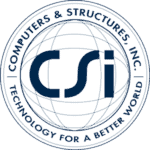 This episode is brought to you by CSI, Computers and Structures, Inc. which is recognized globally as the pioneering leader in software tools for structural and earthquake engineering. You can learn more about them at www.csiamerica.com
Please leave your comments or questions in the section below on the new ASCE prestandard for performance-based wind design.
To your success,
Anthony Fasano, PE, LEED AP & Mathew Picardal, P.E.
Hosts of The Structural Engineering Channel