Podcast: Play in new window | Download | Embed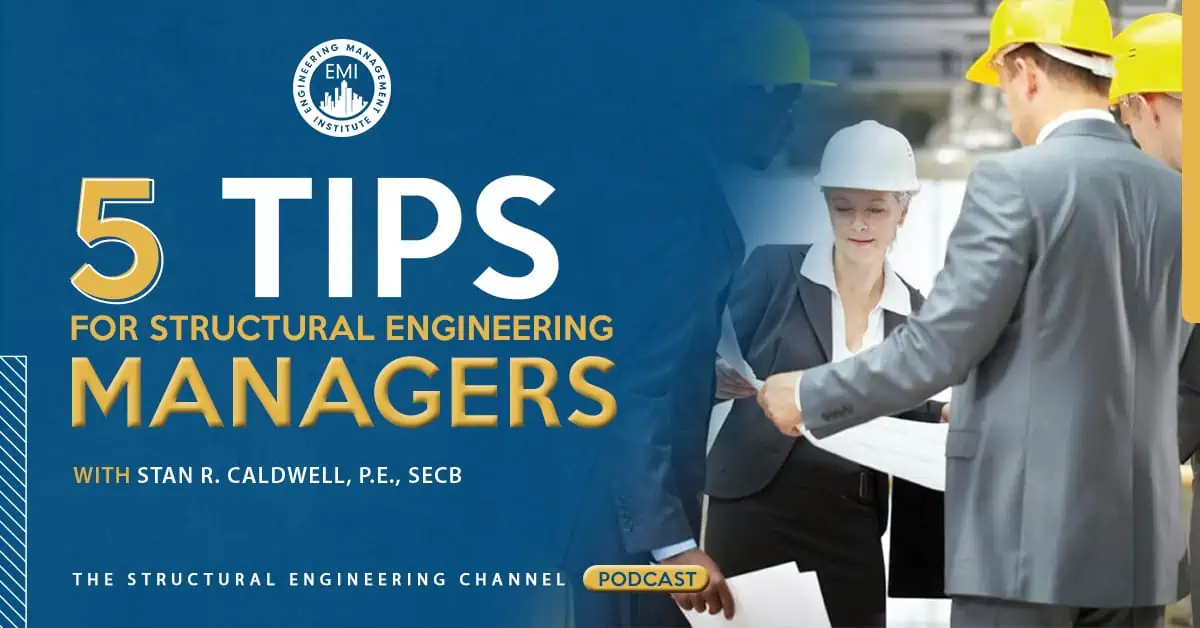 In episode 23 of The Structural Engineering Channel Podcast, we talk to Stan R. Caldwell, P.E., SECB, a Structural Engineering Consultant who provides structural engineering consultation, primarily with respect to construction litigation. This is the second of a two-episode series. In the previous episode, Stan provided five tips for young structural engineers and in this episode, Stan will give us five tips for structural engineering managers which can help them strive to become the best managers in their field.
Engineering Quotes:



Here Are Some of the Questions We Ask Stan Caldwell in This Episode:

What led to the development of this sister article that you wrote for STRUCTURE magazine, "Your Top 5 Tips for Engineering Managers," and how did you get those?
Do the tips for structural engineering managers complement any tips for young engineers?
What is the first step that someone can take to get closer to achieving a prime professional role on a project?
Your second tip for managers is "Stay in your lane." What do you mean by that?
Why should structural engineers embrace construction?
Why do you specifically advocate that structural engineering managers should champion the idea of cherishing their people?
The last of your five tips is to make a profit. Could you go into that?
How do we, as a community, get opportunities where we can create a profit for our internal team by working with other firms?
Here Are 5 Tips for Structural Engineering Managers:
Please not that the tips for young engineers are not parallel to the tips for engineering managers. Management and engineering design are very different from one another.

1. Swim Upstream

You need to proactively steer your engineering firm upstream. Structural engineers are not prohibited from acting as the prime professional on any project. You need to go out and find opportunities where you can be considered as a prime professional on a project. Strive to work directly with project owners whenever possible and to earn a seat at the "big table," where the earliest and most important project decisions are made.
2. Stay in Your Lane
In Texas, there are only generic PE licenses. This enables any kind of engineer to practice wherever they feel confident to practice. Some structures that have been designed by nonstructural engineers turn out to be fiascos, and this is valid for structural engineers operating outside of their niche as well. As a structural engineer, you should stay within your confidence boundaries.
3. Embrace Construction
On many projects, structural engineering firms discover that they have exhausted their budgets at the time that construction is scheduled to commence. They try to remedy this by minimizing their costs during construction. If the construction is deficient, then the structural engineer will most likely be part of any litigation. Structural engineers should only consider assignments that have full construction administration services, insist on being paid for site visits and regularly visit the job site with experienced personnel, and never certify any construction unless a member of your firm provided observation of that construction.
4. Cherish Your People
Very few structural engineering firms enjoy unique technology, facilities, or other resources that other firms don't already have. The only true competitive edge that any firm has is its people. So only hire the best and the brightest people and place them in a professional environment. Then challenge them with diverse projects and a bit more responsibility than you think they can handle. With the right people in the right environment, your firm is sure to prosper.
5. Make a Profit
Many structural engineering firms accept whatever project comes their way—no filters at all—and are comfortable to work on handshake agreements without any documentation at all. Structural engineering firms must make a profit and their managers are there to run the business, not a practice. Managers need to make a profit on every project by means of rigorous job cost accounting. Profitable firms are healthy firms, but they are only maintained by a persistent sharp focus. To get projects where your firm won't be selected only due to price, you need to stop bidding. This way, the proposals you get will be based on what the firm has to offer. If you replace the bidding with higher-profile clients that appreciate the value that you bring, you will be more profitable.
More Details in This Episode…
About Stan R. Caldwell, P.E., SECB
Stan Caldwell currently provides structural engineering services as a sole proprietor in Plano, Texas. His focus is on construction litigation, working primarily as a consultant to defense attorneys. Since earning BSCE and MSCE degrees at UW-Madison, he has gained 49 years of experience in the analysis, design, and management of more than 800 projects, including buildings, bridges, and speciality structures. The buildings range from 1,000 sq. ft. to 1,000,000 sq. ft., and the bridges range from 100 ft. to 22,000 ft. The speciality structures include retaining walls, spillways, levees, large underground vaults, wharves, offshore oil platforms, pipelines, and elevated LNG tanks. His experience encompasses all types of steel, concrete, masonry, and timber construction, as well as all common foundation systems. Beyond the workplace, he has served as a leader with SEAoT, ACEC, and TBPE in Texas, and with ASCE, SEI, AEI, SECB, and NCSEA nationally.
Sources/References:
COVID-19 Coronavirus News and Information Related to Engineering
TSEC 20: 5 Tips for Structural Engineers: Become the Best Version of Yourself
Five Tips for Young Engineers
Five Tips for Engineering Managers
Connect with Stan Caldwell

Please leave your comments or questions in the section below on tips that you have for structural engineering managers.
To your success,
Mathew Picardal, P.E., & Alexis Clark, P.E., M.ASCE
Hosts of The Structural Engineering Channel