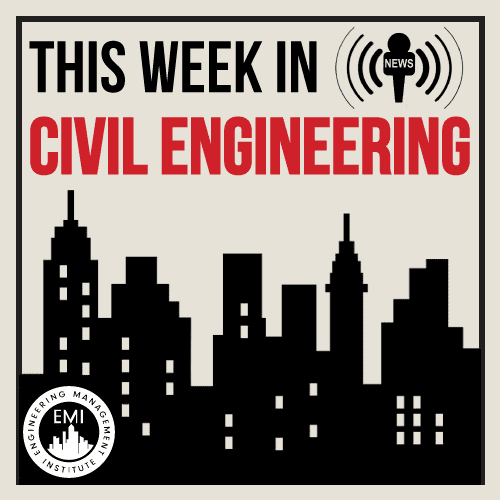 Welcome to This Week in Civil Engineering (TWiCE), the first weekly audio and video podcast covering weekly news stories and events related to civil engineering and its sub-disciplines. In this week's episode, we provide you with the latest news in the Civil Engineering industry including covering how the inspection Robot market has the potential to grow to 3.72 billion dollars between 2020 and 2024, bolstered by industries spanning energy, oil and gas, and mining. Also featured is how Percepto pivots from drone-based products to general robotics-driven inspections incorporating third-party platforms like Boston Dynamics' Spot for the critical infrastructure .
Breaking News in Civil Engineering:
National News in Civil Engineering:
International News in Civil Engineering:
Infrastructure Stories:
Career Inspiration of the Week:
It might be difficult to look back and ask yourself what you have accomplished professionally this year. I recommend that you list your small wins every month to track your progress. It is much easier to look back on a course of a few weeks, compared to an entire year and to ask yourself what accomplished this year. In the coming year, consider listing your wins and goals each month, and you will see how it motivates you for the next month. This strategy is also extremely helpful when it's time for your annual company review.
Quote of the Week:
 "You don't need to be excellent at everything you do, but be authentic, understanding, and be a good listener to those around you." ~ Muzamil Husain, PE
About the Host:  
Khamini H. Fennelly is from Queens, New York.  She graduated from Syracuse University's College of Engineering in 2015 with a B.S in Civil Engineering. She is a Senior Staff Engineer at Langan in their New York City office where she primarily focuses on urban land development for large scale commercial developments. Beyond her project work, she is an office leader for the company's Women's Initiative. You can connect with Khamini here.
This Week in Civil Engineering is published by the Engineering Management Institute and is part of EMI's Civil Engineering Media & Entertainment Network.
Please leave your feedback or comment about the show by clicking here.
To your success,
Anthony Fasano, P.E., LEED AP
Engineering Management Institute
Author of Engineer Your Own Success