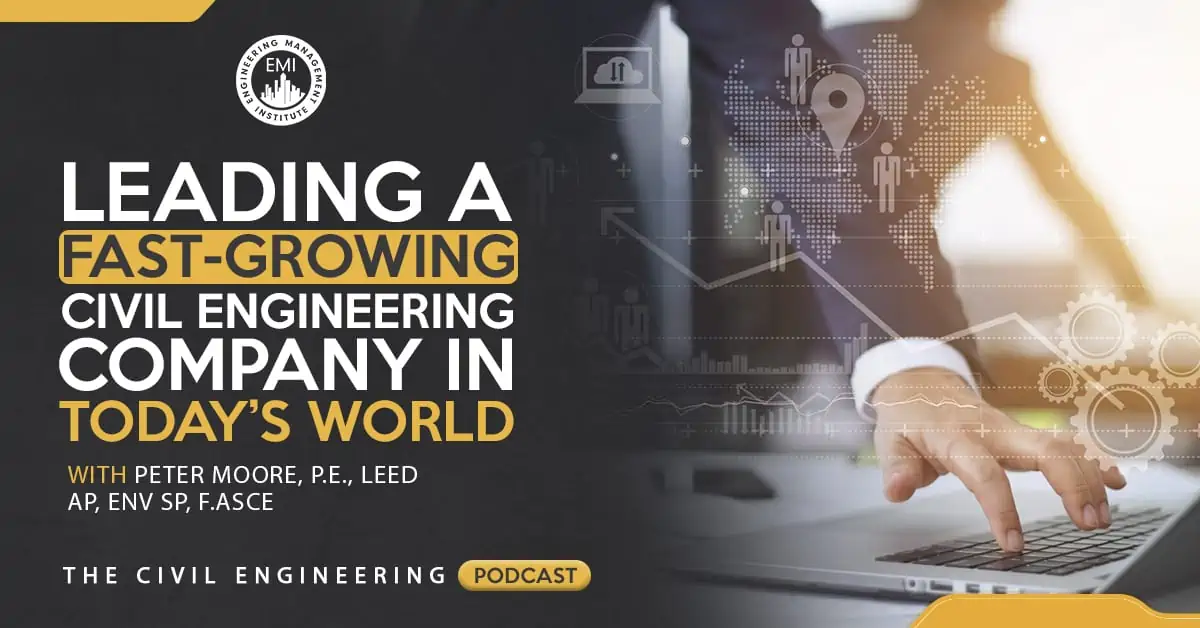 In this episode of The Civil Engineering Podcast, I talk to Peter Moore, P.E., LEED AP, ENV SP, F.ASCE, President of Chen Moore and Associates, and official nominee for worldwide ASCE President-Elect in 2021 about his experience over the years being a leader at a very fast-growing civil engineering company. The interesting part about his experience is that he became a part-owner at a very young age. He also discusses his vision as nominee for the ASCE President-Elect 2021.
Engineering Quotes:


Here Are Some of the Questions I Ask Peter:
How do you personally make sure you are working on the right things each day when leading a fast-growing civil engineering company?
When you have a fast-growing civil engineering company, how do you identify and solve problems?
How important is it to create and document core processes and practice them consistently across the company?
How do you build your company culture and carry it through in the company?
You are a nominee for the ASCE President-Elect in 2021. Can you share with us what your vision is as a nominee?
Here Are The Key Points Discussed in This Episode About Leading a Fast-Growing Civil Engineering Company:
You are never too busy when there is a purpose to your actions. Prioritize who you work with, who you spend your time with, and who you invest your time with.
You have to realize that company growth isn't something that you can necessarily plan for. Growth happens and you need to make sure that you are there for the times that the good waves are around. Growing, in general, is all about your people; if you don't trust the people you are working with, you should not even bother to try to grow your company because you are going to be disappointed. How you try to identify and solve problems comes down to the level of employees that you put in charge of the growth of your company.
As a company owner, you are not going to make every decision in your firm. You need to hire the right people to help make the right decisions for you. For that, you need to be a great judge of talent and a great delegator.
Your company will not grow fast or for long, if you don't take care of the fundamentals of the business, as the fundamentals are what engineering is all about.
Whenever we have a problem, I like to look at that problem as a "teaching moment" for the individual or the company.
Everybody wants to be everybody's best friend, but it makes it so much harder when things go poorly in business, if you don't have some level of separation.
ASCE is a very large and important organization with many relationships throughout the world. Every big change starts with a small change, and that is why I would like to propose making small changes. My platform is made up of three concepts: Accountability, Advocacy, and Accessibility.

Accountability is important as ASCE is a membership organization and should provide value to members. The organization should spend within its means and should set a baseline budget that is responsible for paying for the basics regarding membership. Everything on top of that is the investment we make for great things; it needs to come from conscious investments that are on top of the baseline budget that we need to have for our membership.
Advocacy is the heart of everything we do. Civil engineers are the most selfless professionals on the entire planet. We need to tell the world how great civil engineers are and make sure that we have somebody in place who has that attitude on a national, international, and state-local government relations level.
Accessibility: The civil engineering profession is an amazing profession and needs to be accessible to everyone. The only way we are going to get there is by making sure that we specifically build our bench and fill it with quality people, and to ensure we have a younger voice in every single national and society level committee that we have.
More Details in This Episode…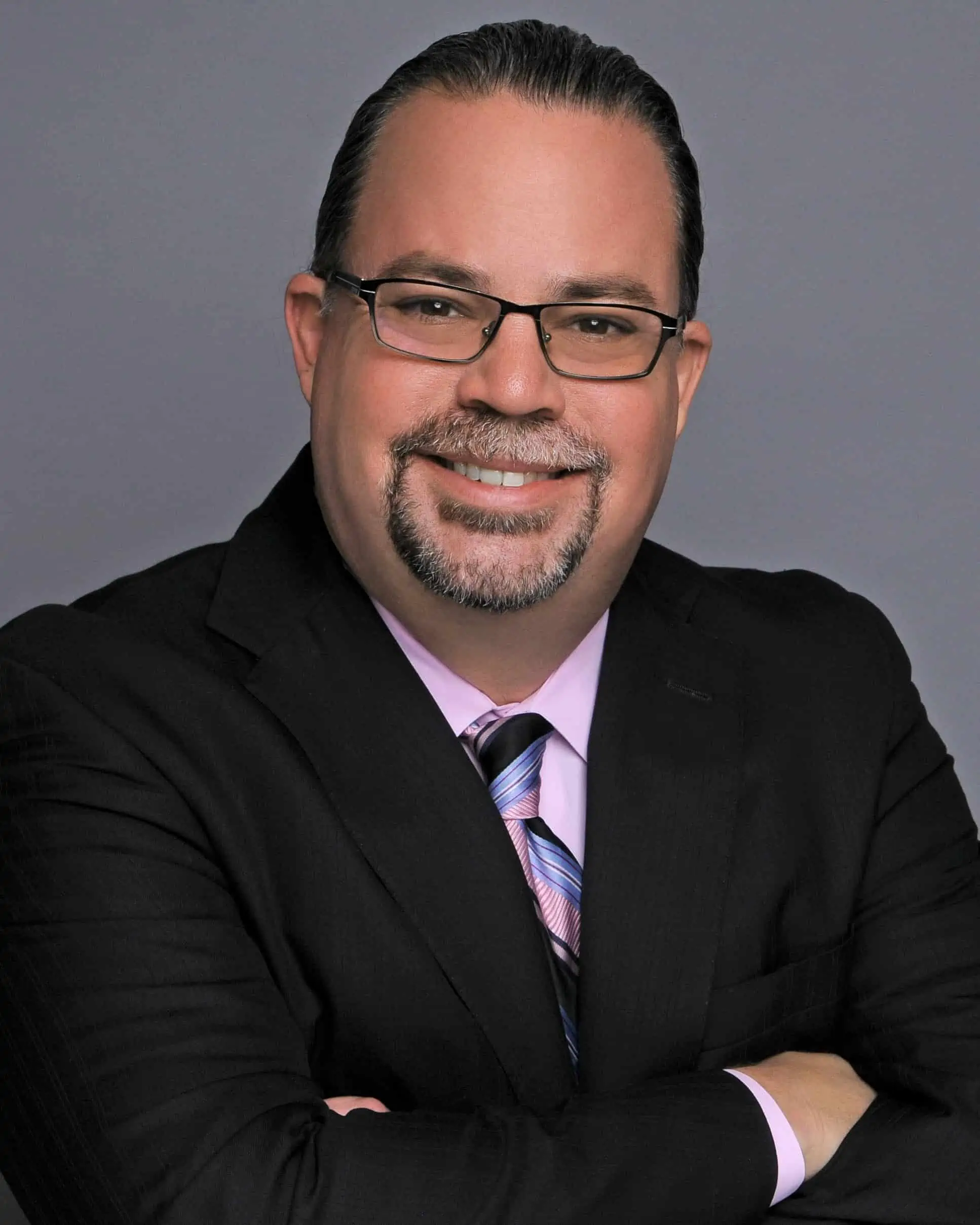 About Peter Moore, P.E., LEED AP, ENV SP, F.ASCE
Peter became the president of the firm now known as Chen Moore and Associates in January 2008. He is responsible for the day-to-day operations of the organization and has implemented procedures for project management, human resources, and financial planning. Peter has served as a project manager and principal-in-charge for various projects totaling more than $500M in construction value, including underground infrastructure, focusing on water, wastewater, and stormwater in Florida, Latin America, and the Middle East. Mr. Moore has both a Bachelor of Science in Civil Engineering and a Master of Engineering Degree from the University of Florida, and is a Licensed Professional Engineer in Florida.
About Chen Moore and Associates

Founded in 1986, Chen Moore and Associates (CMA) specializes in civil engineering, water resources, water and sewer, landscape architecture, transportation, planning and irrigation, and environmental and construction engineering services. The firm commits to providing responsive quality services while meeting the schedules and specific project needs of our clients. The firm has its headquarters in Fort Lauderdale, FL. CMA has regional offices in Miami, West Palm Beach, and Orlando (Maitland). CMA has project offices in Sarasota, Gainesville, Tampa, and Jacksonville.
Sources/References:
Connect with Peter Moore on LinkedIn
Chen Moore and Associates
BRAD MELTZER – How to Write Your Own Obituary
Brad Meltzer Books
TCEP 169: Civil Engineers Need to Lead the System of Systems
ASCE 2022 Elections
Project Management Training
People Skills Training
This Episode Is Brought to You by BigTime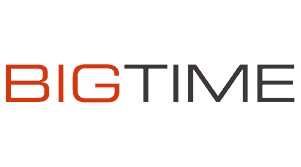 BigTime is the industry-leading PSA software providing time-tracking, billing, and project management for engineering firms, with the goal of getting your business back to business.  You can learn more about BigTime's PSA solution at bigtime.net  BigTime would also like to provide this tip to listeners about a company's vision and mission statement:
"Delegating is the new multitasking. Focus your attention where it's needed and delegate the rest. Not to be confused with off-loading work onto others. Proper delegation is utilizing every resource on your team to their best ability, including you."
Books Mentioned in this Episode:
Please leave your comments or questions in the section below on how you lead your fast growing civil engineering company.
To your success,
Anthony Fasano, P.E., LEED AP
Engineering Management Institute
Author of Engineer Your Own Success