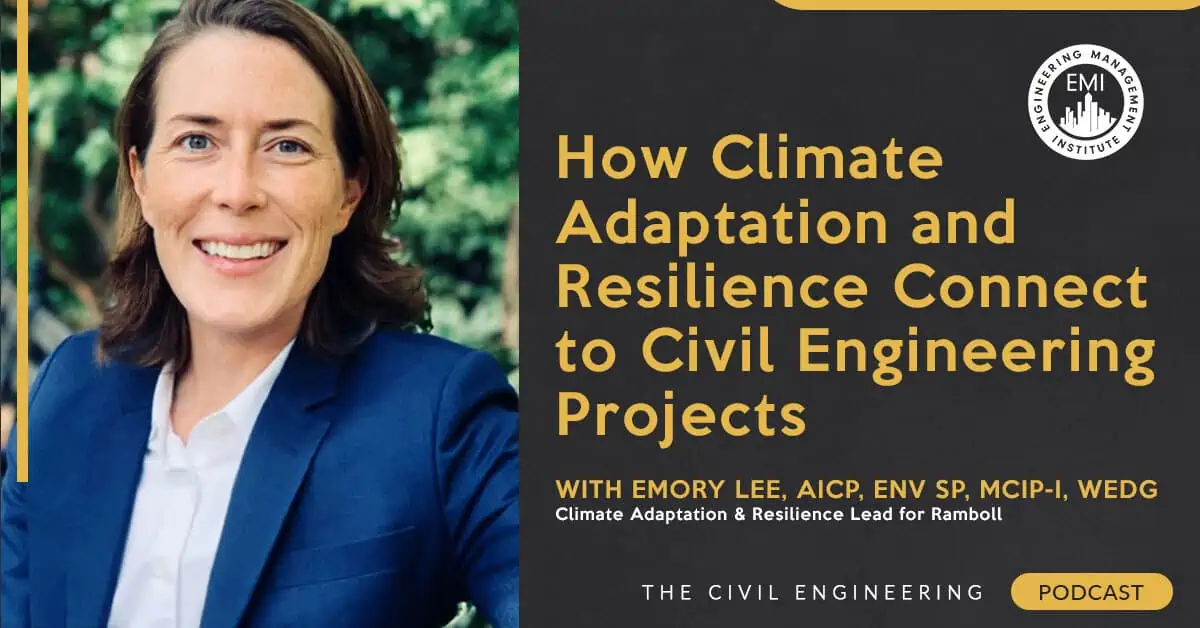 In this episode of The Civil Engineering Podcast, I talk to Emory Lee, AICP, ENV SP, MCIP-I, WEDG, Climate Adaptation & Resilience Lead for Ramboll Group A/S in New York about climate adaptation and resilience in engineering and some of the potential jobs or roles there are within climate adaptation.
Engineering Quotes:


Here Are Some of the Questions I Ask Emory:
What is climate adaptation and resilience?
How do climate adaptation and resilience connect to civil engineering projects?
Are there specific projects that more commonly require your expertise?
What are some of the key points that civil engineers should know about climate adaptation and resilient infrastructure?
What potential jobs or roles are there within climate adaptation?
What final piece of advice can you provide to engineers looking to transition into a career similar to yours?
Here Are Some Key Points Discussed in This Episode About Climate Adaptation and Resilience:

Climate adaptation involves assessing the effects of climate change on the safety, health, and welfare of our societies and populations and how they recover from difficulties or challenges posed by the impacts of climate change. Climate resilience is the capability of anticipating, preparing for, and responding to hazardous events and disturbances caused by climate change.
There is a cause and relationship between client adaptation and resilience. Your ability or inability to adapt to resiliency will have a direct impact on the capacity you or an organization have to be more resilient in the face of climate change.
Bridges, roadways, major infrastructure systems and networks are particularly vulnerable to the climate conditions we have today and will have in the future. Engineers play a critical role in ensuring that our society functions properly in how we operate day to day.
Climate adaptative design criteria should be the standard design today as well as in the future. The engineering discipline can lead the way in championing client adaptive design and advocating for resilient infrastructure.
There are more jobs in the climate industry than ever before. These types of roles do require a base of knowledge in an engineering discipline, but through training, education, and on the job exposure, there is a whole different transformation of skill set knowledge that is driven by the climate adaptation and resilience infrastructure work.
More Details in This Episode…

About Emory Lee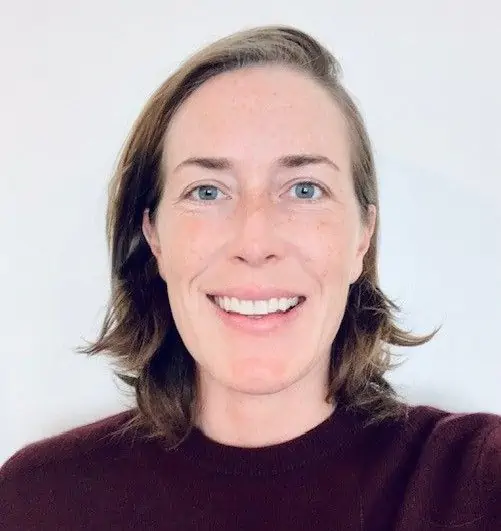 Emory Lee is the Climate Adaptation & Resilience Lead for Ramboll Group A/S in New York, NY. In this role, Emory supports Ramboll's Water group as part of the Climate Adaptation and Landscape Architecture (CALA) team. The CALA team assists city leaders, public departments, and urban developers on a global scale by providing insights, ideas, and specific solutions that reduce the risk of flooding and increase livability in cities. Projects in the Ramboll climate adaptation portfolio deliver added value and increase opportunities for recreational activity, improve social cohesion, and protect biodiversity. Ramboll's global team of climate adaptation specialists includes world-class engineering specialists, hydrologists, urban planners, and landscape architects.
Most recently, Emory held the position of Senior Vice President at Insight Civil Engineering, PLLC (WBE/DBE/SBE), a certified women-owned business enterprise (WBE) based in New York City. In her role as Senior Vice President, Emory provided oversight and delivery of project management and consulting services to clients, and was responsible for leading business development, client relationship management, and digital marketing efforts for the firm. Emory provided high-quality products and services to valued clients across a variety of industries by drawing on her extensive experience in the areas of urban planning, water resource management, facilities management, project management, client relationship management, and graphic design.
Emory previously worked as a Deputy Director in the Bureau of Environmental Planning and Analysis at the New York City Department of Environmental Protection (NYCDEP). Emory has a B.A. in Business Administration, a B.S. in Economics from Franklin & Marshall College, and a MSCRP in City and Regional Planning from the Pratt Institute in Brooklyn, NY.
Sources/References:
Project Management Accelerator (PMA) – PM Skills Course
Engineering Leadership Accelerator (ELA I) – People Skills Course
Seller Doer Accelerator (SDA) – Business Development Skills Course
Operations Manager Job Listing
Connect with Emory Lee on LinkedIn
"A Native Hill" by Wendell Berry
Books Mentioned in This Episode:
 The Art of the Commonplace: The Agrarian Essays of Wendell Berry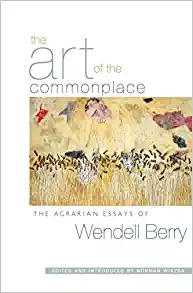 This Episode Is Brought to You By:

PPI
PPI has helped engineers achieve their licensing goals since 1975. Passing the FE and PE exams can open doors to career advancement and new opportunities. Check out PPI's wide range of prep options, including Live Online courses, OnDemand courses, and digital study tools to help prepare you to pass your licensing exam. Check out PPI today at ppi2pass.com to see all the options available for FE and PE exam prep.
Menard USA

Menard USA is a specialty ground improvement contractor that works nationally providing design-build ground improvement solutions at sites with problematic soils. Menard works closely with civil, structural, and geotechnical engineers to minimize foundation costs for a wide range of soil conditions, structure types, and loading conditions. To learn more about Menard USA, or for help on your next project, please visit www.menardusa.com.
Please leave your comments or questions in the section below on climate adaptation and resilience.
To your success,
Anthony Fasano, P.E., LEED AP
Engineering Management Institute
Author of Engineer Your Own Success