Podcast: Play in new window | Download | Embed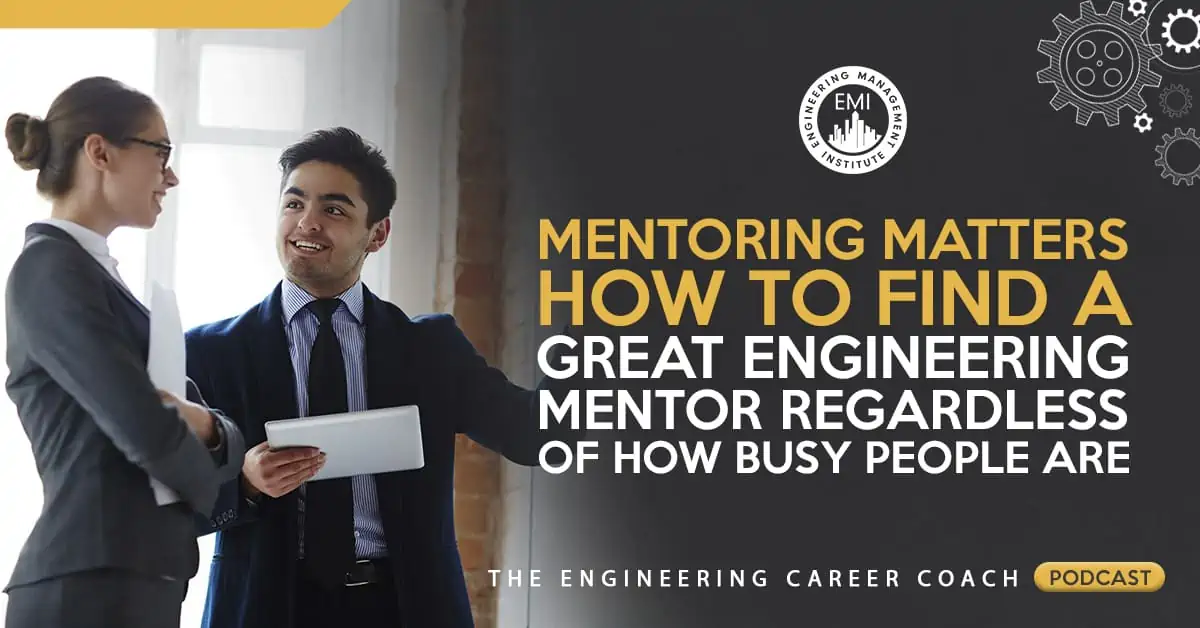 In this episode, I discuss why mentoring matters and how you can find a great engineering mentor in your career. I will be sharing some advice that I received from a great conference I attended in New Jersey, the ASCE Tri-State (NJ-NY-PA) Conference in Atlantic City in late September 2019.  At the conference, I attended a panel entitled: "Mentoring Matters: The Role of a Mentor in Helping to Chart Your Career Path". The panel consisted of experienced engineering professionals who talked about the importance of mentoring and how it helped them in their careers. They provided a lot of great strategies that you can use in selecting, finding and getting the most out of a mentor in your career. 
Engineering Quotes:


Here Are the Key Points Discussed and the Professionals That Mentioned Then During the Mentoring Matters Panel:
Michael P. Venuto, PE, PLS – Chief Engineer, Delaware River Port Authority
One of the biggest reasons of finding a mentor is to help you avoid making the same kind of mistakes that the people before you in your path have made.
When reaching out to a mentor tell them that you would like to be where they are in a few years from now, and ask them if they would be willing to take the time to mentor you to help you get there.
explain to them that what you really would like to learn from them is what they did right in their careers to get where they are today, and also what they did wrong throughout their careers.
Hina Patel, PE, PMP – Director of Transportation, Jacobs Engineering
Mentors can help you to make career and life-changing decisions and help you to see the different alternatives and consequences around your decisions.
Having a mentor that believes in your ability to succeed is incredibly rewarding in your career.
A mentor needs to know when he or she can't help a person anymore, and guide them towards where they can seek help going forward.
Robert J. Fischer, PE – Chief Engineer, New Jersey Turnpike Authority
In your engineering career, you can have many voids and a mentor can help you to fill those voids by giving you information that you don't have. You can't be complete without having all of the information you need, aand you rarely have it all without help.
It is important and very valuable to build a relationship with your mentor outside of work as well.
Engaging with professionals from different experience levels is invaluable in your engineering career.
Eric G. Madden – Vice President, Deputy Chief Marketing Officer, JMT, Inc.
Just because your company doesn't have a formal mentoring program, doesn't mean that you cannot find a mentor. Mentoring can be provided through formal OR informal programs/discussions, etc.
If you are a mentor and you're mentoring someone, it can have a great impact on the leader that YOU become. Remember that when you are mentoring someone, the protege that you are mentoring is watching you and they are making a decision on how committed they are going to be to you and the mentoring relationship.
Mentoring might sometimes lead to retention in companies, however, when mentoring someone it should not just be about retaining staff. It also has to be about helping the people that you mentor.
Bernard P. McNeilly, PE – President for the US Program & Construction Management Group, WSP USA, Inc.
All the leaders in the engineering field need to step up and commit to becoming mentors because it is going to help to cultivate a strong new generation of engineering professionals.
Not having the time to mentor somebody cannot be used as an excuse. If you want to succeed as an engineer or as a leader, you need to commit to helping others.
Dana Hecht – Program Director, Major Capital Projects/World Trade Center Construction, The Port Authority of New York and New Jersey
By mentoring someone you can empower them to do amazing things in their careers, things that they may not have accomplished or even set out to do without you as their mentor.
As an engineer, you have the ability to mentor someone. Will you use it, or will you find someone to mentor you in order to empower you?
More in this episode…
In the Take Action Today segment of the show, I provide you with some advice on how you can convince somebody that is too busy to mentor you.
"The delicate balance of mentoring someone is not creating them in your own image, but giving them the opportunity to create themselves." – Steven Spielberg
Resources and Links Mentioned in This Session Include:
Engineering Management Accelerator Workshop (Online) | 5 PDHs
Engineering Management Institute Professional Membership
Upcoming EMI Webinar
ACEC New Jersey
ACEC Pennsylvania
ACECNJ / ACECNY / ACECPA FALL CONFERENCE 2019
ACEC New York
Speakers Mentioned in This Session Include:
Matthew Alboum from Dewberry
Mike Venuto from Delaware River Port Authority
Robert Fischer from New Jersey Turnpike
Dana Hecht from The Port Authority of New York & New Jersey
Bernie McNeilly from WSP, USA
Eric Madden from Johnson, Mirmiran & Thompson
Hina Patel from Jacobs Engineering
If you are interested in taking our FREE CMAP Diagnostic Case Study, please email Betty at >>

[email protected]
Why should you consider getting an engineering mentor

?
We would love to hear any questions you might have or stories you might share on why you think having an engineering mentor in your career is important?
Please leave your comments, feedback or questions in the section below.
To your success,
Anthony Fasano, PE, LEED AP
Engineering Management Institute
Author of Engineer Your Own Success