Podcast: Play in new window | Download | Embed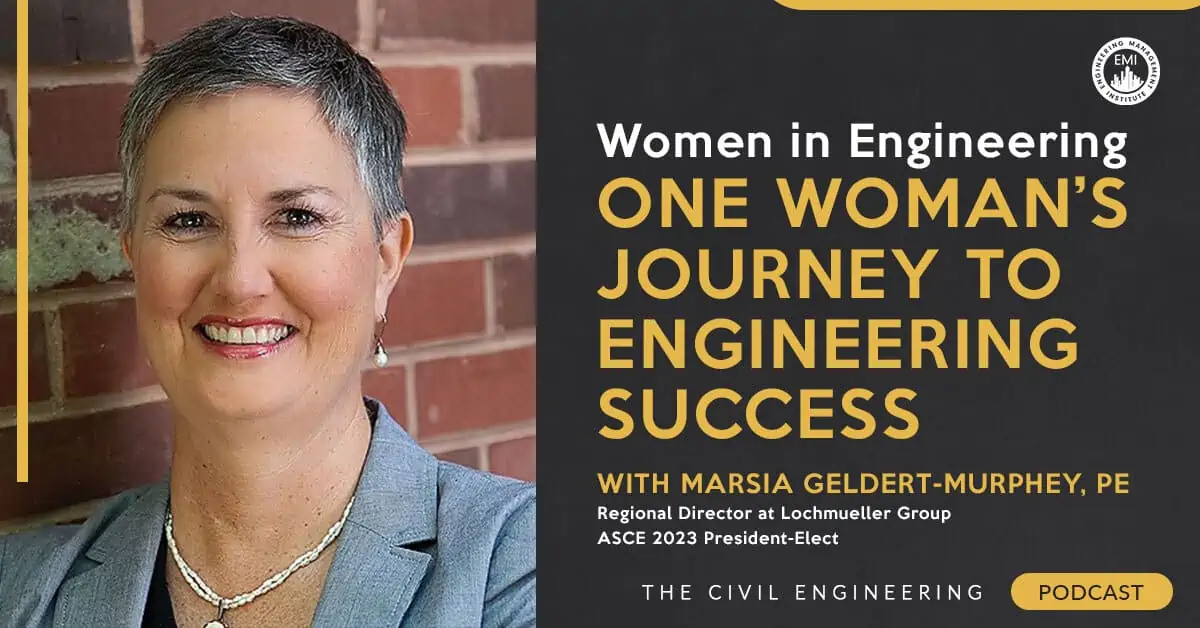 In this episode, and in honor of National Women in Engineering Day, I talk to Marsia Geldert-Murphey, P.E., F. ASCE, Regional Director of Lochmueller Group, who was recently elected as the ASCE President Elect for 2023. Marsia is also the author of a book called "Cross, Yield or Burn – Navigating the Bridges of Life," and in this episode, Marsia shares an inspiring story about her career journey leading up to her role as ASCE President and also talks about how we can promote diversity and gender equality for women in engineering.
Engineering Quotes:


Here Are Some of the Questions I Ask Marsia:
How did your elevator accident change your perspective in life as well as your journey into ASCE leadership?
Did you have to develop new habits after your accident?
What is your vision and goal as leader of ASCE?
Why did you decide to write your book, "Cross, Yield or Burn – Navigating the Bridges of Life"?
What do you hope people will take away from your story and where can listeners find your book?
What can be done to promote diversity and gender equality for women in engineering?
Here Are Some Key Points Discussed in This Episode About Women in Engineering:

My accident caused me to shut down from work and any of my daily responsibilities, and I had to learn to do all my daily tasks all over again. The drive I had inside of me was the reason that I was able to recover as well as I did. This taught me to slow down and realize that your career is not everything, and that there are other things in life that are more important in many ways.
My accident helped me to focus more on my health and well-being, and made me realize that it is a much more pleasant way to live when you can take a step down and slow down.
In my role as ASCE President, I would like to focus on the future of ASCE and make sure that we are reaching out to all the young people out there. I believe that the most reliable source of untapped STEM people out there are from unrepresented populations.
The organization was made very strong by those that came before us, and I want to make sure that the organization continues to adapt and be strong for future generations.
I was the owner of my first company, had young children at home, and just found out that both my parents were very ill. While I was with my dad during his chemotherapy, I started doing vignettes to occupy my time without jeopardizing my state of mind. A lot of people reached out to me asking how I was managing all of this, and that is when I decided to put all the stories together into a book.
I hope that this book will help others to better understand the bridges in their own lives and provide guidance on how to cross, yield, or burn the bridges in their lives.
When we're looking to expand the diversity in our profession and professional associations, it is important to make people feel safe and welcome. Everybody has some struggle and sometimes it is not evident when you talk to people. Remain mindful and listen attentively when people are talking to you.
We can't afford to lose the magnificent talent that is out there. If we are going to solve some of the biggest challenges we've got in our world right now, we need to have all the best and brightest minds involved in the solution.
More Details in This Episode…

About Marsia Geldert-Murphey, P.E., F.ASCE
Marsia is the Regional Director of Lochmueller Group, responsible for the growth and operations for the region that includes the states of Missouri and Illinois. She is an engineering executive with 30 years of experience related to the design and construction of transportation infrastructure, utility capital improvements, rail, site development, federal installations, and commercial and industrial development. Marsia holds a Bachelor's of Science in Civil Engineering from South Dakota State University and a Master's of Science in Civil Engineering from Missouri Science and Technology. She is a licensed Professional Engineer in six states.
Marsia has been very active with the American Society of Civil Engineers (ASCE) since college She currently serves as Chair of Public Policy and Practice committee, a board level committee, responsible for eight constituent committees. She served as Director of Region 7 from 2016 – 2019. Region 7 is comprised of the states of Missouri, Colorado, Iowa, Kansas, Nebraska, South Dakota, and Wyoming.
In 2016, Marsia received the American Society of Civil Engineers' Edmund Friedman Professional Recognition Award for outstanding civil engineering performance and dedication to the civil engineering profession. She was the second woman at that time to receive this award since its inception in 1960.
She testified before the U.S. House of Representatives at a hearing on the small business perspective of the development and use of our nation's infrastructure.
Marsia recently published the book "Cross, Yield or Burn – Navigating the Bridges of Life," and won the election to assume the role of 2023 president-elect during the Society's business meeting this October at the ASCE 2022 Convention in Anaheim, California.
Books Mentioned in This Episode:
Cross, Yield or Burn – Navigating the Bridges of Life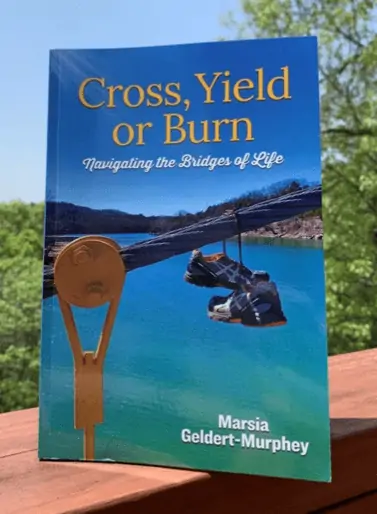 Nonviolent Communication: A Language of Life: Life-Changing Tools for Healthy Relationships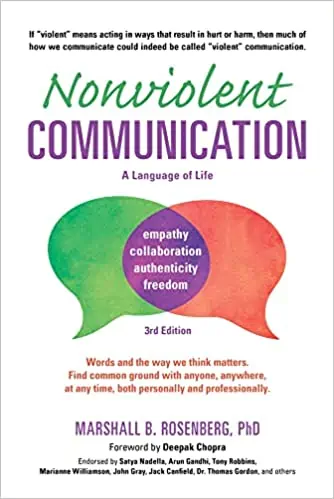 Sources/References:
Cross, Yield or Burn – Navigating the Bridges of Life
ASCE
Connect with Marsia "Marsie" Geldert-Murphey, P.E., F.ASCE, on LinkedIn
Project Management Accelerator (PMA) – PM Skills Course
Engineering Leadership Accelerator (ELA I) – People Skills Course
Seller Doer Accelerator (SDA) – Business Development Skills Course
This Episode Is Brought to You By:

Colliers Engineering & Design

Colliers Engineering & Design is a multidiscipline engineering firm with over 1,800 employees in 63 offices nationwide — and growing fast! Colliers Engineering & Design maintains an internal culture that is nurtured through the promotion of integrity, collaboration, and socialization. Their employees enjoy hybrid work environments, continuous career advancement, health and wellness offerings, and programs and projects that have a positive impact on society. Colliers Engineering & Design stays on the cutting-edge of technology, and their entrepreneurial approach to expansion provides personal and professional development opportunities across the firm. Leadership's dedication to the well-being of their employees and their families is demonstrated throughout the wide range of benefits and programs available to them. For more information, visit the career page on their website at colliersengineering.com.
PPI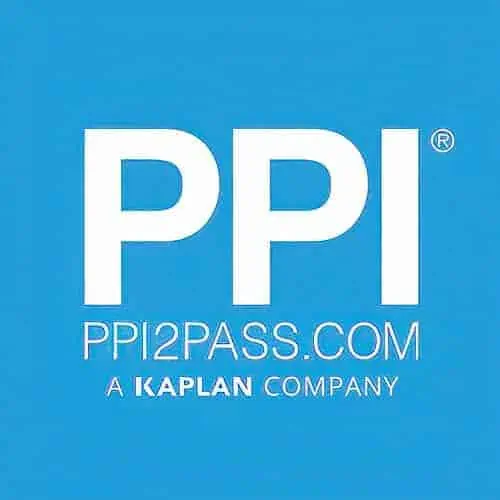 PPI has helped engineers achieve their licensing goals since 1975. Passing the FE and PE exams can open doors to career advancement and new opportunities. Check out PPI's wide range of prep options, including Live Online courses, OnDemand courses, and digital study tools to help prepare you to pass your licensing exam. Check out PPI today at ppi2pass.com to see all the options available for FE and PE exam prep.
We would love to hear any questions you might have or stories you can share on women in engineering that inspire you.
Please leave your comments, feedback, or questions in the section below.
To your success,
Anthony Fasano, P.E., LEED AP
Engineering Management Institute
Author of Engineer Your Own Success