Podcast: Play in new window | Download | Embed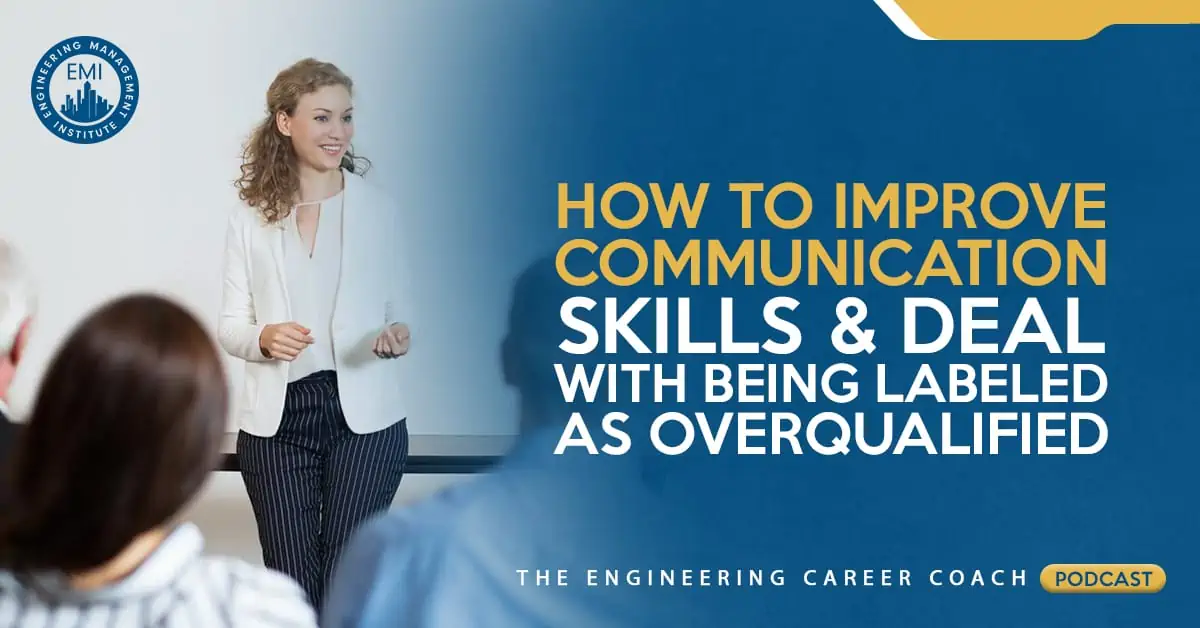 Image by katemangostar on Freepik
In this episode, I answer some questions from our listeners and subscribers about building communication skills, improving public speaking, and strategies for overcoming being overqualified for a position you want.
Engineering Quotes:




Here is the summary of the questions and answers discussed on how to improve communication skills and deal with being labeled as overqualified:
Question:
My name is Natalie and I am a mechanical engineer and a recent graduate located in the United States. I am 6 months into my first job as an HVAC designer and am very interested in sustainable design and high performing buildings, but I'm not sure the best way to get myself onto these projects. I want to set myself apart from other entry-level engineers, but I'm still learning the industry. How can I stand out and what can I do to work on these types of projects?
Answer:
If your company works on these type of projects, ask them to get involved in them.
If your company does not work on these types of projects, consider moving to a company that does.
Build the skills, credentials, and expertise that people who work on these projects possess.
Start building your expertise publicly (using LinkedIn) and improve your communication skills.
Question:
I'm a civil engineer and an avid listener of your podcast. I have recently decided to look for new work opportunities in Australia, and I'm leaning towards getting a more technical role in the future, and eventually into sales, procurement and/or managerial roles. However, having based most of my experience in Taiwan and mostly with less technically heavy work in the consultancy world, I am unsure about how to highlight my experience to make sure my CVs and cover letters stand out to the recruiters. I'd love to hear your opinion about this. Thanks in advance!
Answer:
It sounds like your technical experience is lighter than you would like it to be, and you want to increase it.
Look for wins you have had on the technical projects you have worked on and accentuate them.
Highlight on your resume any programs or software that help you in your technical design efforts.
Emphasize any intangibles or field experience that you had in Taiwan that will make you a better designer.
Question:
I'm a sophomore chemical engineering student, age 27, looking to enhance my communication and soft skills set to stand out to engineering employers in my search for an internship and for overall success in my career. Do you offer a program providing help of this kind?
Answer:
Question:
I am a project engineer in Las Vegas. My question is what resources do you advise for improving public speaking? A general list of must-read books for engineers wanting to grow in their profession? Thanks.
Answer:
Consider joining a Toastmasters Group.
A few books that I will recommend is:
A few courses that you could consider taking is:
More in this episode…
In the Take Action Today segment of the show, I answer one last question from a listener who is concerned about lost potential in his career and the idea of being overqualified.
The best way to advance in a career is to get great results while working with people. – Henry Cloud
Resources and links mentioned in this session include:
Engineering Management Accelerator
Next Webinar – Developing An Entrepreneurial Mindset that will Drive Opportunity for You And Your Company
TECC 53: The Engineering Career Coach Podcast – The Importance of Becoming a Visible Expert as an Engineer
TECC 167: Slide Rules: Design, Build, and Archive Presentations in the Engineering and Technical Fields 
This episode is brought to you by PPI, the leader of FE, PE, or SE exam preparations. Use promo code T-E-C-C-8 for a 20% discount at PPI2Pass.com/coach.
Books Mentioned in this episode:
We would love to hear any questions you might have or stories you might share on improving your communication skills and dealing with being labeled as overqualified.
Please leave your comments, feedback or questions in the section below.
To your success,
Anthony Fasano, PE, LEED AP
The Engineering Career Coach
Author of Engineer Your Own Success