Podcast: Play in new window | Download | Embed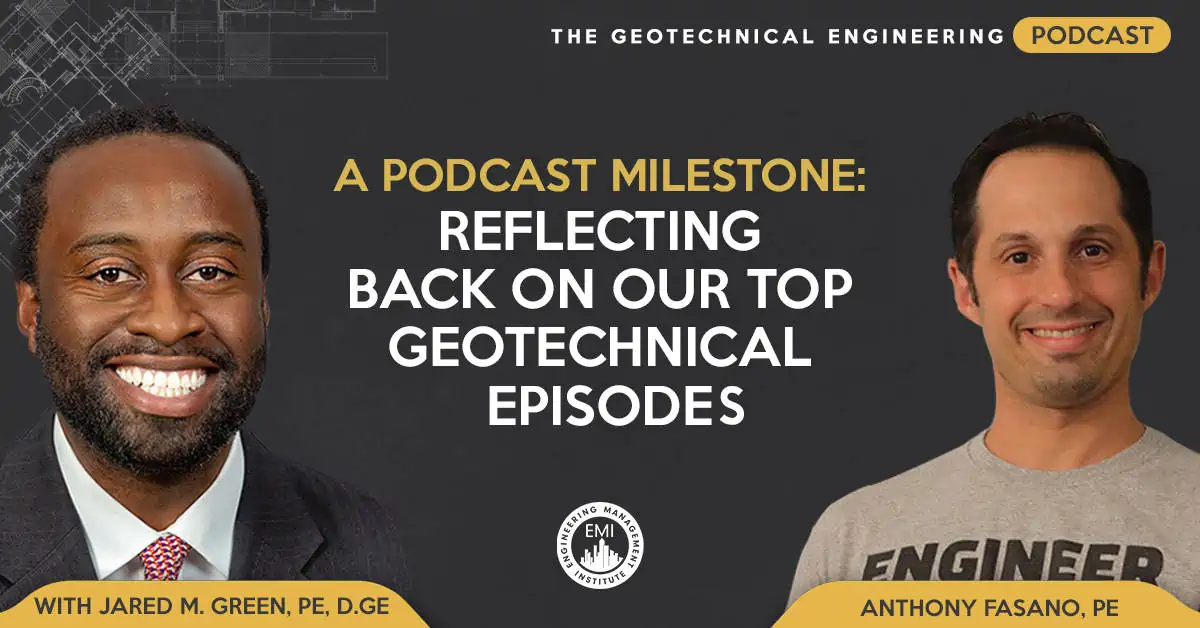 In this episode of The Geotechnical Engineering Podcast, Jared M. Green, P.E., D. GE, F.ASCE, NOMA, and Anthony Fasano, P.E., LEED AP highlight and recap some of our top geotechnical episodes and the wisdom shared by some of our previous guests.
Engineering Quotes:


Here Are Some of the Key Points Discussed as We Reviewed Our Top Geotechnical Episodes:
Hosting a podcast has been instrumental in giving back to the community, which is what I am passionate about doing. It is a privilege to be discussing some of our top geotechnical episodes today.
We live in a world where we don't very often get to have conversations with people. Hosting a podcast is an opportunity to have deeper conversations with people, helping you increase your communication skills and build relationships with people.
During my conversation with Dr. Kancheepuram N. Gunalan, the American Society of Civil Engineers (ASCE) 2020 National President and Senior VP at AECOM, I was very impressed with how he explained that it's okay to not know what it is you want to do professionally. Not everybody is born saying they want to be an engineer. It is OK to figure things out and let life show you where you should end up.
Samuel Clemence, a professor at Syracuse University, was my professor and my first introduction to geotechnical engineering. During the episode, I was again reminded that it is OK to step outside of your comfort zone and ask for help if you don't know how you are going to solve a problem.
In episode 4, where we talked with Joanna Smith, an energetic and successful woman, I enjoyed discussing the importance of diversity and inclusion in the engineering field and how it can benefit a company. If you have people who think differently and have different world and life experiences, and they all come together in the same room to solve a problem, you start to see the world differently — and might even come up with better solutions to the problem.
During the interview with Karen Durham-Aguilera, Executive Director at the Army National Military Cemeteries, we talked about the four C's of leadership that were life-changing to me. They are:
Competence: If you do not understand what your field is about, you cannot give direction and help people learn.
Commitment: Also called passion, if you are not deeply committed, regardless of where you are working or what you are doing, you are not going to be happy, and everyone around you will know it.
Courage: This involves taking a personal risk; it is also being able to see another way or a new idea that makes sense, and then being able to convince others of it.
Caring: If you do not care about the people you are trying to lead, they will know.
In episode 7, we talked to Peggy Hagerty Duffy, P.E., D.GE, M.ASCE, president at Hagerty Engineering, Inc., about starting a successful engineering firm. I think it is very important for all engineers to understand that whether or not they behave ethically is something only they can decide.
During the episode with Arthur J. Alzamora, Jr., P.E., F. ASCE, LEED, the Principal and Vice President at Langan Engineering & Environmental Services, we talked about time management and how people sometimes waste so much time and then still complain that they don't have time to do things. Creating a time diary might help you manage your time better. Determining what takes up your time will help you determine where you are wasting time, and how you can stop wasting time.
More Details in This Episode…
About the Host, Jared M. Green, P.E., D. GE, F.ASCE, NOMA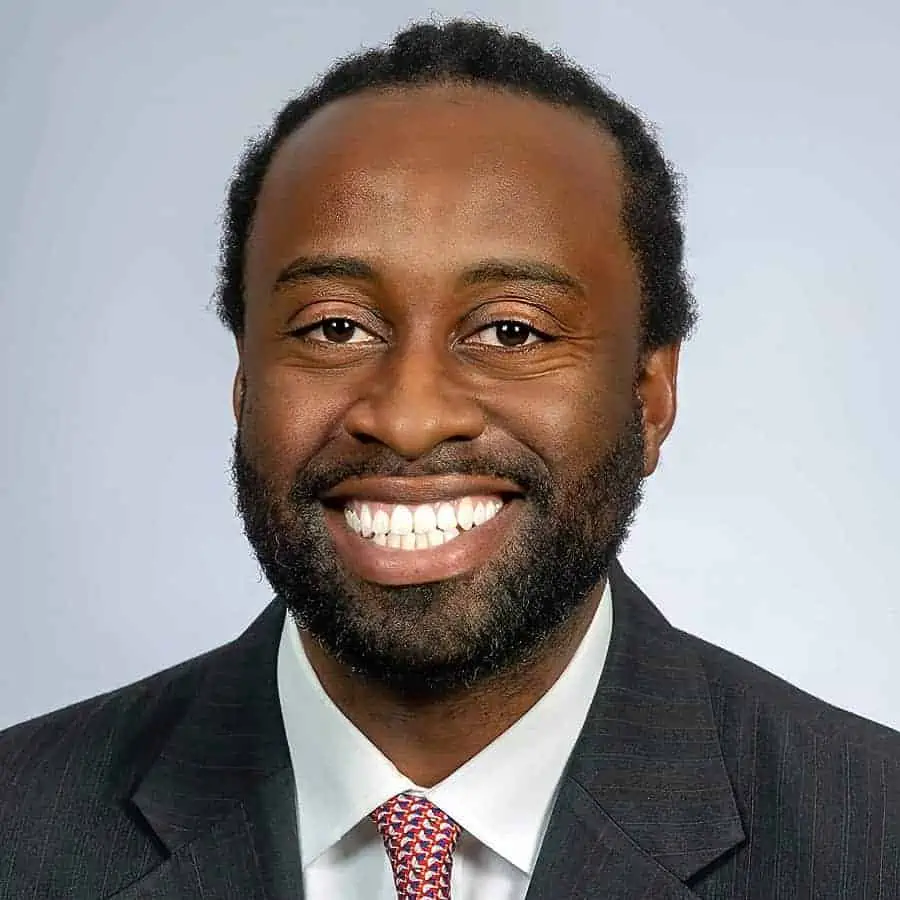 Jared, originally from southwest Philadelphia, Pennsylvania, graduated from Syracuse University's College of Engineering in 2001 with a B.S. in Civil Engineering. He later went on to attain his M.S. in Civil Engineering (Geotechnical Focus) from the University of Illinois, Urbana-Campaign, in 2002. In 2003, he began working in the New York City office of Langan. He has since become a Principal / Vice President and is one of the owners of this international land development engineering consulting firm. After 15 years at Langan, Jared has moved to the Philadelphia office and is one of the geotechnical practice leaders in that office.
Jared is a consultant and team leader who also enjoys mentoring young engineers and first-generation college students. He has been instrumental in increasing the number of pre-college students who are interested in STEAM majors and fields. He strives to make complex engineering topics relatable and understandable to people new to the field and to people who are completely unfamiliar with engineering. Jared and his family currently reside in Flemington, New Jersey. He and his wife have three energetic, inquisitive, and awesome children. You can connect with Jared here.
Sources/References:
TGEP 02: ASCE National President Dr. Kancheepuram N. Gunalan on the Future of Geotechnical Engineering
TGEP 03: How Engineers Can Stay Technically Sharp in Times of Uncertainty
How Engineers Can Stay Technically Sharp in Times of Uncertainty
TGEP 04: A Young Successful Geotechnical Engineer Making a Difference in the Engineering World
TGEP 05: Leading Through Challenges Featuring Karen ("KD-A") Durham-Aguilera, Executive Director for the Army National Military Cemeteries
TGEP 07: How to Start and Grow a Successful Engineering Firm
Underpinnings Blog
Video: What is the geotechnical field?
TGEP 19: How to Progress in Your Career as a Geotechnical Engineer
Please leave your comments or questions in the section below on our top geotechnical episodes discussed during this episode.
To your success,
Jared M. Green, P.E., D.GE
Host of The Geotechnical Engineering Podcast