Podcast: Play in new window | Download | Embed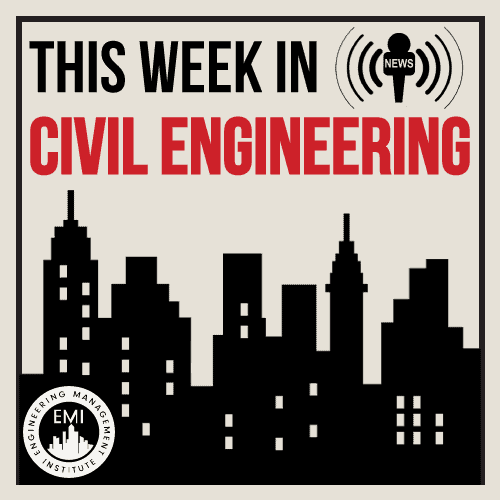 Welcome to This Week in Civil Engineering (TWiCE), the first weekly audio and video podcast covering weekly news stories and events related to civil engineering and its sub-disciplines. In this introduction episode of TWiCE, I explain how this show is going to work, introduce you to our four hosts for the show, and also provide you with a sample news story featuring some of the latest industry news and updates in the civil engineering industry. Our first complete episode will publish next week on 9/17 featuring Khamini H. Fennelly.
Everyone should be up to date with what is going on in your industry because it can really have a lot of implications on you, your career, and your company's growth. With This Week in Civil Engineering, our goal is for you to be able to listen to this podcast, or watch the video version every week for 10-20 minutes and get updated on industry happenings.
The show will be hosted by four co-hosts, Khamini H. Fennelly, Geoff Smith, PE, LEED AP, Danny Luu MEng (Hons) CEng MICE, Luis Duque, EIT, A.M. ASCE, SEI.
We will dive into topics that will include, but are not limited to:
• The latest news in the world of civil engineering, national and international news,
• Information on government funding as it becomes available for civil related projects,
• Technical information related to new products that might improve project performance,
• Professional development tips for individuals and firms.
The episodes will be available anywhere you can listen to podcasts on audio including Apple Podcasts and Spotify, and on our YouTube Channel in video version.  All of which you can find at www.TWICE.news
This Week in Civil Engineering is published by the Engineering Management Institute and is part of EMI's Civil Engineering Media & Entertainment Network.
If you are looking for a platform that provides you with all the latest updates in the civil engineering industry, TWiCE is the perfect platform to fulfill your need. Please leave your feedback or comment about the show by clicking here.
To your success,
Anthony Fasano, P.E., LEED AP
Engineering Management Institute
Author of Engineer Your Own Success