Podcast: Play in new window | Download | Embed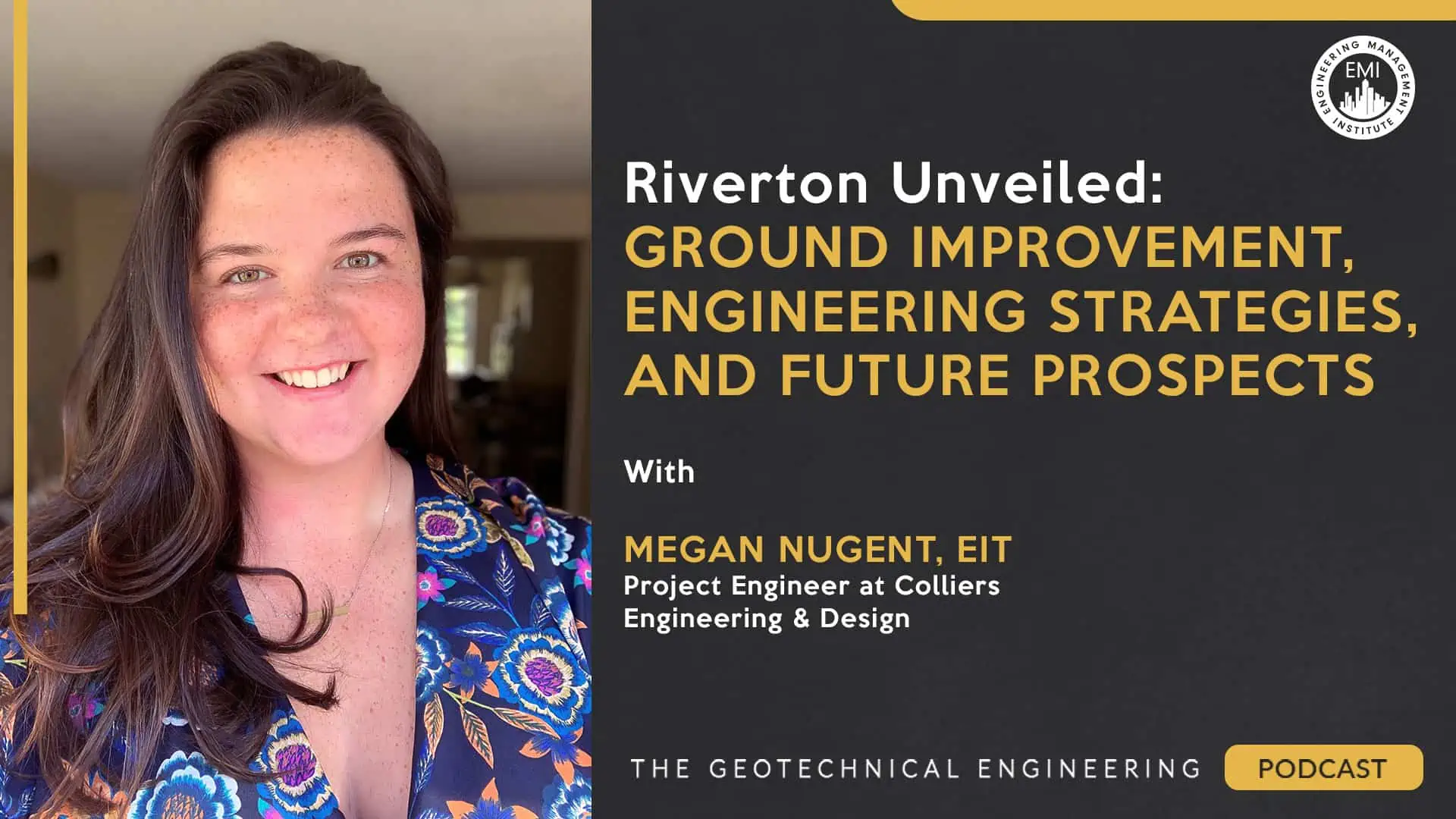 In this episode, we talk to Megan Nugent, EIT, a project engineer for Geotechnical Services at Colliers Engineering & Design. Megan shares her insights into the world of geotechnical engineering and discusses an intriguing project called Riverton. We explore Riverton's central location, diverse soils, ground improvement processes, and the innovative use of processed dredge material.
***The video version of this episode can be viewed here.***
Engineering Quotes:

Here Are Some of the Questions We Ask Megan:
Can you provide some insights on the central location of the Riverton project, including its proximity to major roadways and transportation hubs?
Could you provide some information about the variability of the soils present in the project area and the ground improvement processes that have been implemented?
How does the citrus soil cement blending contribute to the stabilization of materials, particularly in the context of on-site dams and below-building pads?
What method or equipment are you using to create these cells or volumes?
Can you provide some insight into the implementation of deep dynamic compaction for the sandier sections of the site?
What specific monitoring instruments or techniques are used to ensure the surcharge's effectiveness and determine the appropriate timing for its removal?
From a geotechnical standpoint, is there typically just one person overseeing everything at any given time, or are there multiple individuals involved?
Can you explain how the processed dredge material is used in filling at Riverton, and how you handle its sensitivity to moisture during placement?
How have formal and informal mentoring relationships influenced your growth as an engineer and supported you on this project?
Can you share other interesting or challenging projects that you worked on within your area of expertise?
What are the anticipated benefits of the engineering strategies in Riverton in terms of project success and long-term sustainability?
What advice would you give to aspiring geotechnical engineers, and what key lessons have shaped your perspective on the work?
Here Are Some of the Key Points Discussed About the Riverton Project: Ground Improvement, Engineering Strategies, and Future Prospects
[Read more…] about TGEP 078: Riverton Unveiled: Ground Improvement, Engineering Strategies, and Future Prospects