Podcast: Play in new window | Download | Embed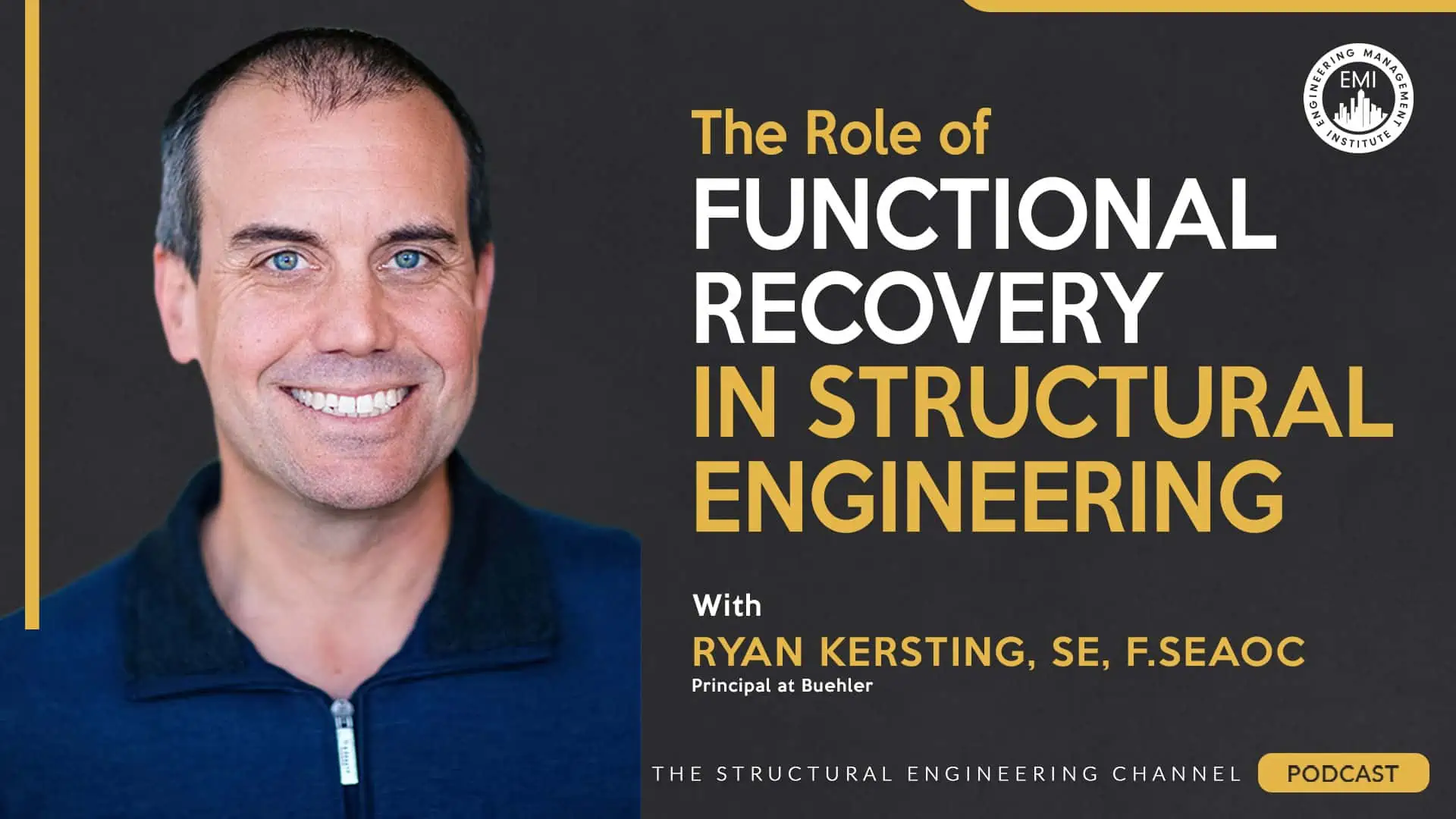 In this episode, we talk with Ryan Kersting, SE, FSEAOC, principal at Buehler and current NCSEA President, about functional recovery in structural engineering, and how engineers can deepen their understanding and contribute to improving community resilience. He also talks about NCSEA (National Council of Structural Engineers Associations), exploring its essence and ways for engineers to engage with this organization.
***The video version of this episode can be viewed here.***
Engineering Quotes:


Here Are Some of the Questions We Ask Ryan:
Is the Functional Recovery Task Committee addressing the same concept as life safety, but using different terminology, considering the focus on building performance versus life safety?
Could you provide an overview of NCSEA, including its vision, mission, and overall objectives?
Do some states not have the 44 SEA organizations, and are they more actively engaged in NCSEA since it might be their primary structural engineering organization?
Can you share how your firm supported your involvement, addressing the common challenge of time constraints or lack of support faced by many structural engineers?
Can the firm you work for accommodate you through various life phases, considering factors like work-life balance and flexibility that engineers prioritize?
Could you provide more insight into the future goals of NCSEA and elaborate on what the organization is aiming to achieve?
What are your thoughts on the NCSEA summit, especially for first-time attendees, considering its diverse focus on technical sessions, community engagement, and topics like diversity and mental health, and is the capital SEE in the "We SEE Above and Beyond" campaign an acronym?
Are there any other NCSEA plans or projects that you would like to discuss?
How is NCSEA organized, particularly for initiatives like media spokesperson training, and is there a specific committee where members undergo training to become potential interviewees for media inquiries?
Can you provide a brief introduction to the concept of resilience and functional recovery, particularly for engineers outside the West Coast, and share your role and involvement in the new committee?
How does designing buildings for functional recovery bridge the gap in the current code, especially when considering its significant impact on communities, as seen in events like the Northridge earthquake?
What difficulties are there in pushing for seismic resilience legislation in California, and what actions or strategies are being used to overcome these challenges?
What is the process like for a practicing engineer going to the Capitol and talking to politicians about our work, and is it typically a collaborative effort involving the entire NCSEA committee presenting our findings?
What advice would you give to younger engineers as they embark on their careers?
Here Are Some of the Key Points Discussed About the Role of Functional Recovery in Structural Engineering:
[Read more…] about TSEC 118: The Role of Functional Recovery in Structural Engineering