How Motivation helped me to be a
Highly Successful Engineer
My ultimate secret for becoming a partner at an engineering firm at age 27, was ONE thing.
Hi there, Anthony Fasano here. As an engineer, I thrived on the opportunity to provide high quality engineering work for my clients and my community.
However, I remember the days as an engineer where I struggled to make it through the day. Whether my boss was complaining about me not being billable enough or clients were demanding impossible deadlines, I constantly felt stressed and overworked.
Those are the days that almost broke me down. I just wanted to be a good engineer and use my abilities to improve the world and help those around me….BUT things got in the way like: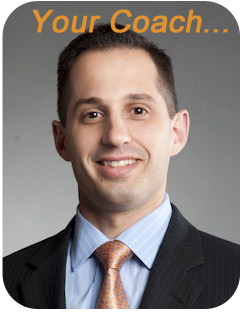 Meetings, Deadlines, and Office Politics
I often had to sit in project meetings, for hours on end listening to consultants argue and compare negative outlooks for project budgets or upcoming client meetings.
I'd leave these meetings with to-do lists that had to be finished before the next deadline, and often no one in the office was available to help me do them.
So, I did them myself and then I had to deal with office politics of others saying, "What does he think he is Super-Engineer?"
I know, you deal with similar situations, well here is a little secret, that I never shared with my colleagues, of how and I prevailed over these rough patches:
Motivation, A Ton of It
Whenever I got down or had to deal with a real negative colleague or client, I read something extremely positive.
I would keep a book in my desk drawer or Google some positive quotes. Some days I read 100 quotes to get my spirit back up and help me to remember that I wanted to change the world, or at least my community by being an exceptional engineer and no one or no meeting was going to stop me!
Not I Only Did it Work, But I Was Happy!
My voracious intake of motivation didn't only boost my attitude and focus, but it made me happier. Could you imagine that?
Bosses telling me to be more billable, clients looking for deliverables, yet I was happily chugging along in my career, I advanced at light speed pace. So…
I Decided to Start Inspiring Others
I started writing inspirational messages to family members every Monday morning. The feedback was phenomenal, so word spread and eventually my Monday Morning Motivators (MMM) were being read by thousands of engineers and other professionals.
The MMM's were simply a quote and short inspirational message that I sent out every Monday morning. The replies that I received from people thanking me every Monday were so gratifying.
After almost 5 years of sending these messages, I stopped in an effort to focus energy on some other goals, however I have created an MMM e-book to help engineers stay motivated and inspired.
Not only does the book contain 50 quotes, but also 50 inspirational messages to help you overcome the negative energy that gets thrown around in the corporate world.
You Can't Afford One Negative Thought, Not One
Why would this MMM e-book be helpful to you as an engineer? Simple. Every negative thought that goes through your mind can have a disastrous effect on your development both as an engineer and as a person. These 50 messages that I have written will ensure that you rise above the negativity.
In the words of my favorite author Robin Sharma: "What separates positive and miserable people is how the circumstances of life are interpreted and processed."
My MMM e-book will help you to process things in a much more positive way, and the ability to do that is more important than any skill you can build or certification you can get.
Check out What This MMM Subscriber Said:
"I am very impressed with the Monday Morning Motivator and find them to be right on point with what is happening in today's world. Anthony's message of March 22nd "Success Through Failure" was a positive reinforcement for me as I prepared for my interview for the Global Head of Tax position for Cushman and Wakefield. During the extensive interviews I reflected on his message of being able to learn from each and every step you take. I did indeed achieve the Global Head of Tax position with C&W and thank Anthony for his inspiration and assistance." – Joe L., Senior Managing Director – Global Tax Operation
A Bonus for You: The Extra Motivator
So I sent out my last Monday Morning Motivator on October 13, 2014, but the truth is I still write them.
I still find inspirational quotes, reflect on them, and often write about them for all of the reasons that I have listed above.
In fact, soon after I sent the last MMM out, I wrote a motivational message that I haven't shared with anyone. If you purchase my MMM e-book, as a gift I will also send to you this special Extra Motivator.
It was never sent to my mailing list, but the message is so powerful that I believe this alone is worth the price of the e-book, and I think you will too.
I am Living Proof Motivation Can Elevate Engineers
Motivation propelled me, from a confused 22 year old who just entered into the big and sometimes confusing real world of engineering, to a 27-year-old associate partner at a reputable engineering firm.
Motivation was critical in freeing my mind of the negative clutter that people in the corporate world try to inject whenever possible. Don't let them get inside of your head!
This Motivational E-book Will Inspire You to Take Massive Steps Forward in Your Engineering Career and Life
As if my own story isn't enough to inspire you, you'll get this e-book with 50 inspirational messages that will inspire you to greatness for just $17. I have been told by many engineers, I should charge at least $47, and others have told me the information is invaluable.
Remember as a BONUS gift, you'll also get the extra motivator that I have yet to share with others. If you print this extra motivator out and hang it on your office wall where you can look at it daily – this alone is worth 10x what you are paying for the MMM e-book.
Get the
Monday Morning
Motivator Now!
"Anthony's Monday Morning Motivational e-mails really help me to start the week off in a positive way.  They are very powerful and I truly look forward to them every Monday morning! The messages I receive every Monday morning have significantly helped my career in many ways." – Ann Marie C.
To your success,
Anthony Fasano, PE
Author of Engineer Your Own Success
P.S. Order now to get both the MMM e-book and the Extra Motivator. By doing so you will get these 51 powerful inspirational quotes and messages that will help you to:
Overcome negative talk from your colleagues, supervisors, and clients,
Motivate yourself to stay on track to become an extraordinary engineer who will positively impact your community and the world
Stay happy in your career and life – what's more important than that.
P.P.S.   Let me close with a quote that you will find in the e-book:
"When I was five years old, my mother always told me that happiness was the key to life. When I went to school, they asked me what I wanted to be when I grew up. I wrote down 'happy.' They told me I didn't understand the assignment, and I told them they didn't understand life." – John Lennon
Get the
Monday Morning
Motivator Now!