Podcast: Play in new window | Download | Embed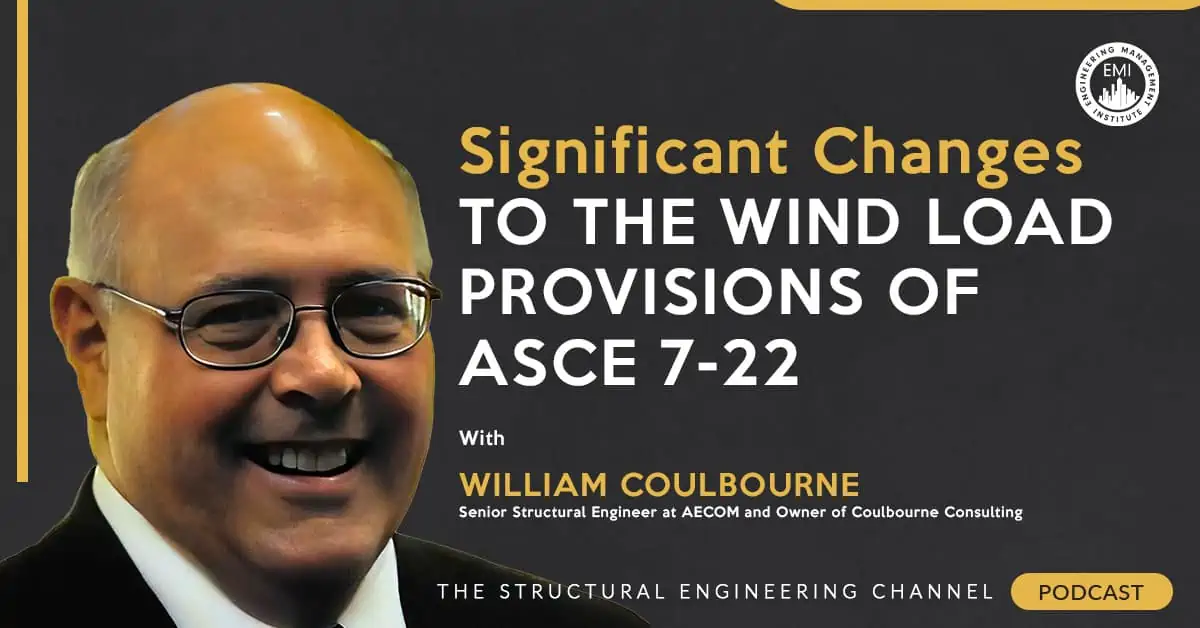 In this episode, we talk to William (Bill) Coulbourne, P.E., F. ASCE, F. SEI, a structural engineering consultant and owner of Coulbourne Consulting, about the key changes in ASCE 7-22 wind load provisions that will impact the design of buildings for wind.
Engineering Quotes:


Here Are Some of the Questions We Ask Bill:
How will the new changes impact the design of buildings for wind loads?
Talk to us about the first change, which is the added wind load provisions for tornado wind loads.
What does the second change to the wind load provision, that was to remove tabular methods of wind pressures from chapters 27, 28, and 30, involve?
The third change was to revise the Component and Cladding charts of pressure coefficients and simplified processes. Can you please talk to us more about that?
There were also provisions made for ground-mounted solar arrays. Why were these changes needed and what are some of the potential benefits of ground-mounted solar arrays?
Another change was the added wind load provisions for elevated buildings. How will this impact the design process for structural engineers going forward?
The last change was the added provisions for rooftop pavers. How will this change affect structural engineers in the field?
Do you have any career advice for structural engineers on how they can avoid making costly errors during the design process?
Here Are Some of the Key Points Discussed About the Significant Changes to the Wind Load Provisions of ASCE 7-22:
[Read more…] about TSEC 092: Significant Changes to the Wind Load Provisions of ASCE 7-22