Podcast: Play in new window | Download | Embed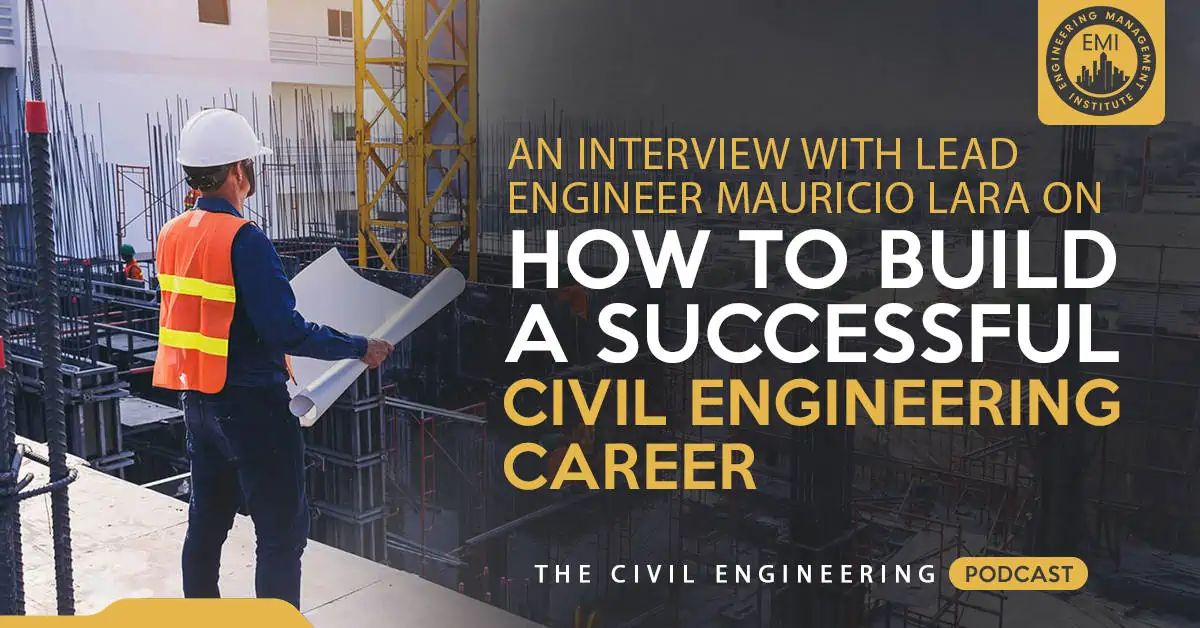 In episode 16 of The Civil Engineering Podcast, I interview Mauricio Lara, PMP, MBA, PE, a Lead Engineer with over 15 years of experience as a leader and key contributor, including an extensive private and public sector background. He has been a key player in capital improvement plans and programs, large infrastructure projects, and program control systems, for water-wastewater, and civil infrastructure projects.
Here are some key points discussed in this episode:
Qualities of a good civil engineering leader:

Able to listen
Create and maintain a good team with different specialties
Have an open mind
Listens to everybody's opinion
Willing to help people grow and provide resources
Approachable
Show respect to everybody's opinions
Create an atmosphere of sharing and overall motivation for the team

Importance of finding a good mentor – The key factor to civil engineering success is finding good mentors to guide you.
Importance of credentials

Master in Business Administration (MBA) – This is a helpful credential that can give you different perspectives, understand the different aspects of business like business development, marketing, finance, and management information systems.
Project Management Professional (PMP) – The PMP approach is a good program for civil engineering professionals because it helps you communicate better with project team members and helps project managers in managing the client. The PMP also enables engineers to understand the different components of the project.

MBA vs. PMP – For younger civil engineers with limited budget, they can get the PMP certification for a reasonable amount of money and time, plus it will help them understand the execution of project to a different level.
Tweetables 
"Identify what you really like to do as a civil engineer and find a good mentor." – Mauricio Lara on Ep 016 of #TCEPodcast
At the end of the day, everything is about people. – More on #TCEPodcast Ep 016.
Know the credentials that will help you in your civil engineering career – Stay tuned for #TCEPodcast Ep 016.
Please leave your comments or questions in the section below on how certain credentials or mentors have helped you as a civil engineer.
Sources/References:
7 Habits of Highly Effective People

PMI website
Mauricio Lara LinkedIn Profile
If you enjoyed this post, please consider downloading our free 3-part video series that provides tons of engineering career skills including how to use LinkedIn, how to communicate and how to develop your leadership abilities. Click the button below to download.
To your success,
Anthony Fasano, PE, LEED AP
Engineering Management Institute
Author of Engineer Your Own Success