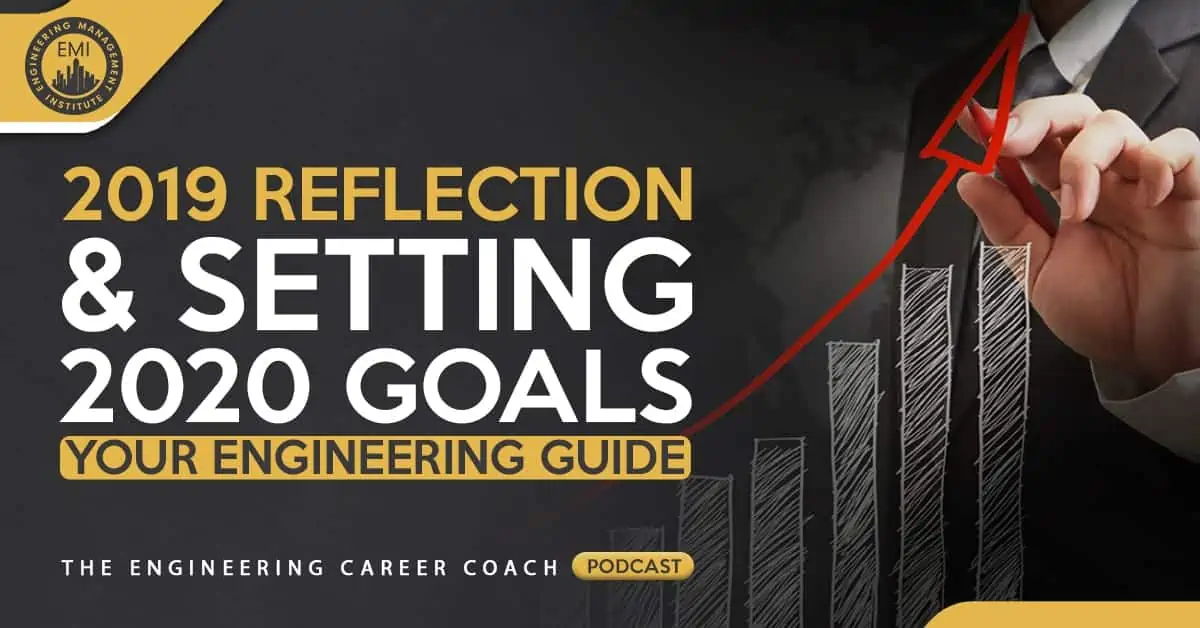 In this episode, our last episode for the year 2019, I am going to do a short annual engineering career debrief episode to help you evaluate your career over the past year. I will walk you through five questions and use these questions as a brainstorming process to help determine your 2020 goals.
Engineering Quotes:


Here Are 5 Questions That You Should Ask Yourself When Establishing Your 2020 Goals:
1. What Were My Biggest Accomplishments of the Past Year?
Look back at the goals you set for yourself and determine which of those goals you accomplished.

Write them down and think about what it was that worked for you this year.
2. What Were My Biggest Letdowns This Year?
Think about some of the challenges that you wanted to overcome but were unable to do so.

Anytime we falter in our careers, we have the ability to look at it, think about why it didn't work out and make adjustments for the future.
3. What Was One Accomplishment That I Really Wanted to Achieve That I Didn't?
It is the things that we don't accomplish that can teach us the most about ourselves, about our strengths, some of our challenges, weaknesses, our skill sets, determination, and even the influence of the network of people around us.

Think about why you could not accomplish it and what are some of the adjustments you can make for the future.
4. What Are My Top Three Goals for the Next Year?
You need to have big drivers in your career that you can focus on.

A good way to determine your 2020 goals will be to go back to question 3, look at the goal you did not accomplish, and add this to your 2020 goals, if it is still applicable.
5. What Will Differentiate Me from Everyone Else in My Career?
Think about what it is that will make you stand out in your career and how you will differentiate yourself. 

If you can identify the one big driver that really differentiates you in your career from everybody else, it will completely change your career and accelerate your success as a professional. 
"Make each day count by setting specific goals to succeed, then putting forth every effort to exceed your own expectations." ~ Les Brown
Resources and Links Mentioned in This Session Include:
EMI's YouTube Channel
Engineering Management Accelerator Workshop (Online) | 5 PDHs
Project Management Accelerator Online Workshop
Engineering Management Institute Professional Membership
The Civil Engineering Podcast
The Structural Engineering Channel
How can you determine your goals for 2020?
We would love to hear any questions you might have or stories you might share on setting your goals for 2020. 
Please leave your comments, feedback or questions in the section below.
To your success,
Anthony Fasano, PE, LEED AP
Engineering Management Institute
Author of Engineer Your Own Success