This is a guest post by Tiffani Teachey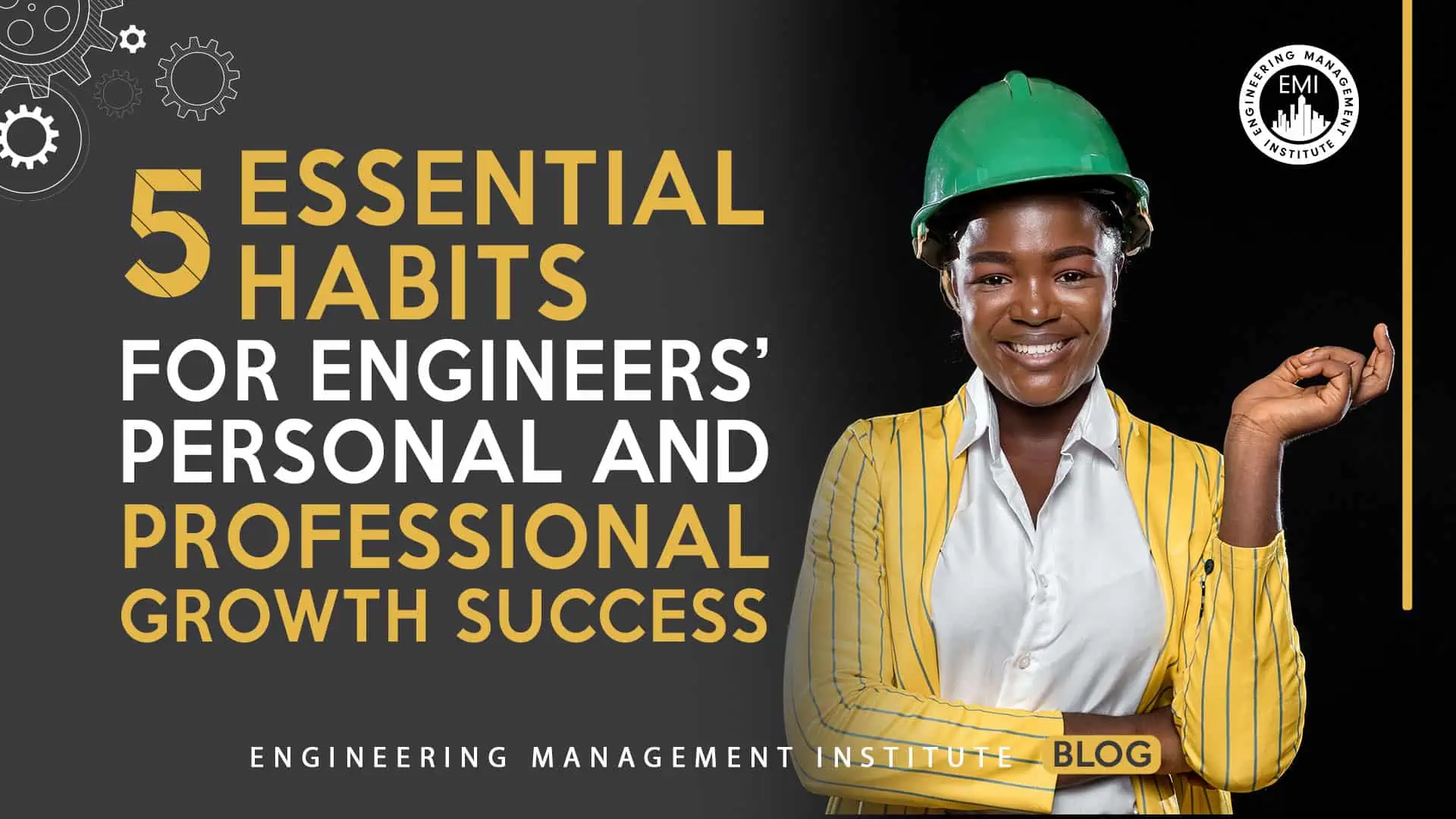 "Success is liking yourself, liking what you do, and liking how you do it." ~ Maya Angelou
As an engineer, personal and professional growth are essential for long-term success and fulfillment. Developing good habits can make a significant difference in your journey. In this blog post, we will explore five crucial habits that every engineer should cultivate to foster personal and professional growth. Let's dive in!
1. Continuous Learning
In the fast-paced world of engineering, staying updated with the latest knowledge and skills is vital. Cultivate a habit of continuous learning by dedicating time each day or week to expand your knowledge. Whether it's reading technical articles, attending workshops, or taking online courses, make learning a priority. By staying curious and open-minded, you'll keep up with industry trends and enhance your problem-solving abilities.

2. Effective Time Management
Time is a precious resource, and effective time management is crucial for engineers. Develop habits that help you prioritize tasks, set realistic deadlines, and eliminate distractions. Use productivity techniques like the Pomodoro Technique, create to-do lists, and leverage productivity tools to optimize your workflow. By managing your time efficiently, you'll accomplish more, reduce stress, and have a better work-life integration.
3. Strong Communication Skills
Engineering involves collaboration and communication with colleagues, clients, and stakeholders. Developing strong communication skills is essential for effective teamwork, conveying ideas, and presenting your work. Practice active listening, be clear and concise in your communication, and adapt your message to different audiences. By honing your communication skills, you'll build better professional relationships and enhance your leadership potential.
4. Embracing a Problem-solving Mindset
Engineers are problem-solvers by nature, and cultivating a problem-solving mindset is crucial for personal and professional growth. Approach challenges with a positive attitude, embrace failures as learning opportunities, and seek innovative solutions. Develop habits like breaking down complex problems into smaller manageable tasks, brainstorming ideas, and collaborating with colleagues. By fostering a problem-solving mindset, you'll become a valuable asset to your team and make significant contributions to your field.

5. Networking and Building Relationships
Building a strong professional network is vital for engineers. Cultivate a habit of networking by attending industry conferences, joining professional organizations, and engaging with peers online. Seek mentorship opportunities to learn from experienced professionals and offer mentorship to aspiring engineers. Building relationships within your industry can open doors to new opportunities, provide valuable insights, and foster personal and professional growth.
Incorporating these five habits into your daily life as an engineer can lead to remarkable personal and professional growth. Continuous learning, effective time management, strong communication skills, a problem-solving mindset, and networking are the building blocks for success in the engineering field. Start implementing these habits today and witness the positive impact they have on your journey. Remember, personal and professional growth is a lifelong process, so embrace the challenge and enjoy the rewards along the way. Feel free to share your thoughts and experiences on how these five habits have impacted your personal and professional growth as an engineer in the comments below!
About the Author

Tiffani Teachey is a Sr. Mechanical Engineer, Science, Technology, Engineering, and Math (STEM) advocate, TEDx international speaker, and international best-selling author of the children's book "What Can I Be? STEM Careers from A to Z," the STEM Crew Kids Adventures series, and three empowerment books. She is the host of the Read It Right Radio Show on WDRBmedia. Tiffani is the owner of Thrive Edge Publishing and owner/publishing consultant of Inspired Authors Publishing. She holds a Bachelor of Science degree in Mechanical Engineering as well as a Master of Science degree in Engineering Management, both from The University of North Carolina at Charlotte. She is currently a Leadership Studies Ph.D. student at North Carolina Agricultural and Technical State University.
As an engineer with more than 19 years of experience, Tiffani has a passion for inspiring the next generation to engage in STEM careers. She was born and raised in Winston-Salem, North Carolina, and enjoys traveling and being a youth mentor. For more about Tiffani, visit her website at www.TiffaniTeachey.com. Check out the free STEM gift – 10 STEM Scholarships & Organizations e-book at www.stemistheway.com.
We would love to hear any questions you might have or stories you might share about the essential habits for engineers' personal and professional growth success.
Please leave your comments, feedback or questions in the section below.
To your success,
Anthony Fasano, PE, LEED AP
Engineering Management Institute
Author of Engineer Your Own Success