This is a guest blog by Holly Welles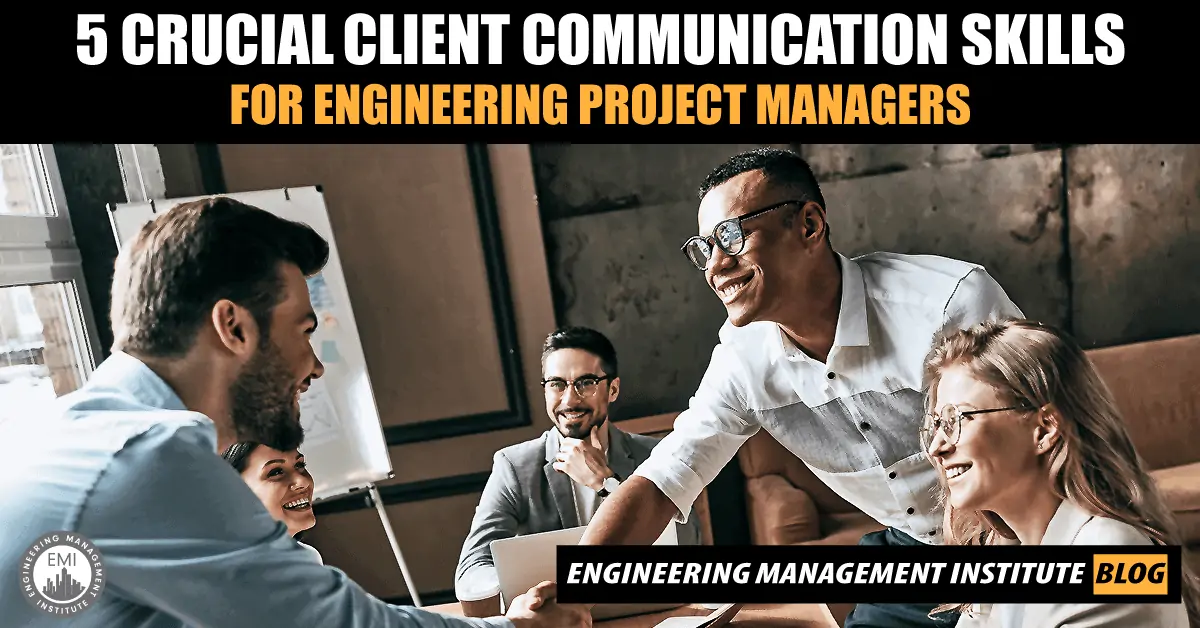 Whether you're trying to connect with customers, a new employer or your partner, or even trying to network with peers, having client communication skills is vital for career growth. For project managers and planners, it's especially crucial because poorly delivered messages can have a considerable impact on the results of projects and tasks.
Communication is also essential for dealing with clients. Without the appropriate message, you might misinterpret the scope of a project, what demands a client has or project specifications.
As an engineering professional, here are five crucial client communication skills you will need to interact with clients effectively:
1. Learning to Listen Well
With any type of communication — whether it's specific conversations about a projects or other related items — you must allow ample time for the other party to respond. It's necessary to remain patient, so they have the opportunity to fully express what they need to, which includes asking questions.
Listening well to others is all about being patient and attentive. When you lose focus or start tuning out the other person is when things start to fall apart. That's how mistakes happen, especially when attempting to meeting the demands of a client or partner. If you don't fully comprehend what they're asking or talking about, you cannot properly carry out the work.
2. Creating Clearly Written Content
When one starts talking about communication, right away, everyone assumes they are referring to verbal interactions, and this is even more important to be aware of in the field of engineering. All engineers must be able to produce concise and accurate documents or written content — including emails, letters and presentations, as failure to do so could be detrimental to the health and safety of the public.

Many times, the content produced is not written for a client or individual directly. Instead, the documents are meant to serve as notes or guidelines for whoever will be using them, which could be partners, other audiences, or potentially third-party contractors. This is still a form of communication, except the conversation is aimed at another party that will not be responding in real-time.
It's also important to note that engineers should always be writing for the layman, no matter how time-consuming or frustrating that can be. Using too much technical jargon and industry speak could muddle the intended message for people who don't understand said concepts.
3. Translating Technical Speak 
Engineers have to meet with clients to learn desires and gain feedback and then take that information back to their teams, and translate back to technical language.
When conversing with clients, technical terms are not going to be helpful because said parties do not have the same expertise. On the other side of that coin, when the insights are brought back to colleagues, the instructions must take the form of more technical instructions and guidance. 
In this way, an engineer plays the role of a middleman, acting as a bridge between their team and clients. You must be able to fulfill this role if you hope to take on a higher-level engineering position, such as a project manager.
This is an especially useful skill to develop considering many of the best opportunities for engineers in the current market involve dealing with commercial and consumer clients. 
4. Making Presentations and Speaking Publicly
If you rise through the ranks — and step into the role of a project manager — you may be speaking publicly quite often. It doesn't necessarily mean you will be in front of thousands of people at a live conference. Many of these speaking instances will be more intimate, with employees, a few clients or several partners in a room.
Anxiety, tension and embarrassment are all concerns for anyone who speaks in front of a group. Such concerns will need to be overcome because clear and precise communication means being able to share insights, engage audiences, and answer questions appropriately. 
Anxiety and fear often get in the way of confident, clear speech, which is specifically required for complex engineering projects that have an array of specifications that need to be met.
5. Selling Your Ideas and Expertise
No one is going to argue that engineers must act as salespeople. It's not your job to market and promote your company — unless you're the sole proprietor — and your goal is never to sell a product or service. However, engineers do need to know how to sell an idea or concept, particularly to their peers, colleagues and upper management which is often a necessary part of successful project completion.
When presenting a new project concept or plan to a team, for example, interactive discussions are a large part of the experience. There will be questions and doubts and it's up to the project manager to alleviate these concerns, and sell their ideas.
In more competitive settings, fellow engineers may propose or bid on a project by putting their ideas against others, and letting management, clients or executives choose the best one.
Communication Is Vital to Success In Engineering
While verbal communication is instrumental, written communication is just as important in the field of engineering. Proper communication not only helps support teams and boosts productivity, but it also results in higher-quality work and more successful projects.

Ultimately, following the tips discussed here and honing these top client communication skills will make you a more competitive and more desirable professional in the field.

About Holly Welles
Holly Welles is a real estate and construction writer with an interest in emerging market trends. She is the editor behind The Estate Update, and even more of her work can be found via Twitter @HollyAWelles.
We would love to hear any questions you might have or stories you might share about the type of client communication skills you use as an engineer.
Please leave your comments, feedback or questions in the section below.
To your success,
Anthony Fasano, PE, LEED AP
Engineering Management Institute
Author of Engineer Your Own Success