Podcast: Play in new window | Download | Embed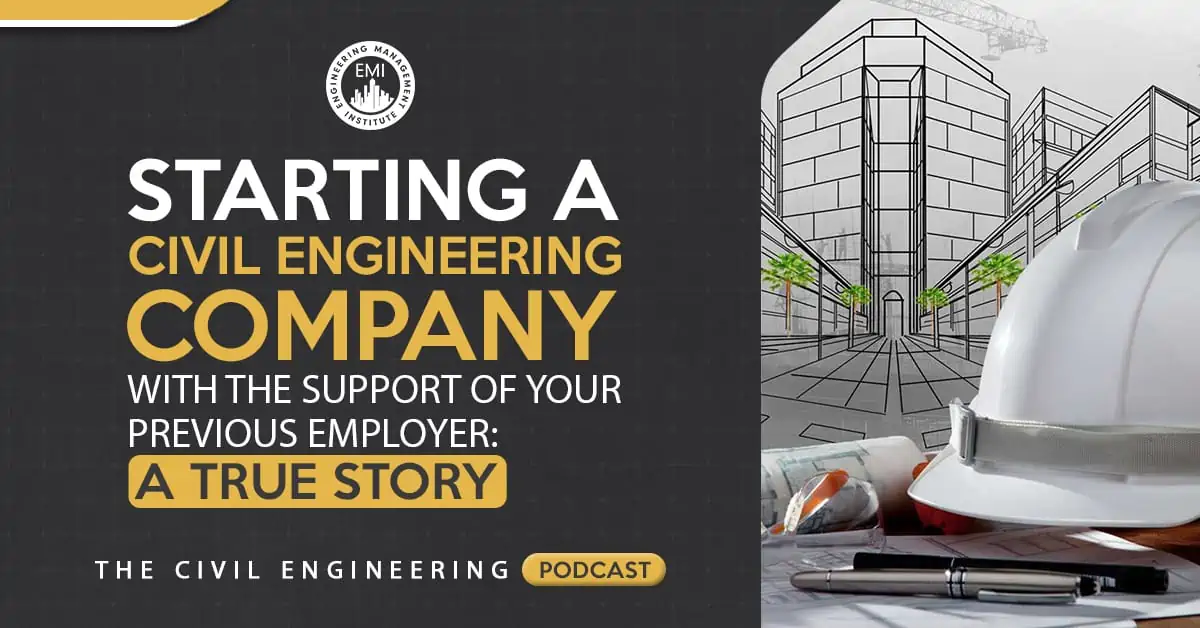 In episode 024 of The Civil Engineering Podcast, I interview Kristi Mirambell who shares her story on starting a civil engineering company during a rough time in her life. I also interview, at the same time, Ryan Hanemann, the co-founder of Audubon Companies on how his company supported Kristi in her decision to start a company.
Here are some of the questions I ask Kristi and Ryan:
How Kristi decided to start her own company
How Kristi created a business plan
What Ryan was looking for in the business plan to support Kristi
What Kristi does to promote the culture she experienced in Audubon
How Ryan evaluates people to hire for their company
What are the challenges of being a business owner
Engineering success quote:
Here are some key points discussed in this episode:
Invest in people and quality work
Find mentors
Consider the decisions that will affect you personally like your commute time
Turn negative situations in your life into a positive ones
Promote a culture of ownership and value for employees (make your employees feel that they matter)
Skills employers look for: achievers, highly motivated busy people who have personality and are enjoyable to be around
Focus on one thing (i.e. the area in the business that you want to grow)
Recognize/build the team and learn how people work with each other
Foster mentorship in the company
About Kristi Mirambell:

Kristi Hoke Mirambell, P.E. established K-Belle in 2008. Her goal was to give industrial and commercial clients in the Gulf South a reliable, customer service-oriented provider of engineering, construction and management services. No stranger to these services, Kristi has had hands-on experience on a variety of projects: she helped design and manage inspections for more than 100 offshore oil platforms in the Gulf of Mexico; she designed major structures for chemical plants; she worked on construction projects involving design-build, renovations, tenant build out, and new construction; and as a key subcontractor for the Army Corps of Engineers (USACE), she recruits and trains new project engineers for some of the most important levee and flood-protection projects in U.S. history. A New Orleans area native and licensed engineer, Kristi earned a Bachelors & Masters of Science, Civil Engineering from the University of New Orleans.
About Ryan Hanemann:

Ryan Hanemann is a Co-Founder and Managing Partner of Audubon Companies and President of Audubon Engineering Solutions. Ryan co-founded Audubon Companies with Bob Rosamond and Denis Taylor in 1997 and has been instrumental in leading the company's growth to over 1,000 employees. As President of Audubon Engineering Solutions, Ryan manages all functional areas of the company and is responsible for leading ongoing business strategy and identifying opportunities for long-term growth. He earned a Bachelor of Science in Electrical Engineering from Louisiana State University.
Please leave your comments or questions in the section below.
This episode is brought to you by PPI, the leader of civil engineering FE or PE exam preparations. Use promo code CIVIL for 20% discount at PPI2Pass.com/coach.
To your success,
Anthony Fasano, PE, LEED AP
Engineering Management Institute
Author of Engineer Your Own Success
Sources/References:
K-Belle Consultants LLC
Kristi Mirambell's LinkedIn profile
Audubon Companies
Ryan Hanemann's LinkedIn profile
Engineering Career Summit
Books mentioned in this episode:
7 Habits of Highly Effective People