Podcast: Play in new window | Download | Embed
5 Steps to Selecting 80/20 Goals to Boost your Civil Engineering Career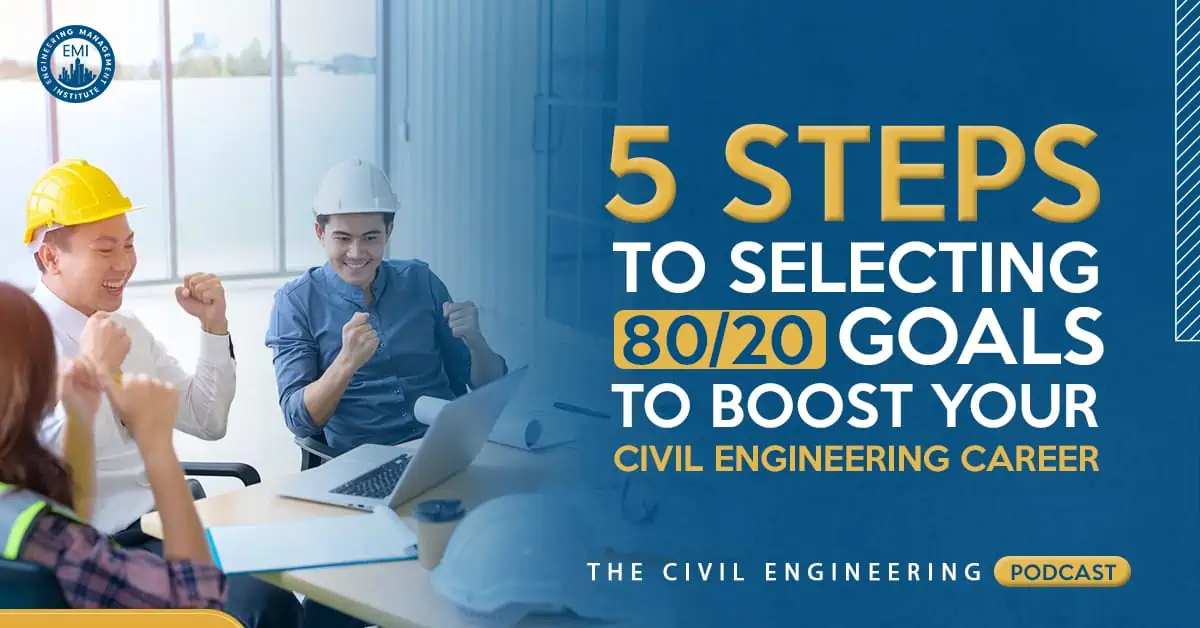 In episode 075 of The Civil Engineering Podcast, I am going to give you 5 steps for selecting 80/20 goals to boost your civil engineering career. I will also discuss how you can use Pareto Principle, which is also known as the 80/20 rule, to maximize your planning efforts.
Engineering Quotes:
Here are some key points discussed on selecting 80/20 goals:
The Pareto Principle (80/20 rule) states that 80 % of the results that you generate in your life and in your career comes from 20 % of your actions. That means that only 20% of the actions you take are contributing to 80 % of your success.
Focussing on high impact tasks will help you succeed even quicker and better than most people.
5 Steps to selecting 80/20 goals in your career:
1. Pick at least two 80/20 goals that will drive massive success for you. You can do that by:

Talking to people that have been in your field longer than you and that have, and have found success.
Do online research on successful people. Make a list of them and see what habits or other patterns there are among them.
Consider the time, the energy and financial risk or burden that pursuing one of these goals will take.
2. Determine your deadlines as well as the deadlines for the key drivers that will help you achieve those goals.
Add this deadline to a calendar and create an action plan.
3. Define your KPI's (Key Progress Indicators)
Develop this dashboard in a simple spreadsheet and monitor your KPI's as often as possible.
Monitor your KPI's weekly or monthly.
4. Build accountability into your plan.
The best way to build accountability is to make a pledge to someone. It can be a pledge to your coach, supervisor, or even a public pledge.
5. Measure your progress with your KPI's and flex your goals accordingly.
This will help you to identify when you are off-track and help you flex accordingly.
Stay consistent and keep pursuing your goals.
Here are some examples of selecting 80/20 goals in your Civil Engineering Career:
Consider getting credentials as they can give you a credibility boost.
Land a new client for your firm that will result in $50,000 of work in the next year. Being very specific will be helpful for your pursuit of your goals.
Add a new service line to your firm.
Sources/References:
The Engineering Management Accelerator
This episode is brought to you by PPI, the leader of civil engineering FE or PE exam preparations. Use promo code CIVIL for a 20 % discount at ppi2pass.com/resources
Books by Richard Koch:

Please leave your comments or questions in the section below on selecting 80/20 goals to boost your civil engineering career.
To your success,
Anthony Fasano, PE, LEED AP
Engineering Management Institute
Author of Engineer Your Own Success