Podcast: Play in new window | Download | Embed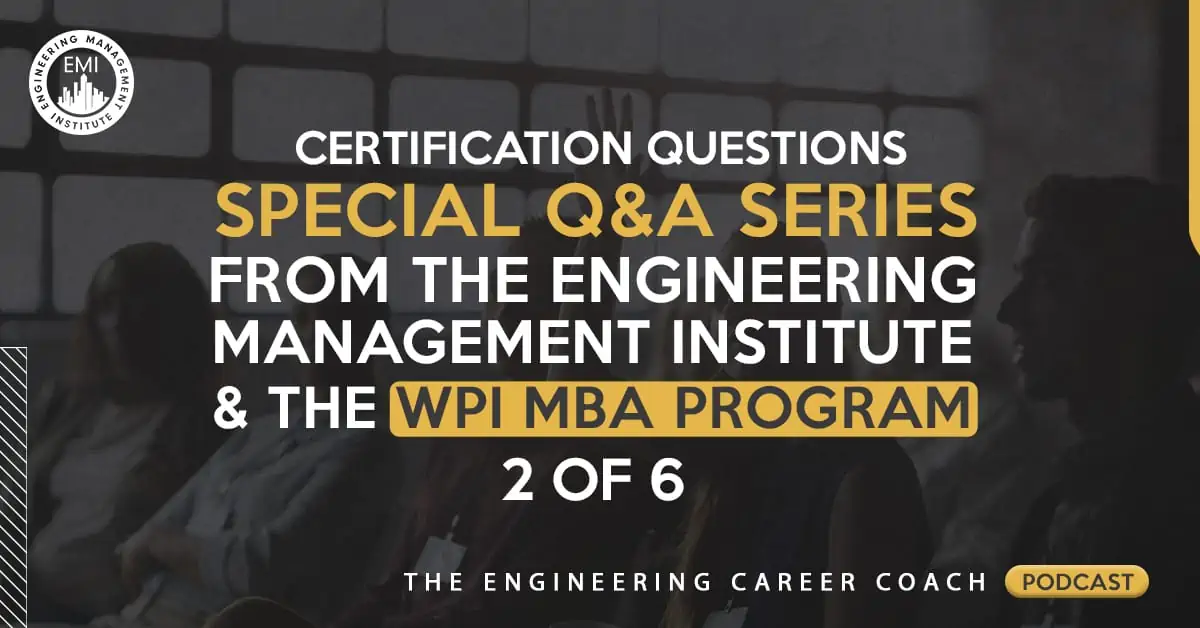 This podcast is the second of six special Q&A Series which airs every first Friday of the month in addition to our regular episodes through May 2016. In this episode we will be discussing certification questions. I answer more questions from our listeners asking for career advice. 


Here Is the Summary of the Certification Questions – Special Q&a Series From Engineering Management Institute and the WPI MBA Program 2 of 6:
Question:
How are engineers generally different from other people in terms of leadership, management, or work style? – Christopher from California
Answer:
Engineers are different because they need to be both technically and people savvy.
Develop these important core skills and implement/use them at work.
Question:
What do you think about studying engineering online? Also is it detrimental, as an engineering student, to get your bachelor's degree in one engineering discipline but pursue a graduate degree in a different engineering discipline? – Terrance from Louisiana
Answer:
Online degrees can be great as long as you have some level of people interaction (calls/routine meetings)
Many engineers change discipline from undergrad and then get an MS in the chosen discipline.
Get the degree in the discipline you want, get a job, see if you like it, and then decide which Master's Degree to pursue.
Question:
How do you turn a cold/ sales call into a potential client or even a life long business relationship, even a friendship? – Alan from Roanoke, Virginia
Answer:
Make a call with the intent to give value, every time, and that will turn into a client eventually or refer you to others that will be your potential engineering clients
Question:
How is the best way to become an EIT and then and PE in USA? and why it is important if I want to work in USA? – Bernardo from Peru
Answer:
It depends on your discipline, but in most cases, it is important for credibility and resume purposes, even if you don't do design.
Check the state by state requirements for PE. Take FE exam, work a few years and take the PE exam. (Check out NCEES.org)
Question:
As an engineer if I do an MBA what kind of difference will it MAKE in my engineering career? – Usman Ghani from Manama
Answer:
Determine if you want to be in the technical side or management side of Engineering. An MBA can be an absolutely dynamic combination to an Engineering degree, bringing you a lot of management/business skills you'll need in your engineering career.
Understand if a Master's degree is required in your discipline for you to realize more career opportunities
Question:
Although I want to work as a Structural engineer, the only reason that I follow this opportunity in Bahrain was because I believed that with site experience I could easily work as a structural engineer. What do you think about it and what steps should I do in order to follow my dream and become a structural engineer? – Yannis from Bahrain
Answer:
If you can't get the ideal job, a good place to start is one that will get you the experience that you can transfer to your ideal job. Field experience is always a bonus.


In the Take Action Today segment of the show, I give some advice on questions you can ask yourself that will essentially help you make better decisions in your engineering career.
"The way to get ahead is to start now. If you start now, you will know a lot next year that you don't know now and that you would not have known next year if you had waited." ~ William Feather
Book mentioned in this session include:
How to Win at the Sport of Business: If I Can Do It, You Can Do It

10-10-10: A Fast and Powerful Way to Get Unstuck in Love, at Work, and with Your Family

Resources and links mentioned in this session include:
TECC 93: Why Engineers Need Entrepreneurship with Bestselling Author Taylor Pearson
TECC 90: Vision Setting and Blueprinting for Long-Range Vector Setting for Engineers
EngiCoach.com
Engineering Career Summit
The Engineering Mastermind
TECC 86: Building Your Engineering Career Flywheel with the Two Engineering Executives
TCEP 013: Advice on Business Development and Building a Business and Career from a Civil Engineering CEO
NCEES.org
This Q & A Series is brought to you by WPI's Foisie School of Business which is ranked #1 part-time MBA degree in the Northeast according to Business week since 2007. For more information visit business.wpi.edu or call 508-831-4665. 
We would love to hear any questions you might have or stories you might share on how this episode have helped you in your career decisions.
Please leave your comments, feedback or questions in the section below.
To your success,
Anthony Fasano, PE, LEED AP
Engineering Management Institute
Author of Engineer Your Own Success