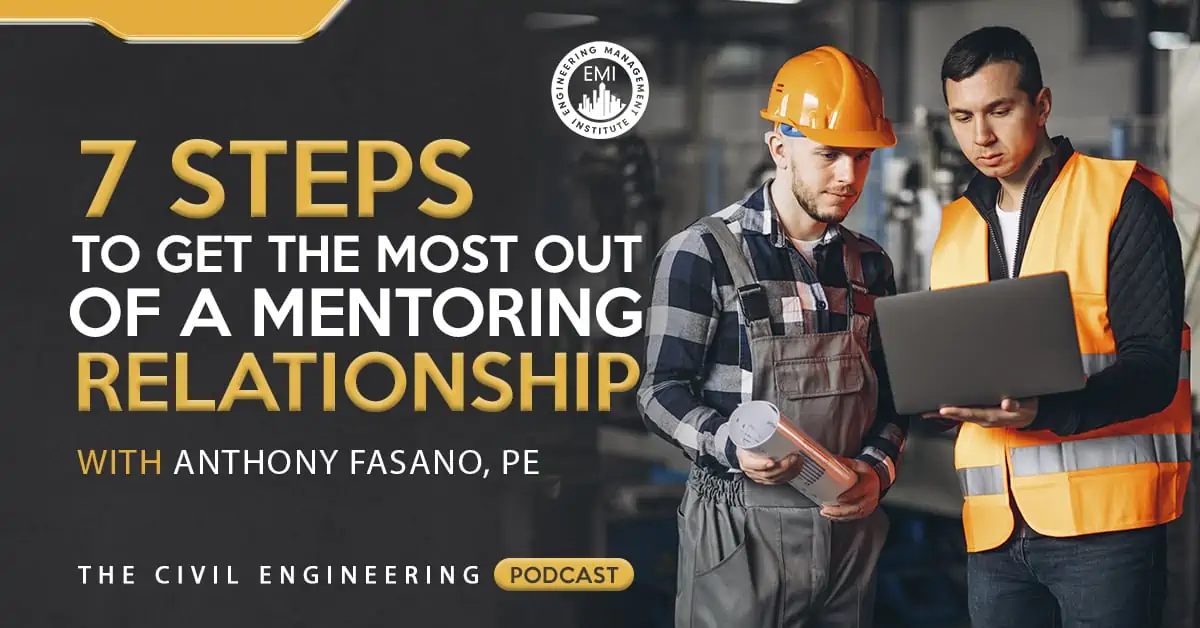 In this episode of The Civil Engineering Podcast, I talk about what a mentoring relationship should look like by providing you with seven steps that you can take to get the most out of a mentoring relationship.

Here Are Seven Steps to Get the Most Out of a Mentoring Relationship:

1. Hold a Kick-Off Meeting
An initial meeting is critical for getting to know each other and laying the groundwork for the mentoring relationship.  During this meeting, you should discuss several items including how often you will meet, how long the meetings will last, and the structure of the meetings.
Make it clear that you would like everything discussed between the two of you, to remain confidential, as you may want to discuss things like conflicts in the workplace.
The protégé should also make it clear to their mentor that you want to be held accountable for what you say you're going to do between meetings, otherwise the relationship may not provide the motivation you need to move you closer to your goals.
2. Set Goals
You must take the time to set goals for your mentoring relationship early on, preferably during the kickoff meeting.
You should create two to five goals that you are looking to achieve through the work with your mentor.  Whenever you are moving towards something specific, you tend to have more focus and motivation.  For example, these might include:

Develop a study plan for taking and passing the Principles and Practices of Engineering (PE) exam.
Create an outline with the steps you need to take to reach the project management level in your firm or something similar.
Join and become active in a professional society.
3. Meet Regularly
Consistency wins all of the time, especially when you're trying to improve something.
Even if you meet only once per month by phone, it will provide the structure necessary to ensure you get the assistance you need to move towards your goals.
4. Be Prepared for Your Mentoring Meetings
This means having questions ready and being prepared to discuss your actions and progress since the last meeting.
You can also have a notebook or file on your computer where you can list all your questions and be prepared for your meeting.
5. Ask Open-Ended Questions
This is hugely important. Open-ended questions are questions that can't be answered with a simple YES or NO.
When you ask open-ended, you're going to get more information.
6. Take Good Notes During and In-between Your Meetings
Keep a notepad on your desk at all times, and jot down questions or challenges that you come upon as you're going through your career or day-to-day life.
This ensures that you are maximizing the relationship.
7. Be Proactive
You don't have to wait for your mentor to act on something or to ask you something. You should show up to your meeting with questions, or specific thoughts and ideas and seek feedback on them.
If you sit back like anything in your career or life, you're going to fall behind, so be proactive to maximize the relationship.
More details in this episode…

Sources/References:
Seller Doer Accelerator – Business Development Skills Course
Engineering Leadership Accelerator – People Skills Course Level II
Project Management Accelerator – PM Skills Course
This Episode Is Brought to You by Colliers Engineering & Design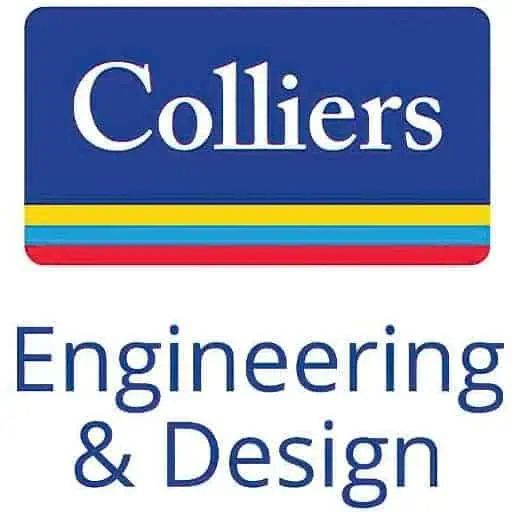 Colliers Engineering & Design is a multidiscipline engineering firm with over 1,800 employees in 63 offices nationwide — and growing fast! Colliers Engineering & Design maintains an internal culture that is nurtured through the promotion of integrity, collaboration, and socialization. Their employees enjoy hybrid work environments, continuous career advancement, health and wellness offerings, and programs and projects that have a positive impact on society.
Colliers Engineering & Design stays on the cutting-edge of technology, and their entrepreneurial approach to expansion provides personal and professional development opportunities across the firm. Leadership's dedication to the well-being of their employees and their families is demonstrated throughout the wide range of benefits and programs available to them. For more information, visit the career page on their website at colliersengineering.com.
We would love to hear any questions you might have or stories you can share on the things you do to get the most out of your mentoring relationship.
Please leave your comments, feedback, or questions in the section below.
To your success,
Anthony Fasano, P.E., LEED AP
Engineering Management Institute
Author of Engineer Your Own Success