Podcast: Play in new window | Download | Embed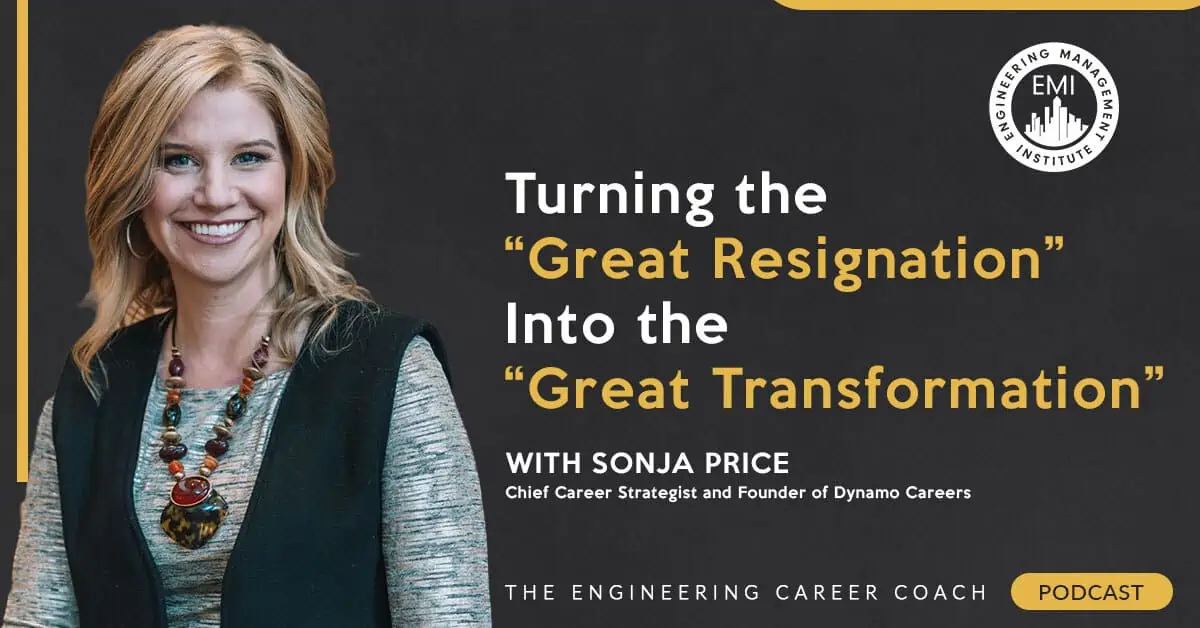 In this episode, we talk to Sonja Price, a top career strategist, salary advisor, and leadership coach for mid-level corporate professionals, about career strategies for engineers considering a transition in their engineering careers. She also talks about how engineers can turn the "Great Resignation" into the "Great Transformation" to advance their careers.
Engineering Quotes:


Here Are Some of the Key Points Discussed About Turning the "Great Resignation" Into the "Great Transformation":
It is always a good time to progress in your career. Think of your career as a comprehensive strategy. Have a career roadmap in place, take serious actions, and track your progress in achieving your long-term career goals. The job market is hot now because of the pandemic. If you are thinking of making a transition in your career, now is the time to do it. Changing jobs or moving to a new organization are some of the best and easiest ways to make more money.
Currently, half of the engineering workforce is considering changing or doing something different. The great resignation has contributed to resignation rates going up from 10% to 15% compared to before the pandemic. The talent shortage and higher resignation rates of the great resignation have caused many people to take on more tasks to fill the holes in the firms and contribute to a 21% increase in burnout.
Most people are happier working from home. Not needing to get ready and commute to work saves around two hours every day. Most people save between $3,000 and $8,000 per year by not eating out as frequently, needing less gas, and less vehicle maintenance.
With all the opportunities that are now available, be sure to position yourself correctly for the roles you want to have. Make sure you have the correct information in your resume and on LinkedIn so that someone can make a quick assessment about you for the role they are hiring for.
Do a skills analysis on yourself when looking to transition in your career. Look at the job descriptions and see if you have the experience they are looking for. If you do not have the experience, try to position yourself to show that you have a similar experience. Find ways to leverage your past work experience so that you reframe it in a meaningful and relevant way for the role you want to apply for.
If you do not take on stretch roles, you will never grow your skill set. If you see certain skill set requirements that you do not have in most of the job opportunities you are looking at, maybe it is a skill set you should acquire before applying for the jobs.
The great resignation should be viewed as the great transformation. Your happiness and career satisfaction are your responsibility. To change your current state into a great transformation, you must get serious and make an inventory of your career how it is now, and how you want it to be. Look for areas where you are, or are not, feeling satisfied. Think about what must change for you to get a greater feeling of satisfaction and fulfillment moving forward in your career.
To accelerate your career success in your current organization, make sure that the right people are aware of the results you are producing for the organization. When a position becomes available, they should already be thinking about you to fill the position. It is a lot easier to accelerate your career in other organizations. You can make significantly more money by going to a new company than waiting to get your annual raise.
Learn to think of your career as a consultant. Approach things from a comprehensive viewpoint, but always keep your eye on the end goal. Make a backward engineering plan of how you will make your career steps happen. Find out which skill sets you need to develop to get the opportunities and have continual progression.
More in This Episode…
In the Take Action Today segment of the show, Sonja talks about how you can act like a marketer to advance your career.
About the Guest, Sonja Price
Sonja Price is a top career strategist, salary advisor, and leadership coach for mid-level corporate professionals. Her mission in life is to support career seekers to have greater meaning, better work-life balance, and significantly higher pay. She is a world-renowned speaker and has spoken on many stages all over the world, including the Women's Economic Forum in New Delhi, India, where she won an Honorable Woman of Excellence Award and was featured in Business World. Sonja has spoken on many stages, podcasts, and radio shows, including the Project Management Institute, General Assembly, and the Career Catalyst Group, and is a regular guest on iHeart Radio.
She is the distinguished author of two books, "The Pivot Point System: 5 Keys to Transform Your Career, Health, and Wealth," and "The Infinite Leader: How to Increase Your Influence and Expand Your Impact." Sonja has also worked directly with Tony Robbins and trained with Al Gore to become a climate reality leader. Sonja is the founder of the Dynamo Career Accelerator and has helped many clients land their dream job with prestigious organizations such as Google, Amazon, Microsoft, Meta, Starbucks, AT&T, Nordstrom, and many other large and small organizations.
She has a master's degree in Leadership and Organizational Development and is a Certified Career and Executive Coach. Sonja is passionate about empowering employees and conscious companies to evolve our world so that billions of people and the planet can flourish for many generations to come. In her downtime, she enjoys skiing, playing piano, and geeking out over strategy board games.
About the Host, Jeff Perry, MBA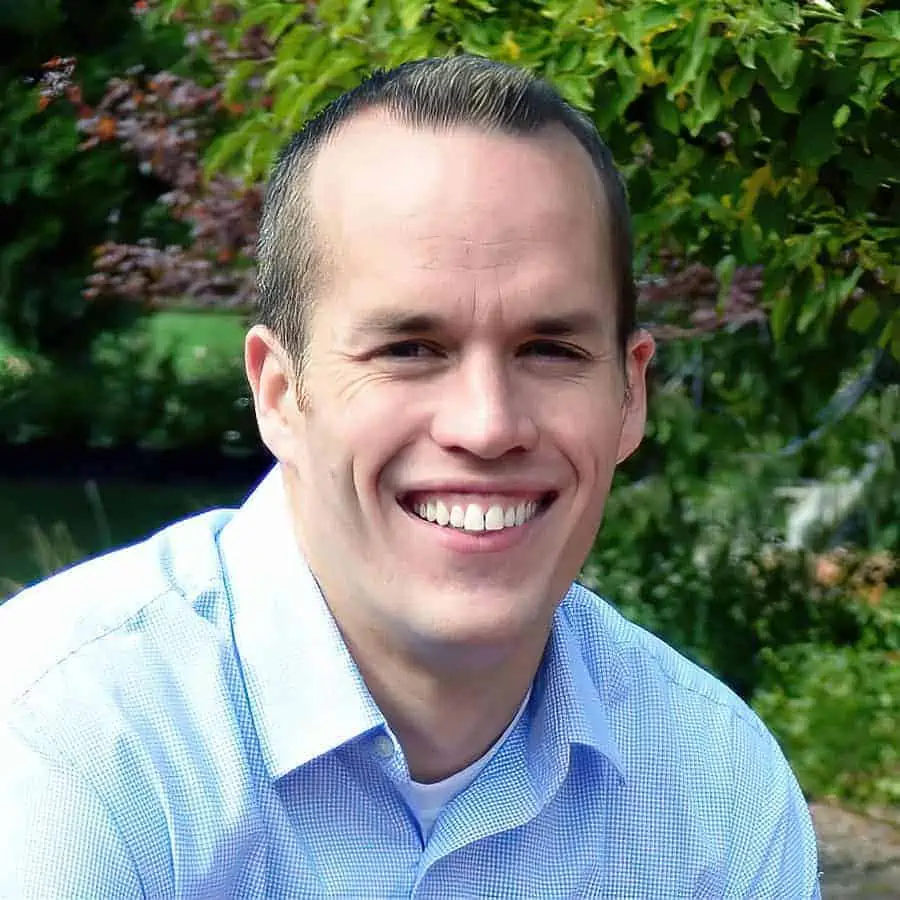 Jeff Perry is a leadership/career coach for engineers, building mindsets, leadership, and career intentions to unlock hidden potential and remove self-imposed roadblocks for career and life. For years, he has had the pleasure of supporting engineers and software pros, from new grads to director level. Having been on the front lines in the technical world, he has been able to map out the necessary skills for becoming a quality leader in the field.
You can connect with Jeff on LinkedIn at https://www.linkedin.com/in/jeffcperry/ or visit his website, https://morethan-engineering.com. Jeff also has a new, FREE, on-demand training course for engineers who are job searching or in job transitions. You can see it at https://engineeringcareeraccelerator.com.
Resources and Links Mentioned in This Session Include:
Dynamo Careers
Dynamo Careers Quiz
Connect with Sonja Price on LinkedIn
FREE GIFT: Dynamo Salary Negotiation Calculator
FREE GIFT: Does Your Work = Work for You? (Quiz)
This Episode Is Brought to You By:
Washington State University

Washington State University's Engineering and Technology Management master's degree program is a perfect balance of technical and managerial education that helps prepare practicing engineers for managing projects, people, and organizational systems. As one former student noted, "The knowledge that I gained from the ETM Program helped me become a more competent, confident engineer and manager. The program greatly impacted my career and has been a key element in my continued success." Learn more about the Engineering Management profession at etm.wsu.edu or [email protected]. Take charge of your career and reach out today.
ASME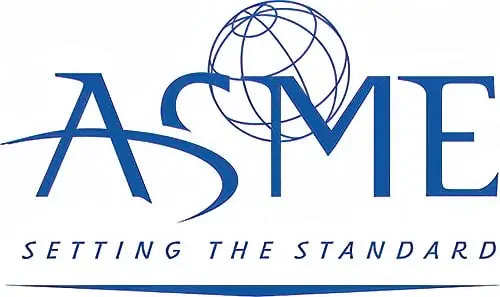 ASME — the American Society of Mechanical Engineers — serves a wide-ranging engineering community through quality learning, the development of codes and standards, certifications, research, conferences, publications, government relations, and other forms of outreach. Becoming a member and joining the ASME community is the most important connection a current or future Mechanical Engineer can make. Members can engage with various ASME Sections & Technical Divisions, led by ASME volunteers. ASME members get access to a variety of career resources to help you throughout your career, whether you're just out of school or an already-seasoned professional. Search for rewarding engineering jobs at ASME's Career Center or focus on your professional development by participating in live webinars on key topics. Don't miss your chance to advance your career, enhance your professional network, and find your next ME opportunity. Check out ASME on www.asme.org.
We would love to hear any questions you might have or stories you might share on turning the "Great Resignation" into the "Great Transformation".
Please leave your comments, feedback, or questions in the section below.
To your success,
Jeff Perry, MBA
Host of The Engineering Career Coach Podcast