Podcast: Play in new window | Download | Embed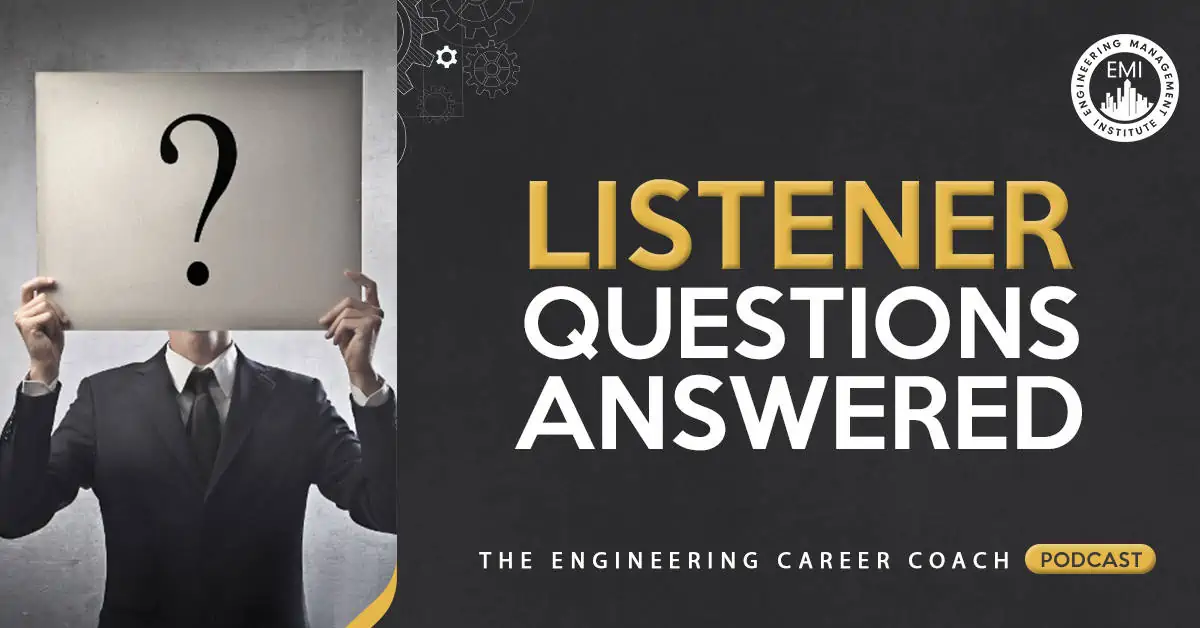 In this session of The Engineering Career Coach Podcast, I am going to answer questions from our listeners asking for career advice and help with their resume and job search.
"Find out what you like doing best and get someone to pay you for doing it."–Katherine Whitehorn
In the Take Action Today segment of the show, I will give you an actionable tip that you can do today that will make a positive impact on your engineering career and life.
Below are the questions from our listeners followed by a short snippet of the answers. Listen to the show for the complete questions and answers to each question:
Question:
Do you have any advice for restoring my morale and rebuilding my previous position? How should I regain the trust of my superiors? – Tomas from Poland
Answer:
Build your confidence by taking on responsibilities both at work and outside of work.
Question:
I am aware that it is vital that cover letters are tailored to the applications. However, what would be some key things that could make it stand out without it being a replica of your resume? – Usen from Georgia
Answer:
Connect with the company in whatever way possible (i.e. on LinkedIn).  Make it all about them NOT YOU and how you can help them.
Question:
How do I get in contact with a company to receive a pre-hire letter? – Darnell from Ohio
Answer:
Consider attending to a career fair or contact them by calling them or through a key contact on LinkedIn.
Question:
I am really interested in taking up a Systems Engineering job but most of the stuff in my resume leans towards Aerospace Engineering. How can I approach a recruiter and tell my interest with this situation? – Ramkumar from Daytona Beach
Answer:
Be honest with the recruiter, reach out to people that you know or you have a common link.
Question:
I recently relocated and everywhere I look for a job, companies are requesting a PE license. Where do I start? – Sam from New York
Answer:
You should be getting it as early on in your career as possible – period.
Question:
I have tried to improve my soft skills for some time, but it seems they should be always be further improved. – Juliano from Ontario
Answer:
Do something consistently to get better at it.  You can't improve your soft skills by simply watching a video or reading a book.  You must commit to doing something over and over until you improve.
Books mentioned in this session include:
Engineer Your Own Success: 7 Key Elements to Creating an Extraordinary Engineering Career
Civil Engineering Reference Manual for the PE Exam by Michael Lindeburg, PE
Resources and links mentioned in this session include:
Engineering Career Community
TECC 45: How to Find or Become a Mentor in Your Engineering Career
TECC 51: Global Networking From LinkedIn and Beyond
TECC 53: The Importance of Becoming a Visible Expert as an Engineer 
Sponsor for this session:
PPI2Pass Review Courses for FE, PE, and SE Exams
What are you doing to improve your skills and find the job of your dreams?
We would love to hear any questions you might have or stories you might share about your steps toward your engineering career development.
Please leave your comments, feedback or questions in the section below.
To your success,
Anthony Fasano, PE, LEED AP
Engineering Management Institute
Author of Engineer Your Own Success