Podcast: Play in new window | Download | Embed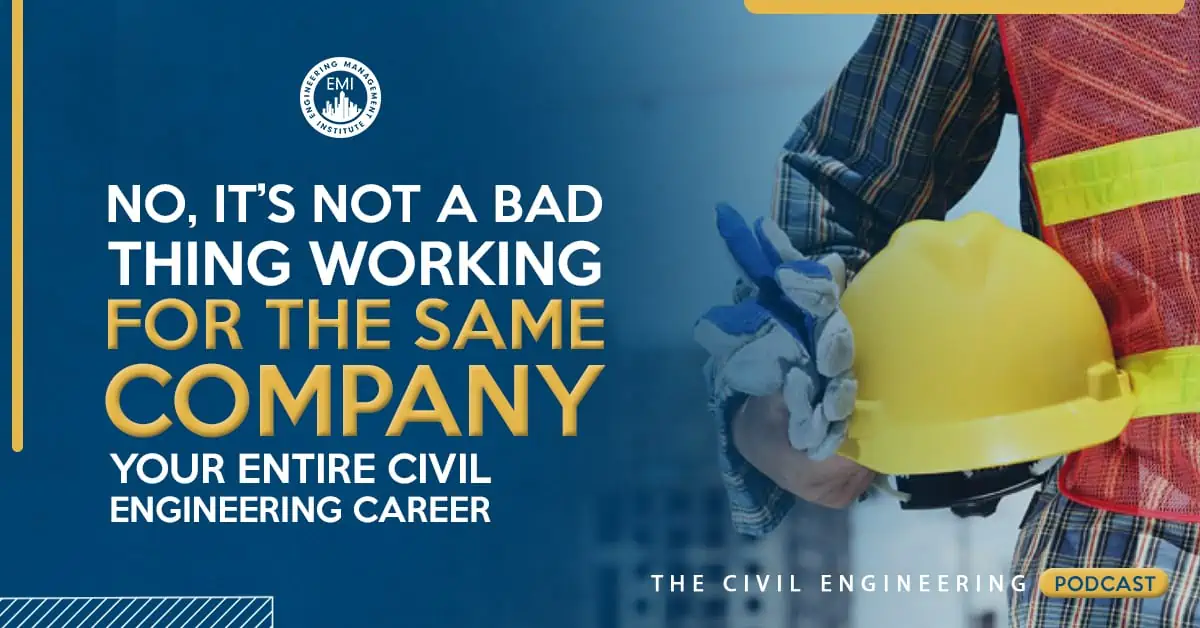 In episode 079 of The Civil Engineering Podcast, I will give my opinion on why I don't believe it's a bad thing to work for same civil engineering company for a long time, possibly even your entire career.  I constantly hear people say that you have to make a move from one company to the next in order to really advance your career, which I don't agree with.
Engineering Quotes




Here are 7 benefits of working for the same company for a long period of time
1. Comfort creates confidence
Working for the same civil engineering company for a while will allow you to become comfortable with the company's procedures, systems, equipment, etc. This comfort helps a civil engineer to be confident in his or her work every day.
2. Loyalty conveys trust
Often, when a company knows you are committed to them for the long term, they will place more trust in you than they might if they were unsure about your future, which again leads back to more confidence for you.
3. Time Gives you Seniority
This isn't always guaranteed, but typically, the longer you stay with one firm, the higher on the ladder you will reach, partly because of your longevity with the firm.  That being said, staying in one place for a long time doesn't mean you can sit back and just expect to be promoted, you still need to work hard.
4. The Grass is Always Greener on the Other Side
Many professionals fall into this trap of seeing everything that they don't have as better. The result is that they don't enjoy the outcome of the decisions they make. Be aware of this syndrome because what you don't have may not be as great as you think.
5. Professional Reputation is Important
If you are hopping around from company to company and you don't have longevity somewhere, it could potentially threaten your reputation, and you ability to create opportunities for yourself.
6. Longer Leash
Think about the leash you have with your company. If you have worked for one firm for a while, you build up confidence from your superiors, that may give you flexibility to take more risks.
7. Your ultimate career goal
I think one of the best measures of the health of your employment as a civil engineer is growth, both career and personal. You should be asking yourself on a regular basis if you are growing in your career, if not then you might consider evaluating your employment situation.
Sources/References:
ASCE News
TCEP 078: A Deep Conversation on the Philosophy behind building a Civil Engineering Firm
Engineering Management Accelerator Workshop (Online) | 5 PDHs
Developing An Entrepreneurial Mindset that will Drive Opportunity for You And Your Company (1 PDH)
Engineering Management Accelerator Workshop (In-Person) | 5 PDHs – Austin Texas
Engineering Management Accelerator Workshop (In-Person) | 5 PDHs – New Brunswick, NJ

This episode is brought to you by PPI, the leader of civil engineering FE or PE exam preparations. Use promo code TCE8 for a 20 % discount at ppi2pass.com/resources
Please leave your comments or questions in the section below on working for the same company your entire civil engineering career.
To your success,
Anthony Fasano, PE, LEED AP
Engineering Management Institute
Author of Engineer Your Own Success