Podcast: Play in new window | Download | Embed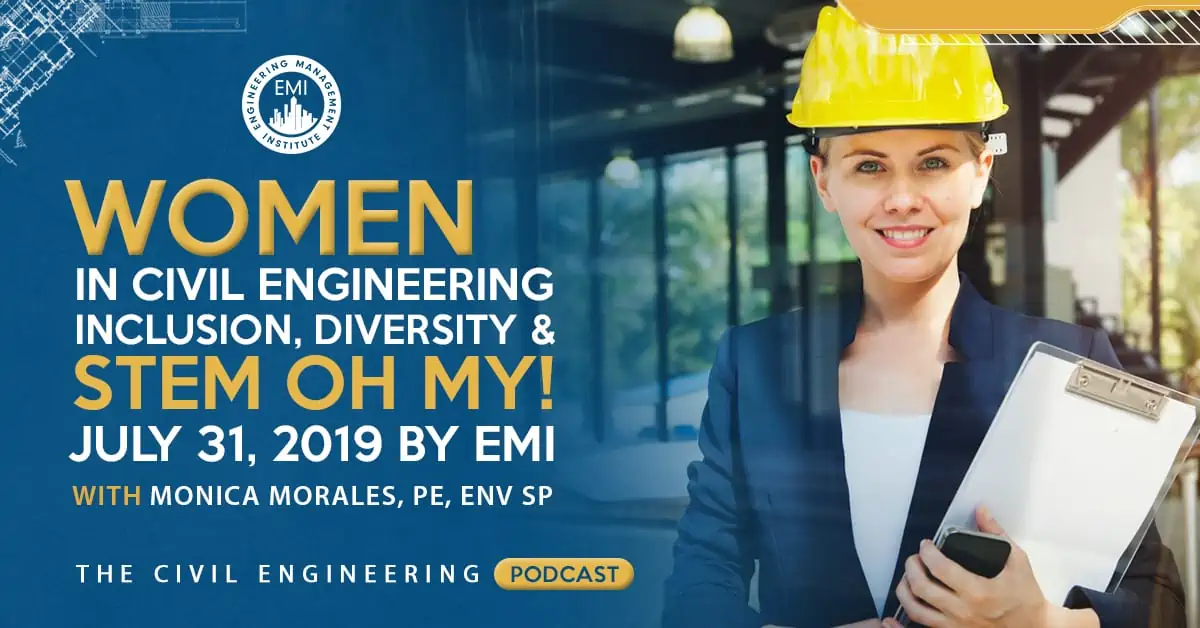 In episode 123 of The Civil Engineering Podcast, I talk with Monica Morales, PE, ENV SP who is a water engineer for Jacobs in their Los Angeles office. This is the first episode in a special series we are publishing entitled Women in Civil Engineering. In this episode, we will focus on the importance of inclusion and diversity in engineering. Monica also discusses sustainability through STEM Outreach and the importance of women in engineering.
Engineering Quotes:


Here Are Some of the Questions I Ask Monica:
What does it mean to be a statistically improbable engineer, like yourself?
Tell us more about the statistics for the United States in terms of diversity in engineering and civil engineering?
Talk to us about the importance of inclusion and diversity?
What can we do to help more under-served students to pursue STEM careers?
Why do you think it is important for engineering employers to diversify their leadership?
How do you make STEM activities fun for students?
Tell us more about drawing girls into STEM specifically?
Here Are Some Key Points Discussed in This Episode:
Our public is diverse, and we should be representative of the public we serve. If engineers could establish this, then their innovation and ethics will improve overall because they will understand their clients much better.
A STEM (Science, Technology, Engineering, and Math) career path is a really good way to apply math and sciences, as well as writing and speaking into your career.
If you can be a well rounded professional, then you are going to do so well in engineering or any STEM career path that you choose. A more diverse STEM workforce will provide for more inclusive, better and more innovative designs.
The more we can talk about what we do concisely, the better we will be at our jobs as a whole.
If an engineering company is struggling with company diversity and would like to improve it, they must, first of all, establish a goal towards it. They should then support their staff that represent the minorities and continue to grow the inclusion and diversity initiative at the firm.
To get children engaged and interested in STEM activities, you must make them fun.  If you have a presentation, make sure to include lots of photos and pictures in it. In the activities itself, you can have them build something themselves by using their thought processes so that they can be proud of their results.
One of the biggest challenges we face in the world of civil engineering is that there isn't a lot of women engineers. Any chance you get to bring somebody along with you to make your group more diverse is a win.
More Details in This Episode…
About Monica Morales, PE, ENV SP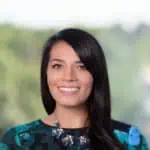 Monica Morales currently serves as the Secretary (and the incoming the President-Elect) for the American Society of Civil Engineers Los Angeles Younger Member Forum. She very much enjoys volunteering in her free time to do STEAM outreach for K-12 students, especially first-generation college students and under-served students and girls, like herself growing up to help inspire more students to pursue STEM careers and to continue to diversify the STEM workforce in order to better serve our diverse public. Within Jacobs, she is the global lead of the newly launched STEAM Partnership Program for Enlace, Jacobs' employee network supporting its Latino employees, where she is aiding offices around the world to organize STEAM outreach events for students.
Sources/References:
TCEP 076: Two Professionals in the Civil Engineering Industry who are Impacting the World Beyond their Engineering Projects
Jacobs
American Society of Civil Engineers
Morales Makes Parents Proud with Civil Engineering Success
ASCE Los Angeles Younger Member Forum
Monica Morales's LinkedIn
This episode is brought to you by Maser Consulting P.A., a privately owned, multi-discipline, consulting and engineering design firm with a unique balance of public and private sector experience. Established in 1984 by Richard M. Maser, PE, PP, CME, Chairman & Chief Executive Officer, the firm has an expert staff of licensed engineers, planners, surveyors, landscape architects, and environmental scientists with offices strategically located nationwide. Click here to learn more about Maser Consulting P.A. today.
If you are interested in taking our FREE CMAP Diagnostic Case Study, please email Betty at >>

[email protected]
Books Mentioned in this Episode:
Born to Run: A Hidden Tribe, Superathletes, and the Greatest Race the World Has Never Seen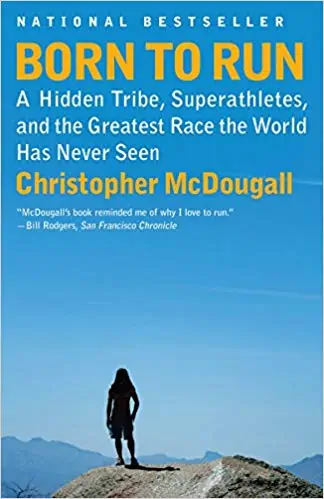 Please leave your comments or questions in the section below about inclusion and diversity for women in engineering.
To your success,
Anthony Fasano, PE, LEED AP
Engineering Management Institute
Author of Engineer Your Own Success