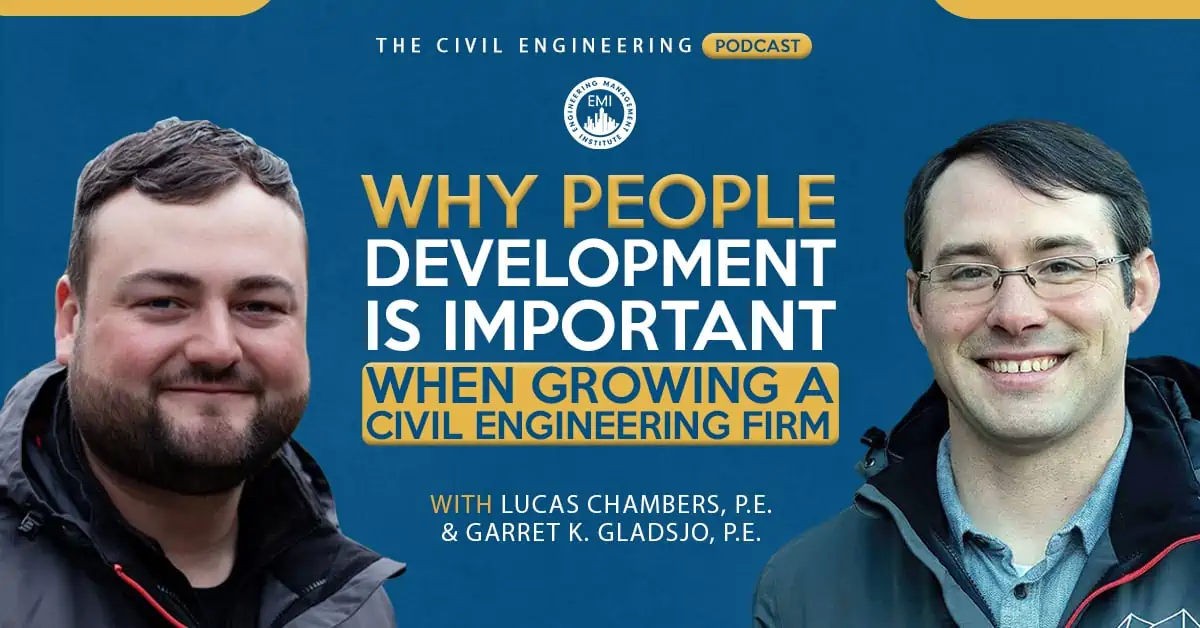 In this episode of The Civil Engineering Podcast, we talk with two engineers from Alaska that decided to start their own firm and really focused on people development within their firm. They are Garret K. Gladsjo, P.E.and Lucas Chambers, P.E., co-owners and principal engineers at proHNS LLC. We talk about how investing in your staff can help grow your company tremendously.
Engineering Quotes:
Here Are Some of the Questions I Ask Garret and Lucas:
How did you end up starting your firm and what services does your firm provide?

Talk to us about the importance of people development at your firm, and how you find, develop, and retain the right people?

How do you ensure that the right people are doing the right things and that you promote the right people into the right position at your firm?

How do you identify who needs what training or development? Do you have a process to ensure you are consistently developing your people?

Problem-solving is the essence of what engineering leaders do, but

how do you and your company identify the problems that arise?

Once you identify problems, does your company have a specific process for solving them? If so, what does it look like?

What are some typical problems that you see in civil engineering firms, specifically when they are trying to grow or scale?

Do you have any final advice to civil engineers out there who are trying to grow their own companies, or who are considering pursuing a career similar to yours?
Here Are Some Key Points Discussed in This Episode About People Development:
People are your greatest resource when growing your civil engineering firm. The quality of the professional services that your firm provides to your clients is highly dependent on the quality of the professionals you have working in your firm. You must develop your staff so that they can fill the key positions you have available in a very professional manner.

As your civil engineering firm grows, new positions with specific roles become available. When you employ people for these positions, you might find that some of them might be better suited in a different role in your company. The best way to determine this is by talking to them and having regular check-ins. It will help you find where your employees' strengths and weaknesses are and where their passion lies. You can use this information to shift duties around between the positions you have, and even move your staff around between positions to better suit their skills.

When finding people for specific positions, turn to your mentors and network to get ideas and learn how to approach placing your staff regarding their skill sets and passions. You can also join the SAB Mentor-Protégé Program, where your firm will go into an agreement with a larger civil engineering firm that will help you with many things like benefits discussions, hiring practices, recruitment, and marketing. Having a mentor firm is a great resource for smaller firms.

Your firm's geographical location will show you any constraints, limitations, or opportunities that are brought about by it. You must take things like the seasonal challenges and types of projects that are available in your area. It could also have an impact on your recruitment as some people won't like the geographic location of your civil engineering firm.

To develop the right people in your firm, you must be willing to let the wrong people go. Sometimes some people will not be a good fit for your company culture. If you have given them ample opportunity to correct and redirect their skill set and the problems persist, you must be willing to let that person go. It is important to do this because it allows you to focus on the right people that you want to develop. There are two kinds of training that you should have in your firm. Job required training is ensuring your professionals have the correct certification to perform the tasks they must do. Selective skills development is providing training for your employees that is in line with their passions and the career path they want to follow. Training and development will in turn give you a better return on your investment in your staff than the costs of the training and development.

Having good communication in your firm is the best way to identify problem areas and find ways to solve them quickly and efficiently. It is always good to try to get a different perspective from someone else when dealing with problems areas because you will get a wider perspective of what you are dealing with.

When dealing with problem areas in your firm, try to find where the problem originated from, and then find ways to mitigate the problem in the future. By discussing these two parts of the problem, you will find the solution to it. You must have a mentor or business partner that you trust to discuss the problem with and ultimately find a viable solution.

One of the biggest challenges you will face when growing your civil engineering firm is finding quality people who want to work for your firm in its geographical location. Another challenge would be getting as much work in as possible and reaching to where you start getting overworked. This is when you realize that you need another resource or employee to lighten your workload.

Not being in your construction peak season is a great opportunity to work on your company's marketing, business development, updating the business plan, and developing new network connections.

If you want to start your own civil engineering company, becoming a well-rounded engineer should be your starting point. Knowing the different positions your work entails will help you recruit the right people for your company. Broadening your expertise will help you exponentially in your company and will help make your company well rounded too. You must be willing to push the boundaries of your comfort zone. Focus on your business and social skills because they are not something that is taught to engineers. You must know how to interact with many different people in non-technical settings and be prepared to handle those relationships.

Early on in your company, the highs are very high, and the lows are very low. You must ride out the lows and not get too high when the highs come because there are going to be more lows. After some time, you will find a balance between the highs and lows and ride comfortably between them. Focus on leaving work at the office, enjoy your personal time, and use it to recharge and ready yourself for the next day. Your work-life balance is something that you will work on daily, and it will evolve as your company evolves.
More Details in This Episode…
About Lucas Chambers, P.E.: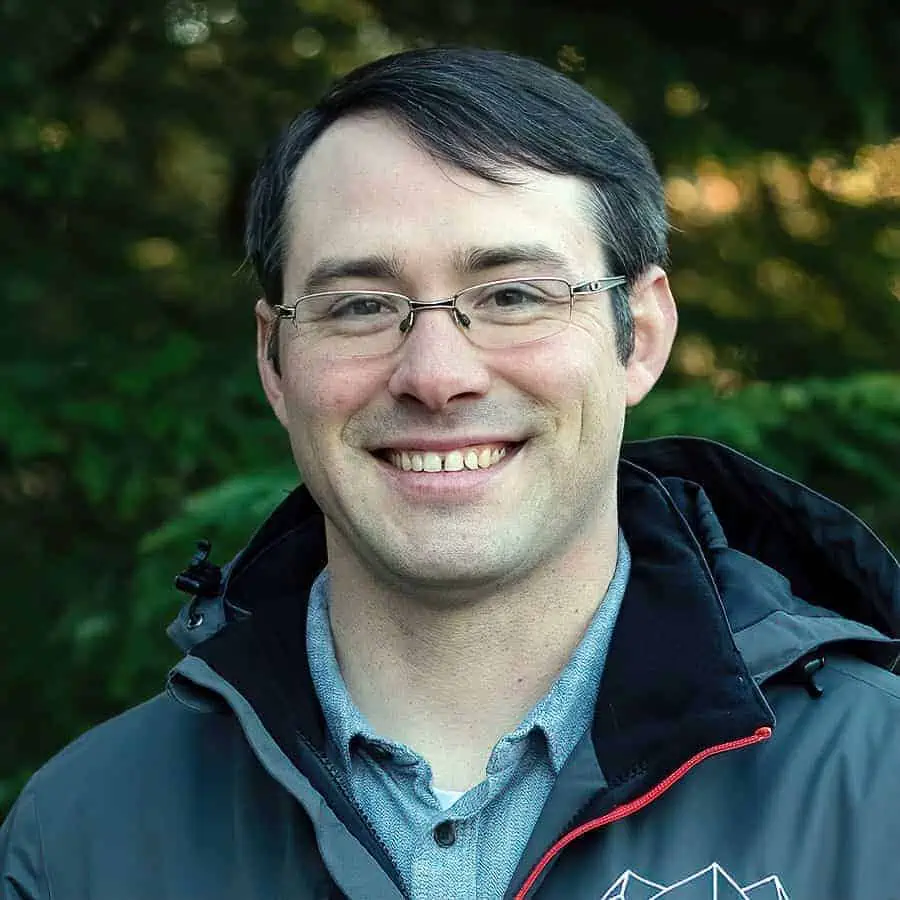 Lucas Chambers, P.E., is a life-long Alaskan, growing up on a small island in Sitka Sound in Southeast Alaska, and commuting to public school daily via boat. From a young age, Lucas was interested in structure and design, and while the town of Sitka only boasts 14 miles of road, highway and transportation design peaked Lucas's interest in college. He graduated from Northern Arizona University in 2010 and was then quickly hired as a civil design engineer at the Department of Transportation in Juneau, returning to his home state. He continued to work in transportation design at DOT for six years, honing his design skills, and meeting future business partner Garret Gladsjo while spending a summer working construction on a road and bridge project in Northern Juneau.
Not long after they met, Lucas was presented with an exciting opportunity to join Garret as co-owner and Principal Engineer at proHNS in 2017. A strong design engineer, Lucas' expertise allowed proHNS to expand their services and bid on a larger variety of projects in private, city, and state arenas. Lucas established the firm's design of best management practices and processes, and is the firm's go-to designer, managing and developing all upper-level design projects. A high-level AutoCAD Civil 3D user, Lucas particularly prides himself on his pavement design, urban drainage design hydrology and hydraulic analysis, underground utility layout/sizing, and geometric roadway design skills. Lucas now oversees several staff and project engineers, supporting and training them in their early careers. Additionally, Lucas handles all of proHNS' City and Borough of Juneau projects, regularly working with municipal employees and engineers, utility companies, and the public. These projects range widely in project scope, from road reconstruction to water distribution pump stations.
Lucas is the current President of the American Society of Civil Engineers' Juneau Branch and serves as Chair of the City and Borough of Juneau's Wetlands Review Board. He lives in Juneau with his wife Meghan and their dog Meeko, enjoying the bountiful nature of coastal Alaska. He is an avid forager, fisherman, and hunter.
About Garret K. Gladsjo, P.E.: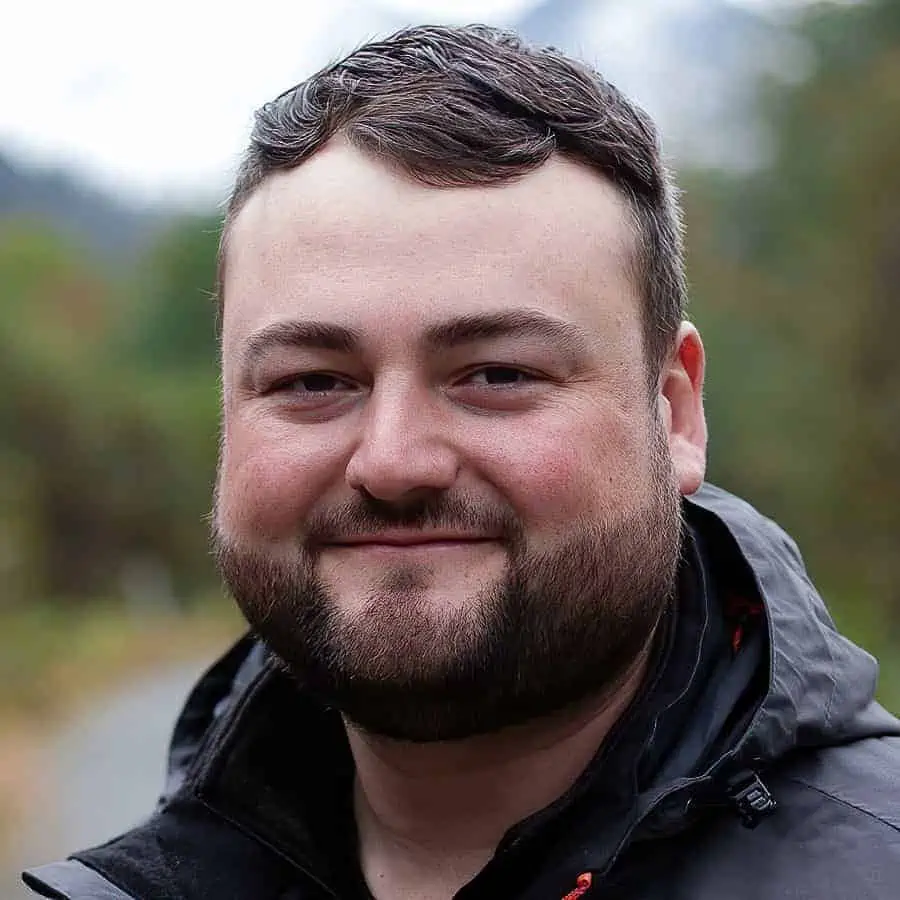 Garret K. Gladsjo, P.E., is a licensed professional civil engineer in the states of AK, ID, OR, and WA, as well as co-owner and Principal Engineer for proHNS LLC. He has more than 12 years of experience in civil engineering and construction-related support services, and his prior employment includes positions with private consulting, county, and state organizations in both Washington State and Alaska. Garret obtained his B.S. in Civil Engineering from Washington State University in 2009 — Go Cougs! Since that time, he has established himself as a highly reputable engineer and reliable presence amongst his peers. Garret's effort has been recognized through his receipt of several honors, including the 2014 Outstanding Employee of the Year for Alaska Department of Transportation & Public Facilities (AK DOT&PF) Southcoast Region Construction, a 2015 Leadership Award for AK DOT&PF Southcoast Region, and most recently by the Alaska Journal of Commerce as one of their 2021 Top Forty Under 40 recipients for the State of Alaska.
However, his professional career really took off when a former colleague asked Garret to join his nascent civil engineering company, named proHNS, which was being run out of the now-former partner's living room in Haines, AK. Raised by a small business-owning family, Garret jumped at the opportunity to help build a company from the ground up, leaving a stable position in public service to join proHNS as a Principal Engineer and co-owner in 2016 at the age of 29. At the time he decided to resign and join proHNS, Garret was leaving for only three weeks of guaranteed workload at proHNS, but he trusted the work would come in time if it was relentlessly pursued.
The work did come, and over the past five years, Garret has worked tirelessly to help grow the firm from two part-time employees to more than 20 key team members during the height of summer construction season. Since joining proHNS, Garret has managed federal, state, municipal, and private owner projects, supervised and trained staff, performed design engineering, and navigated the complex relationships between members of the public, government agencies, and private industry. He is passionate about mentoring engineering students, providing career advice, and supporting the professional growth and technical skillset of the next generation of engineers. Garret is also a certified AK-CESCL Instructor and formerly served on the Alaska Seismic Hazards Safety Commission. He lives in Juneau with his wife Brittany and son Icem and enjoys spending time outdoors, whether it be fishing, hunting, camping, recreational sports, or other adventures that only Alaska can offer.
Sources/References:
proHNS LLC
SBA Mentor-Protégé Program
Connect with Lucas Chambers, P.E., on LinkedIn
Connect with Garret K. Gladsjo, P.E., on LinkedIn
Books Mentioned in this Episode:
Never Split the Difference Negotiating as if Your Life Depended on It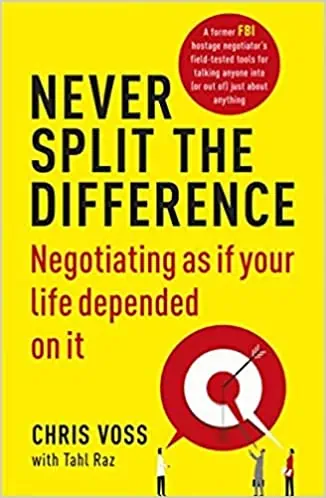 This Episode Is Brought to You by BigTime
BigTime is the industry-leading PSA software providing time tracking, billing, and project management for engineering firms to get your business back to business. You can learn more about BigTime's PSA solution at bigtime.net.  
Please leave your comments or questions in the section below on why people development is important when growing a civil engineering firm.
To your success,
Anthony Fasano, P.E., LEED AP
Engineering Management Institute
Author of Engineer Your Own Success