Podcast: Play in new window | Download | Embed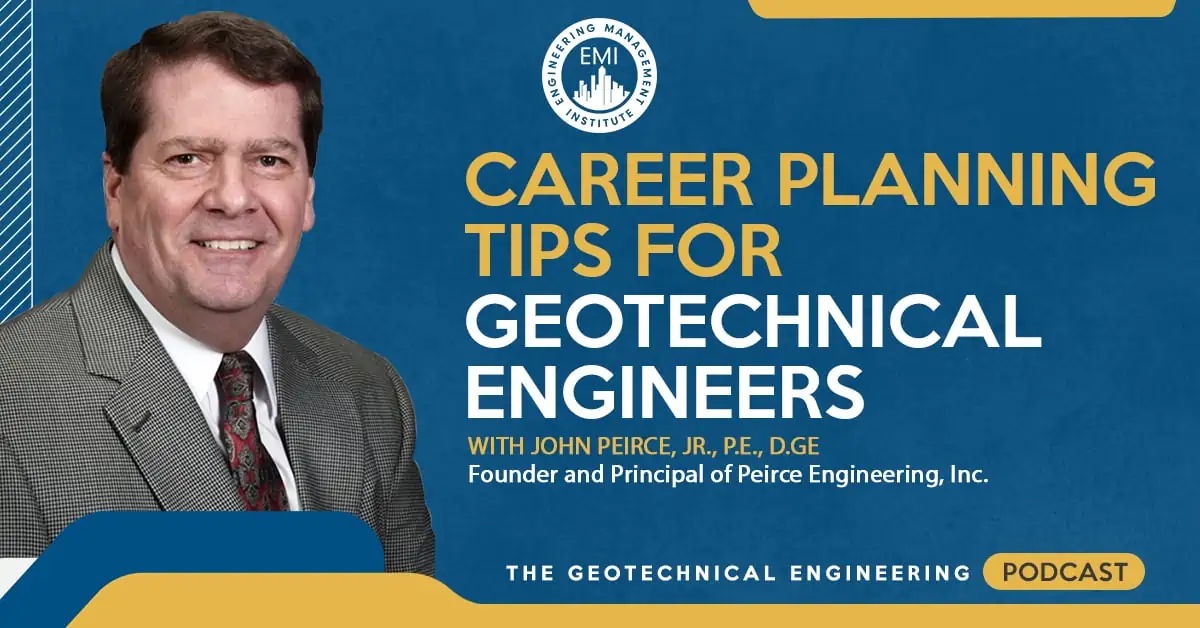 In this episode of The
Geotechnical Engineering Podcast, we talk to John Peirce, Jr., P.E., D.GE, founder and principal of Peirce Engineering that provides us with some great career planning tips on the importance of mentoring young engineers, the need for field experience before becoming a design engineer, and continuing education. I believe this episode will especially help you if you are earlier in your career and if you are trying to plan how to move up in your engineering career.
Engineering Quotes:
Here Are Some of the Questions We Ask John in This Episode:
You believe that engineering education begins after graduation. What do you mean by that?

What are some things, in your opinion, that you must consider when choosing a mentor?

The way we communicate with other people says a lot about us, even when we don't say a word. Why is it so important for engineers to speak less and listen more? 

Do you believe that engineers should know how structures are built before they start designing those structures?

How does an engineer know what the limitations of their experience are?

How can engineers remain diligent and keep up with continuing education?
Here Are Some of the Key Points Discussed About Career Planning Tips for Geotechnical Engineers:
College provides limited hours of instruction and covers the basics of engineering, but there is a whole lot more to be learned. College leaves little time for learning real-world engineering. You need to learn some of the important things on your own, accumulate the right reference books, talk to people, and find people who do things that you have not done yet. 
When choosing a mentor, one of the first things you should look for in this person is ethics. You have to do what is right, and there are too many people around who do not put ethics at the top of their priority list. A mentor also must have really good experiences and be well-respected by others, both inside and outside of your company. They must have an openness and willingness to share their knowledge and be confident enough to not look at the younger engineer as being a competitor. The mentor must believe that the younger engineer is or will be a valuable team member. 
What a young engineer does with the shared knowledge from his or her mentor is extremely important. The younger engineer must question what the mentor is trying to transfer and make sure they use that knowledge and remember it. 
Speaking without knowing the facts is a recipe for disaster. Don't be in a hurry to talk, do your learning, make sure you have something important to say, and then be prepared to talk. It is very important to listen and learn before speaking. 
Learning how things are built and getting experience in the field is of utmost importance in your career. How can you tell someone else to build something if you don't know how? Inexperienced engineers can cause owners lots of money and can cause serious safety issues. 
There are far too many engineers who don't know their limits. It is unethical for engineers to perform services in which they are not competent, but it happens every day. It's important to know what you don't know and to stay away from the areas that you are not really confident in.
Continuing education is extremely important as the world is changing so fast. New methods, structures, equipment, and even new educational courses are becoming a requirement and need to be properly communicated so they are properly implemented. Good engineers will get the continuing education needed, whether it is mandatory or not. 
More Details in This Episode…
About John Peirce Jr., P.E., D.GE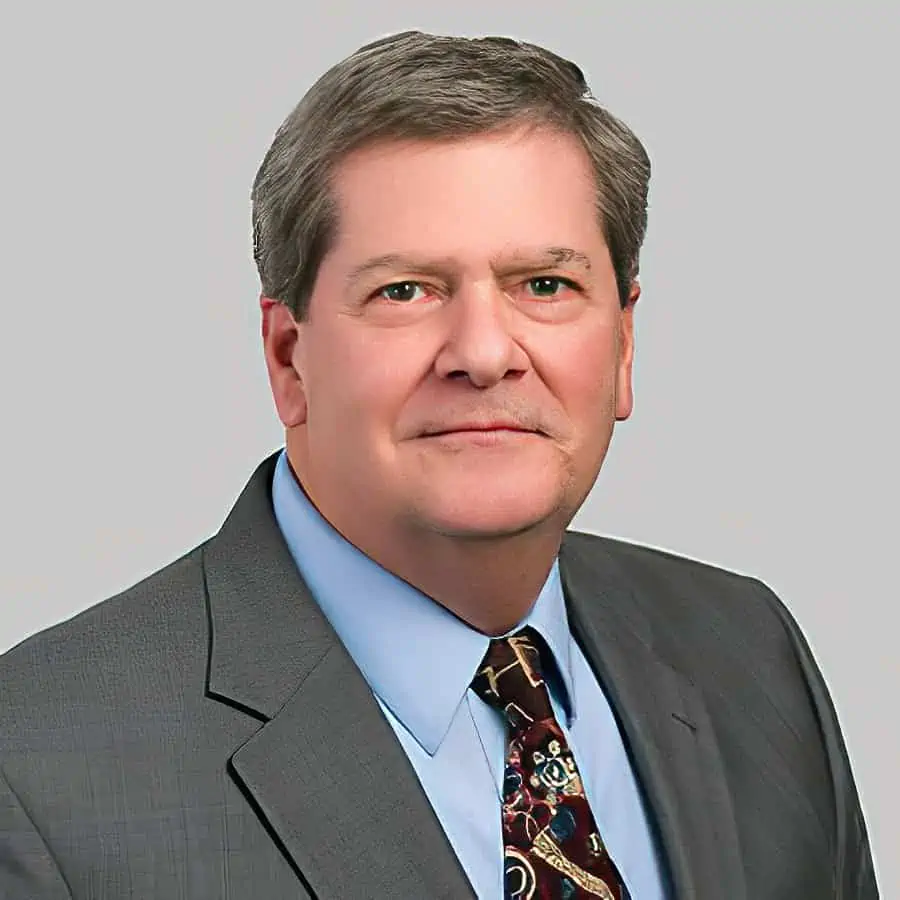 With over 50 years of design-build, civil, geo-structural, and construction engineering experience, Mr. John J. Peirce, Jr., P.E. is well-equipped to provide his clients with a wide range of engineering services needed for their building, highway, bridge, and marine projects. Besides being a founder, owner, and officer of Peirce Engineering, Inc. since 1992, Mr. Peirce's responsibilities include engineering design of various types of structures for both his contractor clients and for other engineering firms. Types of structures designed include those such as temporary and permanent earth retaining walls, soil, and rock anchors, bearing piles, micropiles, drilled shafts, underpinning, soil nail walls, bridges, and sheet pile bulkheads and cofferdams. Mr. Peirce's combination of construction and engineering experience has enabled him to provide his clients with several thousand, safe, successful, and economical designs. In addition to his design duties, he is responsible for mentoring and training the firm's engineers and for providing quality control and review for all their engineering work.

Originally from Philadelphia, PA, and living in Collegeville, PA, since 1983; Mr. Peirce graduated from Drexel University in 1973 with a bachelor's degree in Soil Mechanics and Construction Management. As an undergraduate, he was a member of Drexel's first-ever concrete canoe team, which utilized recycled, crushed glass as the concrete mix's aggregate. In 1978, he earned his master's degree in Geotechnical Engineering from Drexel. Mr. Peirce is a licensed professional engineer in Delaware, Maryland, New Jersey, New York, and Pennsylvania. He is also a licensed professional land surveyor (retired) in Pennsylvania.

After four Drexel co-operative work assignments and graduation, Mr. Peirce continued to work until 1981 for The Conduit & Foundation Corporation, a Philadelphia-based heavy and highway contractor. There, he worked on many notable projects such as the Girard Avenue Bridge over the Schuylkill River, the original construction of Six Flags Great Adventure Theme Park, the tunnel section and roof landscaping for the I-95 Tunnel at Penn's Landing, and the Market East Station for the Center City Commuter Connection (now Jefferson Station).

Mr. Peirce was selected as the American Society of Civil Engineers, Philadelphia Section's 2002 Civil Engineer of the Year — its highest honor. He is a Life Member and Fellow of ASCE. In 2011, he was elected as a Diplomate of the Academy of Geo-Professionals (AGP). In 2019, he was named the Delaware Valley Engineer of the Year by the Engineers Club of Philadelphia.

Mr. Peirce is also a Life Member and Past President and Board Member of the American Society of Highway Engineers (ASHE). As a Fellow and Member of the Eng-Tips and the SimpliEngineering Round Tables, Mr. Peirce is an advisor to engineering forums management on-site operations, and proposed programming enhancements for this international, on-line, engineering resource. He is a member of The Moles, a highly recognized association of individuals engaged in heavy construction. In addition, Mr. Peirce is a member of ADSC: The International Association of Foundation Drilling, the American Railway Engineering and Maintenance-of-Way Association (AREMA), the Pile Driving Contractors Association (PDCA), and the Ports of Philadelphia Maritime Association.

When not at work, Mr. Peirce spends his time sailing his boat, Knot at Work, on the Chesapeake Bay with his wife, Beth. When they are not sailing, their eight grandchildren keep him very busy — and young!
Sources/References:
Peirce Engineering
Connect with John Peirce on LinkedIn
John Peirce's Email
Please leave your comments or questions in the section below on career planning tips for geotechnical engineers.
To your success,
Jared M. Green, P.E., D. GE, NOMA
Host of The Geotechnical Engineering Podcast