Podcast: Play in new window | Download | Embed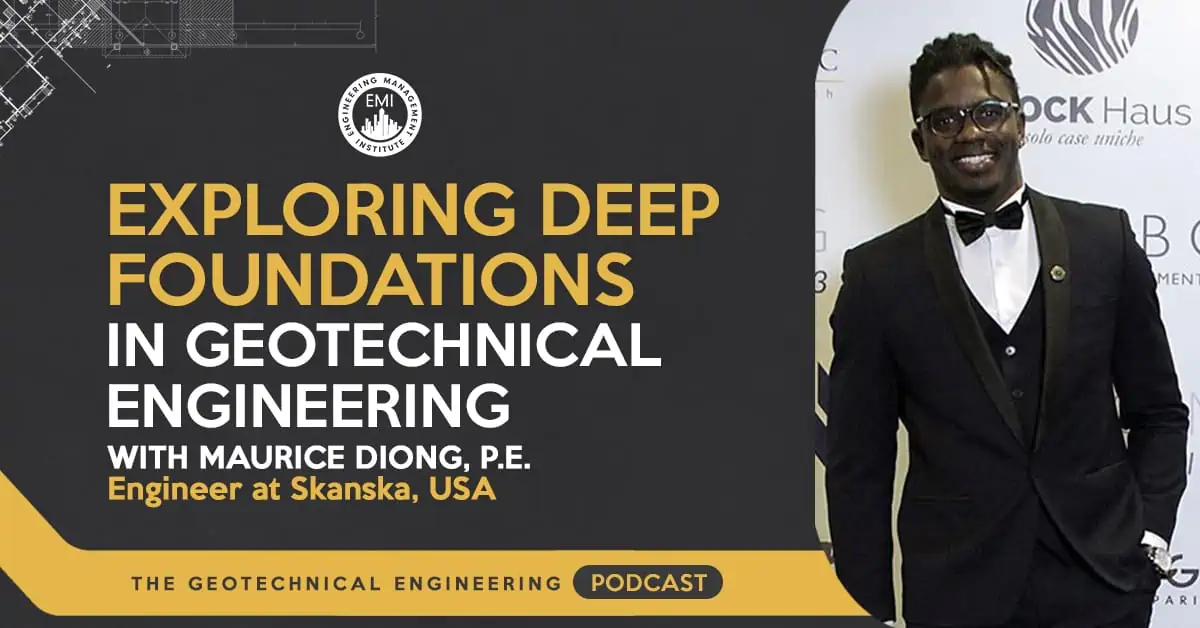 In this episode of The Geotechnical Engineering Podcast, we talk to Maurice Diong, P.E. an engineer at Skanska, USA about deep foundations in geotechnical engineering, the importance of getting out on the field, and using the most effective solutions on the field.

Here Are Some of the Questions We Ask Maurice in This Episode:
What are deep foundations and what kind of deep foundations do you work on?
What are some of the different construction techniques for deep foundations that geotechnical engineers should be aware of?
Tell us about a deep foundation project that you have been involved in and how it benefited your engineering career.
The focus on getting things right sometimes becomes an obsession with obtaining perfection. How do you resolve this?
What final piece of advice would you like to give engineers out there?
Here Are Some of the Key Points Discussed About Deep Foundations in Geotechnical Engineering:
DFI (Deep Foundations Institute) is a national organization for all entities involved in deep foundations. When working on a building, it might sometimes not be possible to install swallow foundations. Foundations are the part of the building that nobody sees, but they are also the most important part of a building. You would then install piles that are drilled or driven. This element provides a low capacity through barring or friction. My focus is on micro piles, which are small diameter piles and that can range from 6 to 13 inches. 

There are a lot of different construction techniques that can be used in deep foundations. You can drive, drill, eject, or even screw them. This all depends on the soil conditions and physical constraints that you might encounter on the job. 

I believe that planning is underrated, but that the plan is overrated. We spend a lot of time planning, but we don't always realize how important proper planning is. During the planning phase of a project, you look at different scenarios. Then, when you get to the site and something changes, it will be easier for you to adapt and take a different route. Plans can change; however, you need to stay focused and remember what your ultimate goal is. 

As engineers, experience in the field is of great importance as the pool of knowledge out there is massive. Spend more time talking to people in the field and learn from the people who have more experience than you do.   

Life is essentially imperfect, but when it comes to engineering, the stakes are higher and we must do things right as people's lives are at stake. It is important to remember that we must be practical and safe with what we as engineers do. However, perfection in engineering is using the most effective solution and not always focusing on one item. 

Experience is very important in the engineering industry, so take advantage of all the resources that are out there and build your network.
More Details in This Episode…
About Maurice Diong, PE:
Maurice Diong, P.E., is an engineer at Underpinning and Foundation Skanska. He graduated with a Bachelor of Engineering (B.Eng.), civil engineering at the City University of New York City College in 2015 and is a licensed professional engineer. Maurice currently sits on the board of the City College Engineering School Alumni Association. In his spare time, he engages in philanthropy and takes part in various fitness activities such as rugby and runs, and practices Muay Thai. He also enjoys traveling, reading, and eating ice cream.
Sources/References:
Connect with Maurice Diong, PE on LinkedIn
Email Maurice Diong, PE
Skanska USA
Please leave your comments or questions in the section below on deep foundations in geotechnical engineering.
To your success,
Jared M. Green, P.E., D. GE, NOMA
Host of The Geotechnical Engineering Podcast